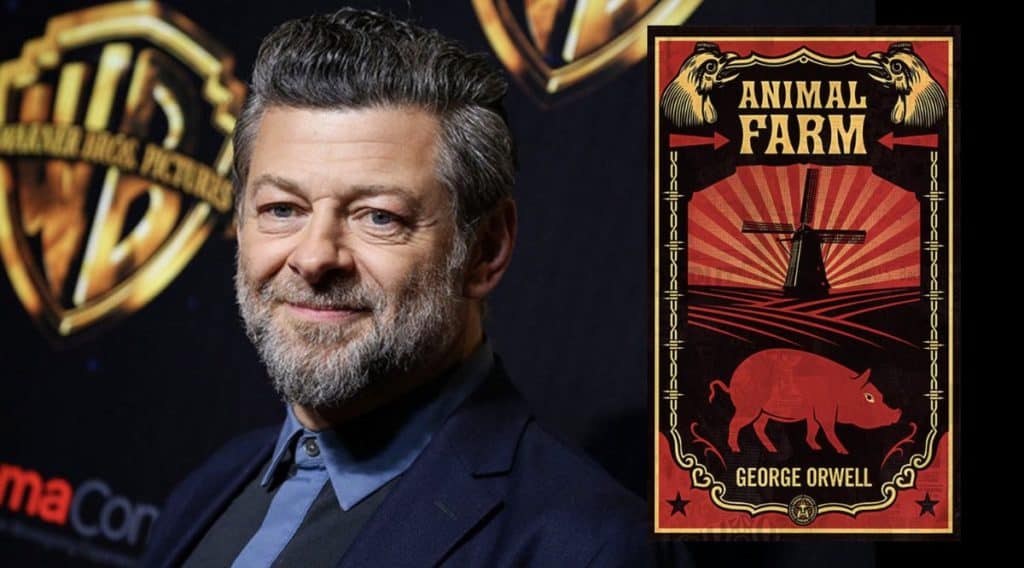 There are likely a lot of people that remember this book from high school and can possibly still recall how troubling it turned out in the end no matter how positive it was supposed to be initially. The heroic farm animals that overthrew their cruel human oppressors, only to eventually realize that the leaders they embraced would eventually sell them out to take over and act in the same manner as the oppressors they were liberated from. There are some schools that sought to ban this book for its ideas and story, but while there are plenty of stories out there that some of us don't like and can't stand, the truth is that the stories are still important, and valid, until they're not. But on the lighter side of things, Andy Serkis is going to be bringing this story to Netflix eventually, and it sounds as though Christian Bale has already been tapped for a role, or is at least being approached for it. How this story is going to be received is kind of easy to predict, but the reality is likely going to be at least a little different since this story is a bit incendiary in certain hands, while to others it's simply a pleasant story.
It does feel safe to say that plenty of people are going to see the arrival of this story in a certain way while others are going to see it in the opposite light. Like it or not, this is the story that will be told, and depending on how it's told, people are going to react in one way or another. Animal Farm is a story, and a clever one at that, since it's managed to get a lot of people to think since their teenage years, or whenever they read it, about the way that the world works, and the way that individuals want to make it work.
All adaptations are equal, but some adaptations are more equal than others.

Netflix Buys Andy Serkis' 'Animal Farm' Adaptation: https://t.co/97afqXzOh4 pic.twitter.com/Nq5ZhLed4t

— goodreads (@goodreads) August 1, 2018
How Serkis will display the themes within the story is hard to say, since being honest and being glamorous don't always go hand in hand. His skill is undeniable since he's already proven that he's one great storyteller and can display this skill either through directing or through acting, and so far he's been an even-handed individual when it comes to presenting anything that is pushed to the masses. While it's a compelling story, Animal Farm is also a divisive one since many people have looked at various elements in this tale in very different ways. There are certain, hard truths that the tale tells that aren't necessarily up for added interpretation, but many will see it differently, and that's to be expected since people tend to see what they want to see and not always what is there, which is so much harder sometimes since it might shatter their preconceptions of the world they believe in. There was another movie in recent history that made use of this particular story titled The Hunt, which included a group of high-powered and extremely influential individuals selecting and hunting a group of those that they believed were nuisances that needed to be taken out due to their beliefs. Animal Farm has actually been an influential tale when it comes to pop culture and it's been the type of story that has managed to begin a lot of debates on how the world works.
Bringing it to Netflix is, by all means, something that makes a lot of sense considering that the streaming giant has been a hotbed of controversy for a while thanks to some of the other titles that it's taken on in recent years. Squid Game is a recent addition that many people are beginning to talk about, while Cuties raised a huge uproar that people would still be likely to engage in if they had the inclination. Animal Farm is more of a political fairy tale that a lot of people have taken the wrong way over the years, but to be honest and fair, it's also a useful story that can be used in a number of different ways, not the least of which is a subtle warning of how things might turn out if people decide to believe wholeheartedly in the message that it sends. There are times when a tale needs to remain a tale though, no matter how aligned it is with the world it's meant to satirize.
Is it a good idea to bring this story to light on Netflix, one of the most influential streaming channels? To be sure, that question is bound to be on the minds of many people that will come to comment on this idea, but the point here is that it is coming, and if people want to take it that seriously then it's on them, but like the rest of the projects that Netflix has taken on, it's a story and one that's open to a lot of interpretation.