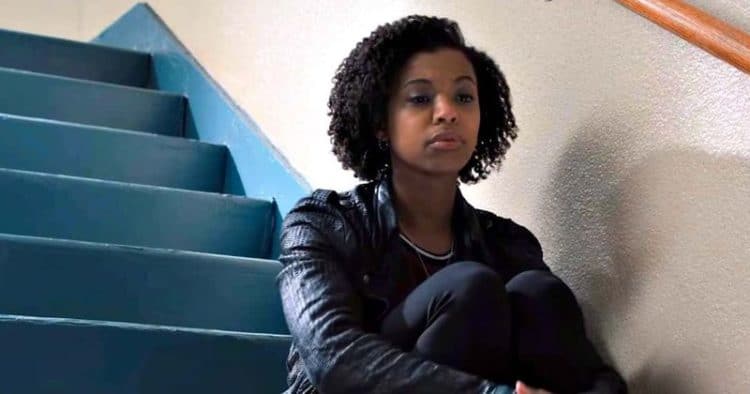 The theatre is an industry that requires a lot more than passion. Since it involves reaching out to fans, the desire and the ability to impress the fans should go hand in hand. Sometimes actors and actresses get the training that it takes to deliver in the industry, but fans fail to love their work. Ani Achola is one actress who was criticized by her fans for her role, preferring it to be played by another character. Love her or hate her, Ani is here to stay, and you can get to know more about the actress by checking out these facts.
1. Her real name
Being in the acting industry makes it possible for one to get several names depending on the role you will be playing. Some character names stick while others will insist on referring to you using your real name. As for Ani Achola, this is but a stage name. Her real name is Grace Saif, and she is a British citizen, her major role being this of " Ani Achola" in " 13 Reasons Why."
2. She is the new narrator in "13 reasons why"
Ani is the narrator in season 3 of "13 Reasons Why." The season tries to unveil who killed Bryce, and Ani claims to know Bryce more than anyone else. She was not present in the first two seasons of the show and came about to replace Hannah who died in the first season.
3. She is not shy at all
Being new in the new school does not make Ani shy. Once you become used to certain things, you become comfortable with whatever the world throws at you. Ani has become accustomed to being the new face in school since her mother moves around frequently. Matter of fact is, she has already attended four other high schools and Liberty High School is her fifth. She, therefore, has no problem mingling with everyone at the school, especially those she suspects to be behind Brice Walker's murder.
4. The series' fans dislike her role
Being on TV is prone to either praise or criticism from the fans and Ani is a victim of adverse reactions from fans of "13 Reasons Why." The fans preferred that Hannah takes the role of Ani in the series and their responses on social media show disappointment in her. Hannah previously played the narrator role although she died in the previous episode. They find it that Ani is narrating events that she was not part of make her seem like out of place. The reactions made Grace so unhappy that she went ahead to delete most of her Instagram photos and locked her Twitter account. Some of her fans showed support for her by explaining the reasons why Ani was taking the role.
5. She is good at lying
No one ever liked a lie in their midst, but sometimes, we have to lie to protect ourselves. Ani uses lies to get away from her strict mother, who rarely allows her to go out. The desire for freedom makes her lie to her to get time to do what she wishes to. The habit made her a professional liar, but sometimes she could not account for her lies. According to Fandom, Ani lied about a sexual relationship with Bruce to her mother and Clay.
6. She is a skilled investigator
Ani is not a trained detective but is competent in carrying out investigations. Using her skills, Ani tries investigating the death of Bryce Walker, who was her previous boyfriend. Ani works alongside her current boyfriend and the fact that she is a professional liar herself makes it easy for her to understand the situation as it is as she can easily detect lies. Since Clay is the suspected murderer, Ani is working hard to prove it wrong.
7. She is a student at liberty high
In the attempt to dig into Bryce's murder, Ani transfers to Liberty High where the suspected murderers are. She befriends them so that she can get a basis to know whether they know about the death of Bryce. It is in the school that she meets the characters that were in the previous episodes. The season also reveals that Ani and Bryce were close; hence, Ani must be aware of something concerning Bryce's death.
8. She is dating Clay
Ani is in a relationship with Clay. According to Elite Daily, the two met when Ani transferred to Liberty High. They started as friends and shared the passion for reading books. The friendship later blossomed into a romantic relationship, and at some point, they kissed in Clay's car.
9. She cheated on Clay with Bryce
A relationship never misses dramas. Cheating in relationships is becoming prevalent, and some people have gone ahead to assume it as a regular thing. Ani cheated on Clay with Bryce. At one point, Ani and Bryce kissed, and Clay found it out. He was disappointed and went ahead to threaten Bryce. Ani had the guts to still lie about the cheating incident even though police found Bryce's DNA in one of her underwear. Clay warned her severally about Bryce. The cheating incident was a threat to their relationship, but they later reconciled and proceeded to remain happy in their relationship.
10. She disrespects her mother
Ani's mother always wanted the best for her daughter even pleading with Ani to stay out of people's mess. She, therefore, sends Ani to school for her to study and get the best out of her education. However, does she live to the instructions from her mother? Of course not. When she gets to school, she goes ahead to involve herself in many activities outside books, even playing detective, the very thing her mother promised her not to do. Her mother keeps waiting for her to excel in school, but she disregards the advice with Refinery 29 describing her as a full-time pot-stirrer.
Tell us what's wrong with this post? How could we improve it? :)
Let us improve this post!