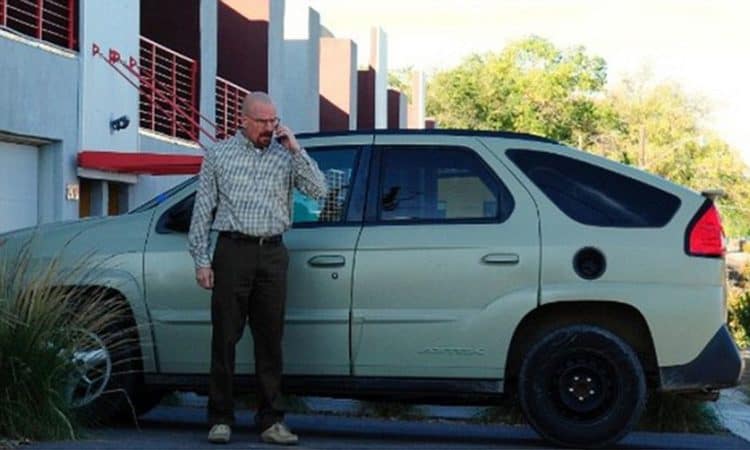 You kind of have to admit, Walter White did drive a really ugly and useless vehicle. Well, maybe that's not fair, since the Pontiac was a good vehicle for a grocery or pizza run, and it was able to convey people to and from their destination. But it was a teacher's rig, without a doubt, a car that was practical since it didn't cost much, it resembled its owner, plain and kind of boring, and went through about as much damage as its owner did. The car was essentially its owner in a different form, something that could be discounted and taken advantage of, a vehicle that didn't really stand out unless it was around much nicer cars, since then it stuck out like a sore thumb. But like Walt, it was easy to forget once it was out of the way. As bad as he became, Walter was a pretty simple guy to start out with and didn't do a lot in his life that could have been said to be controversial. When we first met him, Walter was a timid guy that was shocked to see one of his former students running from the cops, but by the end of the show, he wasn't squeamish at all about taking people out when it was needed. To say that Walt became a cold-blood killer still feels kind of extreme, but it's easy to say that he wasn't as worried about it as he used to be.
It's easy to agree with the idea that this car was a sign of Walt's transition from being a boring, ho-hum high school chemistry teacher to a meth-cooking kingpin that would become a lot more violent and a lot more unhinged. After a while, he did get rid of the Pontiac for a very low price and ended up driving something that was far more indicative of his status as Heisenberg. But if one takes note, the Pontiac was also a good cover for a while since it was a very good way to disguise who he was and what he was doing, since one of the general ideas in the movies and even in TV is that once one starts to make the kind of money that Walt was making, their lifestyle is going to improve and they're going to start flaunting it a bit. Of course, that's one of the dumbest things a person can do since announcing to the world that you've got money when many people know very well that you've been working on a teacher's salary for years isn't the smartest move in the world. Too many people knew who Walt was and what he did for a living, meaning that he would have been compromising himself and his operation the moment he started doing too many things differently. The fact that his demeanor started to change was bad enough since only so much could be chalked up to his condition.
But the fact is that too many people involved in illicit activities in the movies and in TV make a spectacle of themselves when it comes to how they live, what they drive, and what they do in public to really be effective since if there's one thing that cops are looking for, and they're typically looking for anything, it's drug activity. This is the type of thing that is a huge bust for a lot of cops if they can get to the supplier or the cook since they can shut down a major pipeline in their region if they're lucky and possibly work their way up the ladder from there if it's possible. But if someone is doing something illegal and stays under the radar so to speak they tend to not draw as much attention and are bound to get away with more so long as they don't keep flashing whatever changes they've made to their character and their lifestyle. That's another reason that Walt's car is so important since by driving his Pontiac for so long, despite the fact that it was beaten all to hell a few times and went through so much during the course of the show. It was reliable, it was boring, and it was something that most people wouldn't look twice at since it wasn't considered to be in any way threatening or suspicious. That described Walter to a tee for a good part of the show, but once things changed, once he embraced his role as Heisenberg, his ride had to change along with his demeanor.
A lot of things changed about Walt over the course of the show, but the fact that his car was an indicator of this is kind of funny in a way, even if it was purposeful. Going back to watch this transition from episode to episode is definitely worth it just to take note of this.