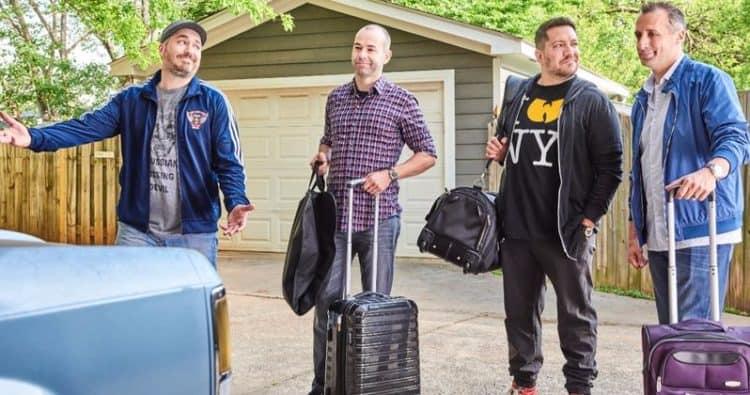 I will admit that I've watched only a few minutes of Impractical Jokers here and there but having seen what I've seen it's still enough to say WTF, why is there a movie coming out. In a big way it's like watching a smaller, older version of Jackass that isn't nearly as violent but is every bit as embarrassing since the things they do are insane and likely something that many people would never think of doing. But now it sounds as though they're coming to the big screen and it also sounds as though the whole plot of the movie is that Paula Abdul likes them, enjoys their show, and wants them to come party with her. The only problem is that she's left only three tickets and there are four of them in the group. That presents a pretty unique problem since a ticket to Miami might not be a big issue but these are the Impractical Jokers after all, they can't just easily buy a ticket and call it good. Oh no. That would be too simple and wouldn't provide any real laughs for those that are wanting to see the spectacle that this sets up.
So of course we're going to get a whole movie worth of pranks, gags, and over the top skits to determine just who gets the three tickets and who's staying home, but the whole idea does tend to make one believe that by the end the missing ticket is going to be an oversight or will be remedied somehow since where three goes, all four have to go. That's just the way it is, you don't get just three jokers, you get them all. But unlike Jackass this movie does tend to make a person believe that there will be more to it than just moving from one gag to the next since that would be way too much like the show and might not attract a lot of viewers. In all honesty it's hard to believe that it's going to attract that many viewers to begin with since it's another TV show coming to the big screen in a risky move that might not pay off. But then again a lot of people happen to like the show so that might work in their favor and it might turn out alright. One has to wonder though just whose idea it was to involve Paula Abdul and make her a part of the plot since it does feel kind of random. Gregory Lawrence of Collider has more to say about the movie.
That being said it already looks like this could be insanely funny since the foursome are already known for pulling some seriously hilarious pranks and it's hard to believe at this point that the people they're doing this stuff around don't know them by sight well enough to understand what's going on. After all the show's been on since 2011 and they've apparently been working on this movie since 2018. Anyone in the world that doesn't know who these guys are, and it's fair to say that there are still plenty that don't, will know soon enough once they've been subjected to the pranks that these guys pull on a constant basis. Some of the stuff they do is pretty wild and some if it seems increasingly juvenile but it all gets laughs and for the most part none of it is too harmful or even that problematic since they're not out to cause utter mayhem like the Jackass crew did in the past. Instead they're simply out to embarrass each other in the biggest, most outlandish ways they can and there are times they seem to cross the boundary of good taste but all the same they still get people to laugh, which is the whole point of the show after all.
The movie is set to release this coming February in 2020 and it feels safe to say that people are going to flock to it at least for a short time to see just how much more the jokers are going to be able to pack into a full-length feature since they typically have to be short and to the point when it comes to the show thanks to the severe time restrictions they have to deal with. Just imagine however an hour and a half to two hours worth of pranks and you might envision a time spent in the theater feeling your jaw creak from laughing so hard, if this is your type of humor. So far people are getting somewhat excited for the movie as Greg Evans of Deadline would indicate, but it's still going to be interesting to see just how many people will line up for this picture. It could be a lot, it could be only a few, but something tells me that it will be a substantial number at worst.