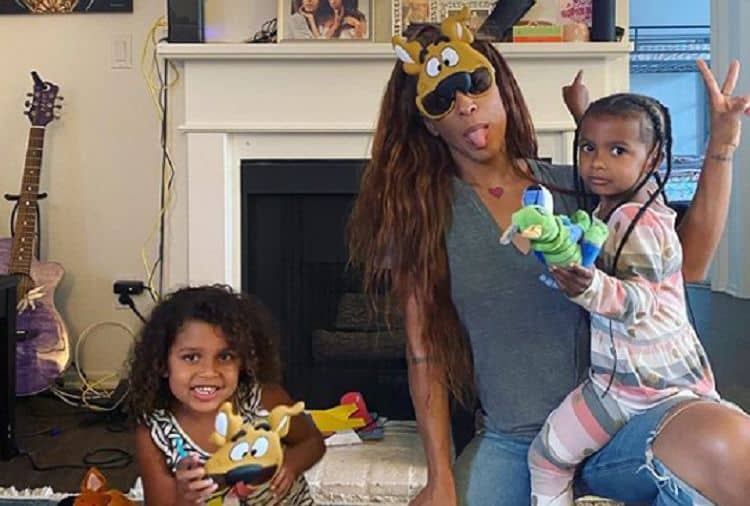 Amina Pankey, famously known as Amina Buddafly, is a 36-year-old reality star known from the show "Love & Hip Hop: New York." The pretty-face was married to Peter Gunz for five years but has since moved on with Marty West. She has become famous thanks to starring in the reality show and has almost 2 million followers on her Instagram. Besides what she shares on the platform, here are some things you likely did not know about Amina.
1. She has two sisters
Amina has a twin sister, Saffieou Schmahl, who is popularly known as Jazz, and they look alike. She also has an older sister named Sophie Schmahl. Although Amina and Safietou are identical twins, they never played tricks on their parents or other people. However, now that Amina is grown up, she wished she would have done it just for fun. Still, the mischievousness never escaped her in adulthood since Amina once considered letting her sister impersonate her to play a trick on Peter Gunz.
2. Her parents were not married
Amina was born in Germany and christened "Aminata" which she changed upon arriving in the United States. Her father is Senegalese, and her mother is German, and although they stayed together for so long, they never legalized their marriage. Amina and her sisters made a quick decision to move to the US without a plan because weighing her potions would have resulted in her not ever moving from Germany. Amina and her sisters made it to the US but struggled at first trying to make it in their career, but eventually, their hard work paid off.
3. She is protective and competitive
When Amina started dating the rapper Peter Gunz, she knew he had a family with Tara Wallace, but that did not stop her from being with him. At some point, she even posted a rated photo on Instagram of her and Peter but quickly deleted the picture because Peter has children who would see it later when they grow up. Recently Amina decided to let go of Peter, and they are co-parenting. She even decided to move to Los Angeles.
4. She is a singer
Amina loved music since she was young. She listened to a vast genre of music, including jazz, hip-hop, RnB, and more. Her role model was Mariah Carey, so Amina would study Mariah's vocals and then practice. She got her interest in music from her mother, who loved singing, and her father, who played Jazz. She first started singing in choirs and performing musicals, and by the time she was 13, Amina had started writing songs. Her favorite instrument is the piano, which she began playing at 24. Her love for playing the piano made her get a tattoo of it. She then launched her solo career after she joined "Love and Hip Hop: New York." Over the years, she has released a lot of albums, written over 400 songs, and released more than a hundred songs. She must appreciate being a reality star since the platform for "Love and Hip Hop: New York" gave her a wider audience for her music.
5. She used to be in a band
Amina, Safietou Schmahl, and Sophie Schmahl started as a trio forming their band, Black Buddafly. The group first started playing in Germany, and they later moved to the United States. Their genre was RnB, and Amina was the lead vocalist. Her older sister then left the band, and the duo released some singles and mixtapes. Amina is now a solo artist producing some albums.
6. Would she consider getting back on the "Love and Hip Hop New York" show?
According to her talk with Hello Beautiful, the show helped to promote Amina's music. Unfortunately, it has caused her so much stress because she opened her private life to be judged by everyone, and for that, she has received a ton of criticism. This statement gives us a confirmation not to expect her any time soon on any reality show. Even though being on the limelight caused her to be depressed, it does not mean that she regrets getting on the show; she learned more about herself and had some challenging times that have made her stronger.
7. Her endorsement deals
Amina wrote on one of her Instagram posts that she tries to eat healthy, including drinking green tea and uses natural products on her skin and body. She also goes to the gym and does yoga. All these proper measures have undoubtedly benefitted her, and the results can now be seen by how good her body looks. Maintaining a healthy diet, workout routines, and posting them on her Instagram has landed her several endorsement deals. Such companies include Boombod, a weight loss drink, and Teami Blends that deals with green tea and skincare solutions, as seen on her Instagram page.
8. She is a Mother
Besides her gorgeous looks and perfect body, Amina Budaffly has two daughters, Cori, five years old, and Bronx 3 years old whom she shares with her ex-husband. Little Cori so far has shown interest in singing, as seen in a video that Amina posted on Instagram. Amina was playing the guitar while little Cori was singing like a professional. You can tell Amina loves being a mother; she released an album "Mother" in May 2018 on mother's day. During an interview with Rebel Lifestyle magazine (which is now archived, no longer online), Amina said she had lost her drive in music over the years, but her daughters are the ones who keep her motivated.
9. Her best moments
According to her book "The Other Woman," when Amina and her sisters were young, their mother loved singing and knew some celebrities like the Jacksons family, Marvin Gaye, and Earth, Wind, and Fire. Her mother introduced her to them, and these remain her most memorable moments.
10. She is an Author
After her love triangle with her ex-husband Peter Gunz, she felt the need to explain her side of the story. In 2017 January, she published her book called "The Other Woman," which is more like an autobiography. You might be thinking that the phrase, 'The other woman' on the cover of the book is referring to herself, but when you read the book, it refers to Tara Wallace.