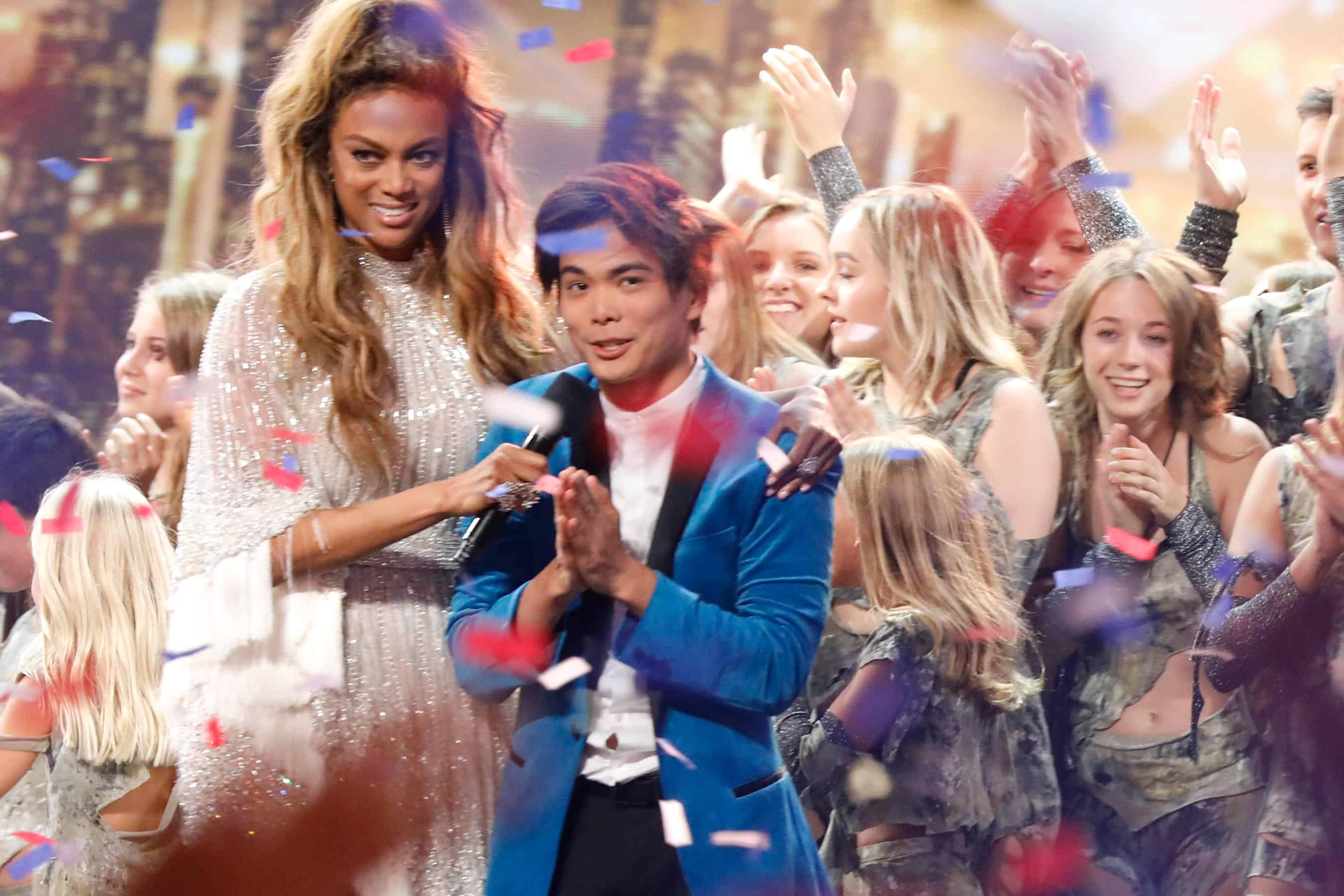 This is the moment we have been waiting for. One act will win a million dollars and a headline show in Las Vegas. It's the season thirteen finale of America's Got Talent. Who will win it all?
Rock and Roll legend KISS opens the grand finale. Though I have never seen them in person, I have heard of them and their music. The performance energized the crowd and I snickered when Gene Simmons stuck his tongue out at Simon and freaked him out. Nice one, Gene, nice one.
The top ten acts then proceeded to perform once again. This time, with some pretty powerful celebrity guests. Glennis Grace was first. The woman whom I refer to as Whitney Houston 2.0, did a mash-up of Bebe Rexha's new single I'm A Mess with her own song Meant to Be with Bebe herself. Glennis sounded so good and her voice is like velvet in my ears.
Then it was time for a bit of comedic relief. Mel B tried her hand at stand-up comedy with help from Howie and Samuel J. Comroe. Kudos to her for putting herself out there, but the jokes were scripted and she read from a joke book. As much as I enjoyed watching the former Spice Girl attempt to be funny, it wasn't that funny. When Samuel pressed the Golden Buzzer for Mel B after her set, I had a sweat-drop moment.
I also literally laughed when Howie got all Deal or No Deal when making a decision. I know it's to promote the return of the hit show but it was quite amusing to watch. A twinge of sympathy rushed through me when the models had to come out of racks of clothing to present their cases to Howie. Poor models.
Courtney Hadwin performed next with The Struts. Courtney did a rendition of their song Could Have Been Me and finished things off with a Janis Joplin hit Piece of My Heart. I couldn't quite hear what she was singing, but her stage presence is phenomenal. The young lady definitely belongs on the stage singing for the world to hear.
Italian opera legend Placido Domingo graced the AGT stage. Performing Pearl Fisher's Duet with Daniel Emmet. I thought that they would get Andrea Bocelli (I almost mistook Placido for him). Guess he's got a busy schedule or something. Daniel sounded great even though I could not understand a single word and Placido gave him the biggest compliment that he's the future star of opera. I sense a promising career on Broadway!
Trailer-nasty comedian Vicki Barbolak performed an interesting set with the one and only David Spade. The comedic banter back and forth was not too amusing, but still laughed at the appropriate moments. David Spade definitely helped elevate Vicki's performance a bit so overall it wasn't too boring for lack of a better word.
My mind was then completely blown when country legend Garth Brooks finally answered Simon's on-air shout-out. He took the time and wrote Michael Ketterer a personalized song. Ketterer then belted out The Courage to Love for the Dolby crowd and the judges. One thing I want to know is: where can I download the song?
Close-up magician Shin Lim performed next. American Ninja Warrior hosts Matt Iseman and Akbar Gbaja-Biamila joins him at the card table. My eyes went wide when Shin revealed four Jack of Clubs toward the end of his act. Magicians never cease to amaze me and Shin is no different. I have a feeling that he will be the winner of season thirteen.
The celebrity-contestant collaborations ended with a triple act rolled into one. Brian King Joseph dueted with fellow violinist Lindsey Stirling while Duo Transcend did their acrobatics in the background. Zurcaroh finished things off with a memorable performance that is most definitely Vegas-ready. I personally loved Brian King's epic duet with Stirling. If they ever decide to do a tour together, I just might buy tickets to go see them.
Things then took a serious turn as the Top Ten are whittled down to the Top Five. The acts are Zurcaroh, Brian King Joseph, Shin Lim, Samuel J. Comroe, and Michael Ketterer. These five acts then became the top three when Michael finished in fifth place and had to leave the competition. To be honest, I did not expect to see him leave. I thought that he would at least make it to the Top Three if not the second place runner-up. Perhaps Simon can do something and get him a record deal of some kind.
The acts that finished in fourth and third place respectively are Samuel J. Comroe and Brian King Joseph. These two acts are so different yet so similar in terms of the fact that they are each plagued with an incurable condition. Though they did not let their conditions stop them from achieving their dreams. I hope that Brian King Joseph can come back and audition for next year's AGT. Who knows, maybe he will be the next to win the title.
Second place goes to Zurcaroh and to paraphrase what Ryan Seacrest says in every season of American Idol: after a nation-wide vote, the winner of season thirteen of America's Got Talent is: Shin Lim! Cue the streamers and celebrate! The winner has been crowned and AGT is over for the year until next summer when more new and exciting talent will take to the coveted AGT stage.
Photo via NBC