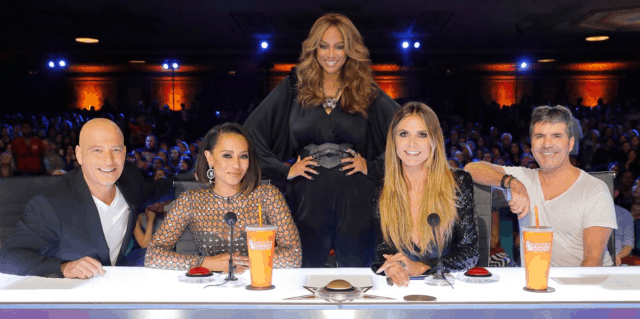 After months of auditioning and making it through the Judge Cuts, it's time for the live shows. Tonight on America's Got Talent, twelve acts fight for a spot in the first Top Seven semi-finalists.
The evening started off with Christian Guardino performing a rendition of Ed Sheeran's Make it Rain. His voice is great; I could see him having a record deal in the future. The judges all thought he did a fantastic job. Hope America thinks so as well.
Before Artyon and Paige got on stage, I knew immediately that they were going to channel the infamous scene from Footloose. The dancing duo had a bit of a mishap towards the end. Though that did not affect their overall performance. I loved Paige's facial expressions; it brings a smile to my face to see a little happiness in a world where chaos and madness reign supreme.
When I saw Bello Nock back on the AGT stage, it honestly surprised me. The last time the daredevil was sent home despite his death defying stunt. Simon then explained that the man deserves another chance. Bello's act tonight was nothing short of nerve wracking as he walked along the Wheel of Death.
Aside from the jaw-dropping acts, there were a couple that I think won't be able to make it through to the semifinals. In the Stairwell, for instance, might not be able to get a spot in the Top Seven. I mean, their performance was good, but I don't think it was good enough. Same thing goes for the Singing Donald Trump. I did, however, enjoy his hammer time part of the act.
Yoli Mayor's rendition of Rag'n'Bone Man's Human was also amazing. Mel B, however, thought that the performance could have been better. The former Spice Girl liked the act but felt that something is missing. If the Miami singer can figure out what the missing piece is, then she's got a good chance to make it to the semifinals.
The final performance of the night is Darcie Lynne. The young ventriloquist brought a new puppet named Oscar. She sang a powerful version of Jackson 5's Who's Loving You. I chuckled at the part where the puppet declared his love for Mel B and cracked a joke about Heidi being married to Seal. Hope America votes for her!
Tomorrow is the first live results. Last year's winner Grace Vanderwaal will return to perform.
Side Notes
Puddles version of the Lorde song Royals was excellent. Simon, on the other hand, did not think so. The creator/judge buzzed the singing clown because he didn't get what was going on.
Preacher Lawson's comedy routine tonight was funny to an extent. I'm intrigued to see what more he can come up with should he earn a spot in the Top Seven.
Just Jerk's act tonight did not have much of a wow factor to it. To me, it felt like watching the same routine over and over. I'm not a professional dancer obviously, but if I were to see this in Vegas, I would only see it once. The same for Billy and Emily England's performance.
Photo via NBC
America's Got Talent Season 12 Episode 13 Review: "Live Show 1"
Summary
Twelve acts fight for a spot in the first top seven semi-finalists on tonight's episode of America's Got Talent.