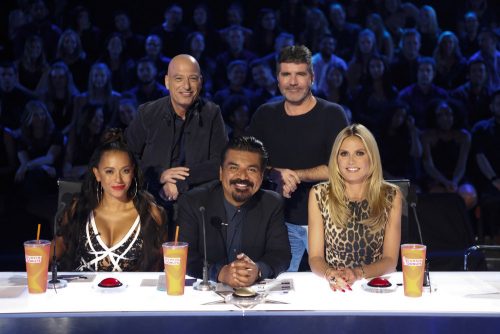 The stress is piling on in the final round of Judge Cuts on tonight's episode of America's Got Talent. Some acts stepped it up and improved on their acts. Others all but crashed and burned as their performance wasn't enough to send them through to the live shows.
I loved Blake Vogt's magic act. The end where he switched corners of the dollar bills was mind baffling. Though to be honest, I wasn't paying as much attention to his act. I think that Jon Dorenbos' act was better than Blakes' act. Blake got through to the live shows in the end so best of luck to him.
Another act that I loved was Tape Face's act. It started off funny with him spinning on the stool lying on his stomach. It then got confusing when he brought Howie up onto the stage. I was curious to see what Tape Face is going to do to the Canadian judge. When the former put pieces of tape on Howie's shirt and turned him into a puppet, I laughed out loud. It reminded me of when Paul Zerdin, the British ventriloquist who won the competition last year, turned Howie into a puppet.
Some acts felt a bit off tonight. I'm still irked by the singing/dancing duo Charlie and Rose. Their act wasn't anything special. The song choice was okay, but Charlie just did a karaoke rendition of it while Rose danced. I was glad to see them not get the chance to go through to the live shows because if they did, I would have some choice words to say to the judges.
The guest judge for this third round of Judge Cuts is George Lopez. The comedian was polite to all the acts, saying words of encouragement and constructive criticism. I all but applauded when he pressed the Golden Buzzer after Malevo's performance. They were magnificent, and I could envision them in Vegas, but they're up against some extraordinary acts.
Next week, the last twenty acts will perform for their chance to get through to the live shows. The final guest judge will be Louis from One Direction. Will he hit the Golden Buzzer like the three other guest judges before him?
Photo via NBC
America's Got Talent Season 11 Episode 10: "Judge Cuts 3"
Summary
Stress and Nerves go hand in hand as more acts perform for their chance to make it to the live shows on tonight's America's Got Talent.