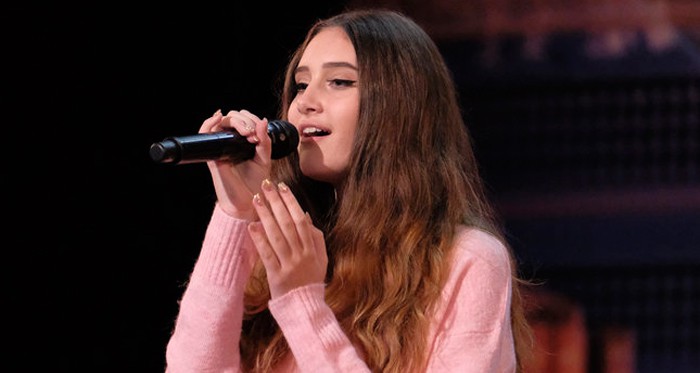 It's the final night of auditions on this week's episode of America's Got Talent. Which acts will be lucky enough to get three or four "yeses" from the judges? There's also the final Golden Buzzer act for Heidi Klum. Judge Cuts are set to begin next Tuesday with guest judge Ken Jeong.
Great Acts
Sergey and Sasha – I was quite impressed with this father/daughter acrobat duo. The fact that Sergey could balance his daughter on his head and hand at his age is incredible. I chuckled when Sasha made a crack about Howie's lack of hair when the judges critiqued the performance. Sasha, you stay awesome, girl!
Angel City Chorale – At first, I was a bit confused when the hundred-people choir group began their act with rain/thunderstorm sound effects. When they transitioned into Toto's Africa, it gave me goosebumps. I also teared up a little bit during the song as the power of it hit me right in the feels. Howie was right; they did take the audition by storm. The interaction that Sue, the conductor lady had with the judges and the audience was super-excellent. A choir has never won the competition before. Maybe this one will be the first?
Maddock "Patches" Johnson – To be perfectly honest, I thought that he would sing a song by either Ed Sheeran or Justin Beiber. Never in a million years would I guess that the young boy would start rapping an original rap for his audition. His rhyming skills got a standing ovation from the audience, and the judges gave him four yeses, sending him to the next round.
Oliver Graves – This Goth stand-up comedian brought the house down with his self-deprecating humor and haunted jokes. Everyone including the judges loved the act, causing Graves to choke up with emotion. I'm intrigued to see what he's got in the next phase of the competition!
Angelito Garcia – Wow, what a voice! He could be a young version of either Enrique Iglesias or Marc Anthony. I, too, do not speak a word of Spanish, but the song that he sang for his audition was moving and heartfelt. Good luck in the next round, young man! (Side Note: I agree with Simon's comments about choosing songs. You need to take it and make it your own, or else it's just going to be like a karaoke contest).
Average Acts
Hunter Price – I cringed a little when I heard his rendition of Bryan Adams' (Everything I Do) I Do It For You. Simon cut him off in the middle of the song, telling him that he needs to break away from the karaoke and do something that shows who he is as a singer. Price then performed an original song called Left Behind and ended up getting three yeses from the judges.
Blue Tokyo – This acrobatic troop wowed the crowd with their synchronized gymnastics, baton twirling and whatever else they have up their sleeves. They almost couldn't perform because they're short one team member who was injured. Thankfully, they soldiered on with the remaining uninjured members and were able to move on to the next round. I've seen acrobatic groups before, so I wasn't too impressed, but they were still good.
Abysmal Acts
I Am Robot – This particular audition is a comedic routine gone wrong. The man called his act a "product demonstration" where he attempted to peel an orange using his fake robot clamp hands. If I were a judge on the show, I'd give him an X right off the bat.
Pam and Oscar – I get that Simon has found his first singing dog, but I honestly do not think that the "musically gifted" Golden Retriever will make it very far as there are human singers better than him. That, and Pam's piano playing needs work. Not that I'm an expert or anything, just being observant.
Hamster Wheel – The dedication that these three men put into to create their Rube Goldberg machine is beyond impressive. Aside from that, I found their act to be a bit average. The entire chain reaction took too long, and it almost didn't work when the spinning microphone couldn't knock off the glass. It may have put Simon on the edge of his seat, but it wasn't the case for me.
Heidi's Golden Buzzer Act
Makayla Phillips – This fifteen-year-old singer wows everyone with her rendition of Demi Lovato's Warrior. Heidi stood up at the end and called the young lady "cute" and "absolutely incredible." The model judge then hit the Golden Buzzer, sending Makayla straight to the live shows.
Photo via NBC
America's Got Talent Season 13 Episode 6 Review: "Auditions 6"
Summary
Auditions come to an end before Judge Cuts begins next week as more acts fight for a chance to be a part of summers' biggest competition on tonight's episode of America's Got Talent. The final Golden Buzzer will also be pressed as Heidi Klum reveals her favorite act.