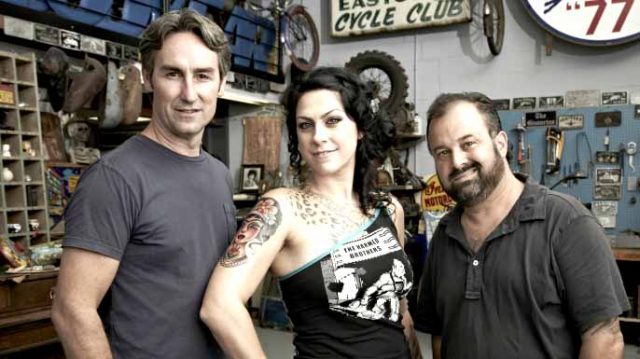 With about fifty percent of reality shows you can easily assume they're fake, and unfortunately for American Pickers they might fall somewhere in the middle of that category. The show has been a favorite of many fans since it got started since people have this strange fascination with older items that some might see a junk. Of course the biggest draw is how much money can be made off of them and the disbelief that the pickers were able to find them so easily. Of course then you go into the idea of belief and how much you should really give to a show like this. There's a big reason why some people think that American Pickers is fake, so let's get into it.
Their finds are often not as legitimate as you would think.
Ever watch Storage Wars? You might like to think that people who are into finding old junk to sell at a high price just come across hidden treasures every day, but that's not the case. For those that buy storage lockers and those that pick through other peoples' junk like this show depicts the 'diamonds in the rough' are not as easy to find as you might think. A lot of times those hidden gems are more of a rarity and when they do pop up then it's a reason to get excited. But any other day when pickers go out to play in the junk piles of other people they might find a few items of interest but nothing great enough to make their day worth it. A lot of those hidden gems you see the find are either seeded or scouted out by the producers so that they'll have something to put on the show and make it worthwhile. No one really wants to see the pickers going through mountains of rubble and old items just to come away empty-handed after all.
The prices are usually set.
Watching the show you get the feeling that the people who own the junk are trying to be as shifty as the guys that are trying to buy it off them cheap. While some of the stuff they find might have some value to the right collector it's hard to believe that the people that own it are keeping it because it's a prized item. There are those that keep such items in good condition but those that are found in the dingiest, darkest places in the back of garages, sheds, barns, or otherwise are those that are just trying to unload their junk and get top dollar for it. But the trick is that the producers set the price, as this gives very little wiggle room for the pickers or the owners to work with, and can create a little bit of drama to the show.
The driving scenes are staged.
If you really think that the pickers are driving across state lines and across the country to find these hidden artifacts of the old days then you're a little too gullible and need to find a different show to idolize. The driving scenes are for the benefit of the audience so that they can have a little more dialogue along with the picking and the haggling and the suspense of finding something worthwhile. The pickers go to these places without a doubt but think on this, when was the last time you took an extremely long road trip and looked that fresh and ready to go when you got out of your vehicle? These guys typically look like they just drove down the block from their last picking location in order to find the next one. However they get there the pickers are obviously given some time to rest and recoup before they get to it, so the idea of driving hard to get to the next score is kind of ruined when you give it just a little bit of thought. Plus, the cost of gas for their rig would necessitate trying to rip people off so that they could actually drive for more than a few miles if it was real.
The pickers each have a net worth that's in the millions.
On one hand you can say that they have a passion for picking, but on the other it seems as though these guys need to do this to make a living. But the truth of it is that both men have a net worth that's around $4 million or more. So it's a passion for one of them at least, but as far as being necessary it's not really that vital to their survival. They each got about $500,000 per season so they wren't hurting for money.
In all honesty though a lot of people watch American Pickers for the items and the idea that old junk could be valuable. If it's taken as pure entertainment then there's really no harm to it.