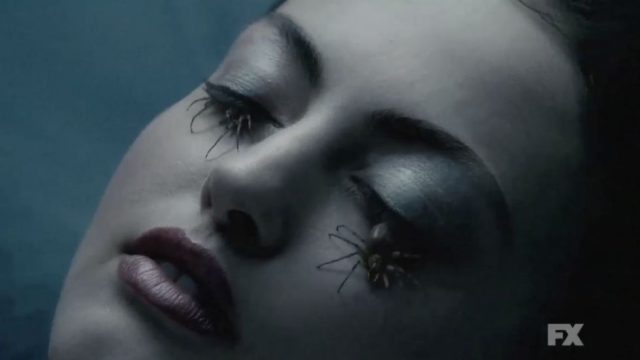 UPDATE (9/15/16): FX officially announced the title for the season to be American Horror Story: Roanoke. I'm not going to change the text from the original review, but I'll start using that subtitle from here on out.
This has been the strangest preseason yet for American Horror Story as, for the first time in the show's six-year history, we had absolutely no idea what the season was really about (though I proposed a theory over the summer based on some clues). With no real knowledge of the theme, setting, or, really, even the cast, season 6 of American Horror Story was our first chance to go in blind since the beginning, and it's been something I've looked forward to for months.
After a very long wait and months of hype, the veil has finally been lifted. Let's take a look at what happened in the season premiere of American Horror Story: ?6.
SPOILERS, GUYS.
The season opens with a title telling you that the story is inspired by true events, and we get a very unusual sequence for American Horror Story that is a segment for a fictional television-series-in-the-series about Roanoke (think a show on Investigation Discovery or TLC). A couple, Matt and Shelby, tell the story of a terrible night of their lives in which they were attacked, and we get to see Lily Rabe in the role of Shelby with Sarah Paulson as Shelby in the fictional television show (it's a bit confusing, but easier to understand in context). During the event, Matt, played in the dramatized version of the events by Cuba Gooding, Jr., was horribly injured (though he survived), and Shelby lost her baby that she was carrying. The couple decided to get away for a while, and they moved to a giant farmhouse in the woods that was built in 1792. They bought the house at auction for $40,000, but they were informed it was under the condition that they not build on the land surrounding the house. The show heads to commercial break at this point, STILL not revealing the season's theme or opening titles.
Moving ahead, the couple begin preparing their house for their life, still reeling from the loss of their child. As they have sex in the middle of the night, though, they're interrupted by terrifying noises and knocks around the house, and Matt discovers that their trash cans have been vandalized. In the mist of the night, another can is chunked at Matt, but the couple decides that they're not going to let hillbillies and rednecks ruin their new life.
The next day, Shelby is sitting in her dining room when, out of absolutely nowhere, human teeth start raining from the sky above her new home. Matt finally arrives home upon finishing errands in town, but the teeth are nowhere to be found (Matt mentions going through a hail storm on the way home, but Shelby is convinced). Soon after this, Matt, a traveling salesman, has to leave on a business trip, and Shelby is forced to stay alone (though she is looking forward to some time to recover on her own). At night, though, strange events once again surround Shelby and the (haunted???) house in which she now lives, and the occasion is marked by what seems to be ghosts in her hallway. Shelby thinks that she's just seeing things again, and she heads outside to their new hot tub (this is a really nice old house, y'all). Unfortunately, she is attacked by another mysterious force inside the hot tub, nearly drowning.
Shelby survived, and the police are already with her when Matt returns from Raleigh. The police don't at all believe Shelby, but Matt convinces them that he'll at least talk to the family that he thinks may be behind the spookiness the couple have seen. Matt finds it a little hard to believe everything that his wife tells him about the events, but he continues playing the supportive husband that is completely willing to be there for his wife however she needs (though she clearly doesn't want to live in the house any longer). On another night, Matt heads outside to investigate more spooky noises, and he discovers a mutilated pig on their front stoop. Convinced that it's just the neighbors trying to scare them away, he doesn't tell Shelby about the new discovery, but he does set up security cameras around the house so he can keep an eye on things while he's away on business. Before he leaves, he also asks his sister (played in My Roanoke Nightmare, the show-within-a-show by Angela Bassett) to come stay with his wife until he gets back. The sister has had her own share of experiences, having become addicted to painkillers while on-the-job as a police officer (leading to her losing her job, marriage, and daughter in the process). She also isn't too fond of Shelby, but she stays anyway as a favor to her brother.
Later at night (these people should really just go to sleep at like 4pm and avoid all of this spookiness if you ask me), sounds distract Shelby as she makes dinner, and a knight is (seemingly) threateningly placed in her dinner as she's looking away. The two women get into a small argument, but they attempt to put their differences aside to make it through the experience. The sister also doesn't believe the stories at all, but she, too, gets to experience things firsthand after being mistaken about a prank. Before things can come to a head, though, Matt is alerted remotely by figures appearing around his house on the security cameras.
Matt freaks out about the mob with torches that are approaching his house (and neither his wife nor sister will pick up their phones), and the women are forced to investigate door squeaks and other noises without any warning of what's going on. They head into the basement of the house (without the gun, of course), and they discover a video tape playing on a tv set that contains the noises Shelby has been hearing. On the tape, a monstrous creature is filmed for a brief moment, but the tape ends before much can be shown. The women are trapped in the basement as the door slams shut (and the mob enters the front door), and Matt rushes home from Raleigh when it becomes obvious that the police aren't going to do anything for them. Footsteps and other sounds pervade the home as the two women cower in fear in the basement, but they eventually stop out of nowhere. Braving the night, the women head back upstairs, and they're greeted by stick figures tied up all around the house (think the figures from The Blair Witch Project). It's a frightening scene that clearly harkens to that film, but it works extremely well despite being so on-the-nose.
When Matt arrives, the police are already gone and simply called the event "vandalism." The women show him the video (which he thinks is just a fake), and we see that the creature is clearly inspired in some way by a pig (remember that dead pig Matt found?). Shelby gets in the car and just drives away (clearly the smartest character on this show so far), and she comes across another nightmare on the road while on the phone with Matt. She begins to think that she's going absolutely crazy (and she's also lost), and she starts wandering through the woods (I take back what I said about her being smart) before coming across many, many more of the stick figures. The ground beneath her starts to move in a violent and abnormal way, and she finds people in the woods…
…before the episode suddenly ends. The final credits of the episode finally give us the names of the main credited cast for the season (Kathy Bates, Sarah Paulson, Cuba Gooding, Jr., Lily Rabe, Denis O'Hare, Wes Bentley, Evan Peters, Cheyenne Jackson, and Angela Bassett), but there's no other reveals for us here.
This season of American Horror Story is still, largely, a mystery (is the subtitle My Roanoke Nightmare?), but I am ALL IN for this story. I absolutely love the risks and changes that they're already using this season, and I have complete faith that everything will tie together well. This single episode managed to combine horror and mystery in a very unique way for the show, and I'm incredibly interested in seeing where we go from here. The main cast (that we've seen so far) is also SO GOOD already, and I am eternally amazed by Sarah Paulson.
This is a different season (and era) for American Horror Story, but I have a feeling that it's going to be so, so good.
What did you think of American Horror Story's sixth season premiere? Was it worth the wait? Did it live up to the hype? Let us know your thoughts in the comments down below!
[Photo Credit: FX]
American Horror Story: Roanoke Season Premiere Review
Summary
The season premiere of American Horror Story only revealed a tad of what's to come, but it's clear that we're living in a new era of the show that may be stronger than anything we've seen yet.