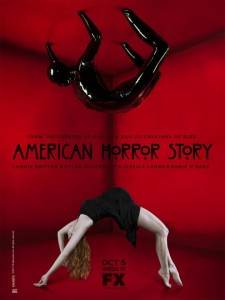 With weeks of steady promotion and an even steadier growth of anticipation and interest, FX will finally open the doors to its new drama American Horror Story, the network's new horror drama from Ryan Murphy and Brad Falchuk, the co-creators of Glee. Murphy is also responsible for FX's other classic, and equally disturbing, cult hit Nip/Tuck.
American Horror Story centers around a family, The Harmons, who slowly discovers that there is something quite off about their new humble abode. While that description is as basic as they come in terms of the the standard haunted house premise, American Horror Story takes those established tropes and builds an idiosyncratic experience that sticks out from the scattered haunted house films released as of late. It's a bit over-the-top at times, but what can you expect from any haunted house story known to man?
The "victims" within American Horror Story's realm of terror include psychiatrist Ben Harmon (Dylan McDermott), his wife Vivian (Connie Britton), and daughter VIolet (Taissa Farmiga), who move to Los Angeles to start a new chapter in their life after the previous one ended in a shattered mess that they have yet to recover from. Unlike the Lutz Family of The Amityville Horror or The Freelings of Poltergeist, the Harmons of American Horror Story each enter their paranormal situation with a lot of personal baggage in tow, which is like licorice for their new home to feed off of. Ben and Vivian have marital problems that stem from a stillborn child and their separate ways of handling the loss. Vivian mourns the loss, while Ben turns to infidelity. Violet, on the other hand, could be the live action version of MTV's Daria Morgendorffer, complete with a 90s wardrobe and (rightfully) condescending attitude towards today's society. The only difference is what Violet resorts to in handling her family's dysfunction, which isn't too shocking, but fits another depressed teen of the 90s motif.
The Harmons are not the only people in the cast affected by the house's horrific grasp. Nosy neighbor Constance, portrayed superbly by Jessica Lange in her first regular TV role, has some connections to the house, as does her daughter Addy, who has Down's Syndrome and will walk into the Harmons' new home unannounced to warn them of their impending deaths. Lange's Constance will surely be added to Murphy and Falchuk's scene stealing divas behind Jane Lynch's Sue Sylvester on Glee and Famke Jensen's stint as Ava on Nip/Tuck. Her lines are as cut-throat as her delivery and will leave some people stunned while catching their breaths from laughing. Lange knows this is a Murphy/Falchuk production and doesn't disappoint in delivering the duos trademark wit to the point that it is safe to say that American Horror Story's breakout character will most definitely be Constance.
Other people troubled by the house (and themselves) include Tate Langdon (Evan Peters), a patient of Ben's and a secret confidant of Violet's. Tate's deranged take on the world will worry some people, most notably groups like the PTC (ugh), but this is where the "horror" of American Horror Story delves from the conventional haunted house story into one that trumps anything scary about blood seeping through the walls. Frances Conroy (Six Feet Under) and Alex Breckinridge (True Blood) both star as the housekeeper Moira, whose role in the grand scheme of things will have some viewers puzzled while others will chuckle in disbelief.
Finally there is Larry, a former resident/victim of the Harmons' new home whose body is severely burned due to the house's influence on him. His story didn't end well for him and he's now warning Ben to not follow in his footsteps to avoid a similar, or worse, fate.
American Horror Story has to worry about two things, numero uno being the polarizing effect it will have on audiences. Some critics are already considering the show an 'over-the-top' train wreck, but some of those same critics have already stamped Glee, Murphy's other smash hit, with the same stamp of disapproval. After three shows (Popular, Nip/Tuck, and Glee), the words "over-the-top" shouldn't be used as a shot against Ryan Murphy (and Brad Falchuk). At this point, it shouldn't necessarily be embraced as much as it should be expected. The other aspect the show has to worry about is trying to maintain the mystery, as well as the conventional side of the story, because seriously, who would share a house with a horny (literally and figuratively) "rubber man" and deadly ghosts of residents past?
As the title of this article states, American Horror Story is most definitely not your grandfather's haunted house campfire tale. In fact, your grandfather would possibly have a heart attack from the psychosexual angle of the show rather than the sight of a bloody ghost or two. American Horror Story is not for everyone, but I wouldn't have it any other way. A