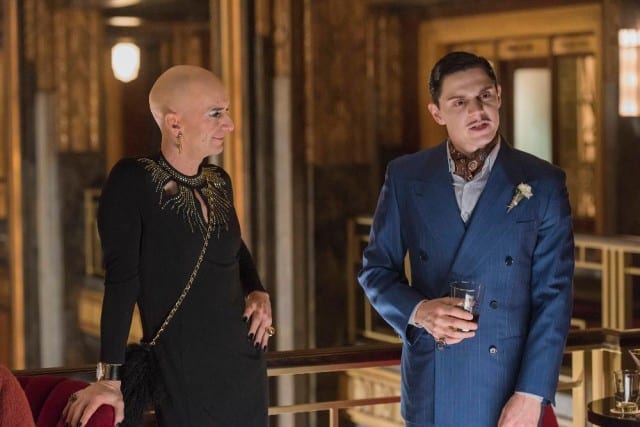 There have been plenty of ups and plenty of downs this year, but we've finally made it to the season finale of another installment of American Horror Story  (unlike the previous three seasons, but like Murder House, Hotel consists of only twelve episodes). As usual, the finale has a lot to wrap up before the season can properly end, so let's take a look at the end of Hotel, "Be Our Guest."
As usual with finale reviews, I'm going to be going a little lighter on spoilers than with most reviews.
The episode opens with Liz recollecting in hindsight of what she and Iris had wanted to do with the Hotel Cortez. They began with high hopes after liquidating the Countess' assets, but the spirits of the hotel aren't quite as open to change as the new owners are. Liz and Iris have a meeting with the ghosts, and it's clear that Will and Sally are going to be the two holdouts, but March makes a trip downstairs to explain that something bad happening to the hotel would ruin their "lives" (or deaths, as it were). His plan is for the spirits to allow the hotel to function until it's old enough to be declared a historical landmark, and a stay on killing is what it's going to take for that to happen.
Through plenty of montages and a surprisingly fun time jump to Devil's Night in 2022, all of the loose storylines from the season wrapped up in (and I can't believe I'm saying this about American Horror Story) great ways. I've never felt as satisfied at the end of a season of this show than I do at the end of Hotel, and that may be the biggest compliment that I can possibly give "Be Our Guest."
The aesthetic changes to the hotel are striking, and it really shows the care that the production designers took when setting up the new status quo. I haven't talked much about it in recent weeks, but the design on Hotel has definitely been among the best ever featured on the series. From the outset, it's been clear that visuals would play a big part in the season (even more so than usual), and this is, possibly, the only area that hasn't disappointed a single time during these twelve episodes.
Acting, specifically with Evan Peters but extending to most of the cast, has also been one of the strengths of Hotel. American Horror Story has become somewhat infamous for wasting potential, but Hotel has honed in on the cast's talent and used it in the best way possible.
American Horror Story seasons are all interconnected. This is something that we were told behind-the-scenes a year ago, saw briefly on-screen during Freak Show, and have gotten thrown at us completely during Hotel. I actually can't believe how well the writers have managed to mesh things together, but I'm glad to have been pleasantly surprised. The best part of this interconnectedness for me personally has been the cameos we've gotten from past seasons, with my two favorites being Queenie from Coven and Billie Dean Howard (with Sarah Paulson in a fun dual role) from Murder House. I almost don't want to get my hopes up that things will connect even more next season, but the success of Hotel in this specific area makes me more anticipated than ever before.
For the first time since Murder House, American Horror Story has managed to conclude a season in an incredibly strong way that, surprisingly, opens up a world of possibilities for future seasons to explore. Despite some dips during the latter part of the season, American Horror Story: Hotel has been shockingly consistent (especially when compared to the past three seasons), and this consistency has helped to solidify, for better or worse, the position that American Horror Story has achieved with television horror. Hopefully, next season will be able to match (or, dare I say, surpass) what Hotel accomplished. Please don't let me down, Ryan Murphy.
What did you think of "Be Our Guest?" How about American Horror Story: Hotel as a whole? Let us know your thoughts in the comments down below!
[Photo credit: FX]
American Horror Story: Hotel Episode 12 Review: "Be Our Guest"
Summary
American Horror Story: Hotel ends its most consistent season in years in an incredibly satisfying way that wraps up its storylines while opening up themes to be explored in the future.