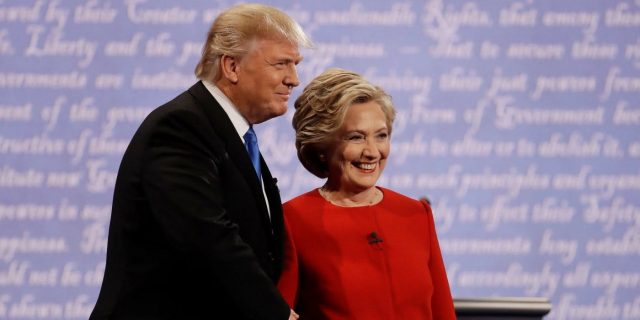 I feel like the last thing associated with any episode of American Horror Story would be contemplating who in the next season would be playing Donald Trump or Hillary Clinton but it's looking that way folks. During an appearance Wednesday night on the Bravo talk show Watch What Happens Live (hat tip THR), AHS co-creator Ryan Murphy revealed that season 7 will be set during the contentious 2016 U.S. presidential election between Hillary Clinton and eventual winner Donald Trump. When asked by host Andy Cohen if there will be a character in season 7 directly based on Trump, Murphy responded with a simple "maybe."
He didn't say no. He didn't say yes. But come on. If you're filming an entire season whose backdrop is a Presidential election you know quite well that we're going to be seeing some actors come in for political roles. I'm guessing we won't be seeing Alec Baldwin and Kate McKinnon play Donald and Hillary but whoever it's going to be should be interesting.
Murphy has never been shy about his political or social stances so part of this isn't a surprise but people are already saying this season could potentially be one of the most divisive ever. Also given out how outside of "reality" the show is, how grounded can it possibly be? How far will Murphy stretch the political characters?
Should be very interesting. American Horror Story comes back to FX in the fall.
Tell us what's wrong with this post? How could we improve it? :)
Let us improve this post!