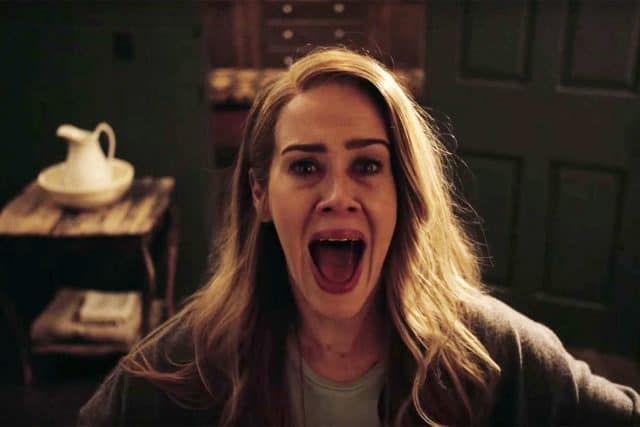 With this week's episode, we're now at the halfway point of the shortest season of American Horror Story so far. Let's dive right in and take a look at what happened in this week's new episode, "Chapter 5."
The episode opens with a preview of what's to come in the episode of My Roanoke Nightmare (as per usual), but it's notable because it gives us our first look at Francis Conroy! That's wonderful, but the episode quickly moves on to the history of the Mott Family and their relationship with the house. If you'll remember, the Motts were big in Freak Show, and we were promised that this season would connect with that one in a big way. Edward Mott, the patriarch of the family, purchases the land that the house sits on so that he can live alone with his artwork. Mott, too, is played by series regular Evan Peters, who makes his Roanoke debut this week. Edward is already an interesting new character for Peters, and, while his Hotel role has been the best thing the actor has done so far with American Horror Story, there's a lot of potential for fun here (especially when we find out that he left his wife and children to live here with his art and male lover). Is the Mott Family going to be the thing that will tie all of the seasons of American Horror Story together? Just wait…
After only living in the house for two days, Edward Mott began experiencing "weird" things that directly speak to the experiences of Shelby and Matt so very many years later. He believes the mishaps to be the work of those from his household at first (and this guy has a major temper when it comes to his art), but he quickly discovers the Butcher's role in the activity. Alas, Edward Mott is not to be long for this world, and he is killed in a typically brutal way by the Butcher and her clan (the servants, too, are killed after being locked up by Mott and not found for days). We get a brief mention of the events of Freak Show (lest you forget where the Mott Family originated on the series), and the history lesson is over as soon as it began.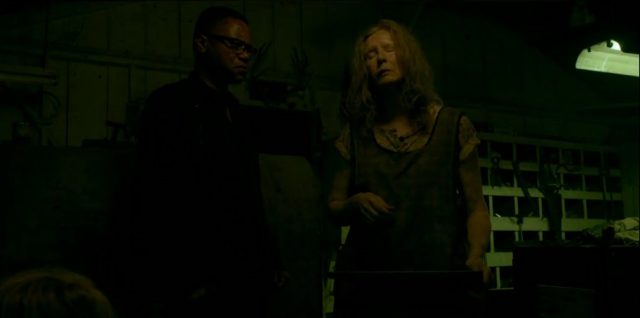 Back in the recap of Shelby and Matt (and Flora) spending one final night in the house, the blood moon has made things go absolutely bonkers. Their only relief from the insanity is, as one might expect, the emergence of Edward Mott's spirit. Edward shows the family his secret underground tunnels that they can use to escape from the Butcher, but that escape only goes to the woods (I want to mention how baller the torch effects on Peters'/Mott's face during this scene; fantastic job, American Horror Story).
In a neat twist (not the twist, nobody panic), Elias is still alive. I use the word "alive" very lightly, though, because the local rednecks have left him in a horrible state. He was "saved" by their mother, finally bringing Frances Conroy into the narrative. Unfortunately, she decides that she's had just about enough of Elias and ends his life (that survival sure did last a while, didn't it?). Apparently, the locals have been spending their lives appeasing the Butcher, and Shelby and Matt realize that they just keep going from one terrible spot to another.
Things get really, really bad for Matt and Shelby (with one of them receiving another gruesome injury), but Lee (recently released from the police station) shows up right in the nick of time to help. Luckily, Ambrose (the Butcher's son) also finally turns against his mother to end her reign, and the four living souls are able to escape from their Roanoke nightmare…
…and that's that. My Roanoke Nightmare has told its story. Through re-enactors and talking heads, we've seen what Matt and Shelby (and Lee, Flora, et. al) experienced. It was horrifying and often unbelievable (from the perspective of a person watching a Discovery Channel-esque docu-series like this), but it's over.
So, after half of a season, American Horror Story: Roanoke has seemingly concluded its story. We've been told well in advance that episode six would upend the season completely, though, so it's clear that there's still so much more to come. I've absolutely loved the way that this season has changed up its aesthetic so entirely, and I'm so excited to see what's coming next. As for this episode, though, "Chapter 5" is easily one of the best entries of the season so far, and this twist coming up is going to have a lot to live up to.
What did you think of this week's new episode of American Horror Story: Roanoke? Let us know your thoughts in the comments down below!
[Photo Credit: FX]
American Horror Story: Roanoke Episode 5 Review: "Chapter 5"
Summary
Just in time for the season's big twist, American Horror Story: Roanoke delivered one of its best episodes in a tight hour that accomplished everything it set out to do.