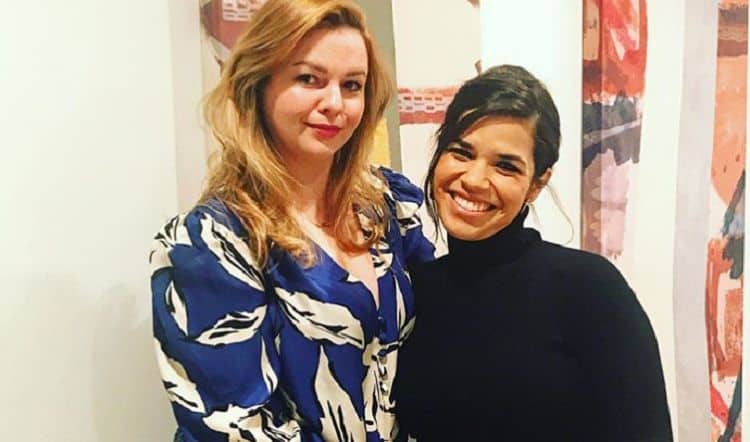 Amber Tamblyn doesn't get the credit she deserves. She's one of the few people who has been able to successfully transition from a child star to an adult actress. Although she is just 37-years-old, Amber has been in the business for more than 20 years. Over the years, she has consistently shown that she can do it all. She's appeared in dozens of TV and film productions, and she's also some some theater work. Outside of acting, Amber is a talented writer who has released several projects. Continue reading for 10 things you didn't know about Amber Tamblyn.
1. She Wrote A Poem About Brittany Murphy
When Brittany Murphy passed away in 2009, people all over the world were shocked and saddened by her tragic death. Amber developed an interest in Murphy's death and decided to write a poem about it. In an interview with Believer Mag, she said, "I can tell you anything about Brittany Murphy. I've read her autopsy report and death certificate."
2. She Convinced Quentin Tarantino To Speak Out Against Harvey Weinstein
When allegations began circulating that Harvey Weinstein had a history of sexually assaulting women in Hollywood, it became one of the biggest stories of the year. Quentin Tarantino, who has worked very closely with Weinstein over the years, found himself somewhat caught in the middle. Amber says it was a conversation with her that encouraged Tarantino to speak out. She told Tarantino, "If you care enough, not only about your legacy, but about the women that he harmed directly that you love, do it for them. Do it for me. If you care about me, do it for me. He knew about Uma [Thurman] and Mira Sorvino, and he talked a lot about that. And that's when he really said, 'You're right."
3. She's Married
In 2012, Amber Tamblyn married, David Cross. He is best-known for his work as a stand-up comedian, actor, and producer. He has worked on several popular shows including The Colbert Report and Drunk History. The couple has one child together, a daughter named Marlow.
4. She's Not Afraid To Speak Her Mind
If Amber Tamblyn isn't going to do anything else, she's definitely going to speak her mind. Over the years, she has made it a point to speak out against injustices and speak her mind in regards to social awareness and other causes she's passionate about.
5. She Had Arachnophobia
Lots of people aren't too fond of spiders, but most people can at least handle coming in contact with them occasionally. However, Amber Tamblyn's fear of spiders is on a whole new level. She once suffered from arachnophobia so bad that she had to ask the writers of General Hospital to remove a scene in which her character was supposed to pick up a spider. She opted to pick up a rat instead. Amber has since overcome her fear of spiders thanks to hypnosis.
6. Her Parents Are Famous
Amber Tamblyn isn't the first person in her family to live a life in the spotlight. Both of her parents are also well-known in the industry. Her father, Russ Tamblyn, is an actor, dancer, and director who also began his career as a child star. Her mother, Bonnie Murray Tamblyn, is a musician.
7. She's All Natural
Amber recently decided to post a photo of herself in honor of her birthday. She proudly showed herself in her natural element: "no makeup. No filter. Never filler. No razor. Roots exposed. No color. No disguise, no veil for the body. Unpolished"
8. She Got Her Start On A Soap Opera
Although soap operas aren't always taken seriously, they've been the perfect starting point for lots of actors. In 1996, Amber landed a main role as Emily Bowen Quartermaine. The opportunity helped establish her reputation as a talented young actress. Tamblyn continued to play the role until 2000.
9. She Says Growing Up In Hollywood Wasn't Always Easy
Growing up around rich and famous people may seem like a dream come true, but it's not always as fun or easy as it sounds. Tamblyn said that growing up in Hollywood gave her "a lot of issues later on in my life as far as boundaries. Just in the sense of letting people take advantage of me or of not really knowing how to find my own self worth in a world where I grew up around such big voices and personalities."
10. She's A Feminist
Amber Tamblyn considers herself a feminist and has consistently stood behind her beliefs. Even in her marriage, she is always willing to have "difficult conversations" with her husband to help shift his perspective.
Tell us what's wrong with this post? How could we improve it? :)
Let us improve this post!