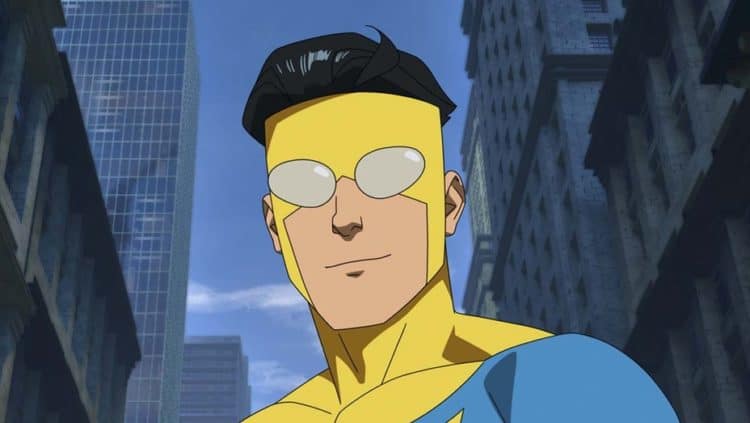 This article will contain massive spoilers for the premiere of Invincible, so if you would like to remain spoiler-free, I highly recommend you stop reading, watch the show, and then come back and read. The premiere of the Amazon original 'Invincible' released earlier this week exclusively on Amazon Prime, and the episode seemed pretty tame all the way up until the last 10 minutes or so. Then it hit the fan. I mean, I know Paul Tassi said that it essentially puts The Boys, another Amazon Original, to shame, but good lord I had no idea what I was in for. So what can you expect if you decide to start watching Invincible on Amazon Prime? Does it give The Boys a run for its money?
What is Invincible?
The brand new Amazon original titled 'Invincible' is based on Robert Kirkman's graphic novel of the same name beginning in 2002 (though it only became its own regular series in 2003). The story follows a young man named Mark Grayson as he struggles with his lack of inherited superpowers from his father, Omni-Man, who comes from the planet Viltrium. The people of Viltrium possess great abilities such as flight, super strength, and super speed. As Viltrumites begin to come of age, they are sent off to another world to become the protector of said world. However, Mark is nearly 18 and still has yet to receive his powers, and he begins to worry that they will never come. As in great comic book fashion, Mark realizes his powers have finally manifested as he is taking the trash out at work and accidentally throws a trash bag into the depths of space. Mark then begins training his powers with his father, Omni-Man, because he wants to become like him and save the world.
The premiere episode of Invincible pretty much just follows Mark on his – honestly pretty quick – journey to becoming the hero known as Invincible. However, the end of the episode turns into one of the most violent scenes in recent television that I've seen in a while. It turns out that Omni-Man is a bad guy….or at least is being made to look like a bad guy for now. He brings the "Guardians of the Globe" (aka this universe's version of The Avengers or the Justice League) in for a meeting at their headquarters and begins attacking each member immediately. He violently crushes Red Rush's skull and pops his eyeball right out of the socket. He then proceeds to completely eviscerate every other member of the Guardians of the Globe one-by-one in an increasingly terrifying fashion. After he wipes out every last member, he then collapses on the ground himself, and the episode ends.
Invincible Cast
Invincible is loaded with a pretty star-studded cast including some of my favorite actors of all time, including:
Sandra Oh as Debbie Grayson
J.K. Simmons as Nolan Grayson / Omni-Man
Steven Yeun as Mark Grayson
Zazi Beetz as Amber Bennett
Walton Goggins as Cecil Stedman
Gillian Jacobs as Eve, Atom Eve, Samantha Eve Wilkins
Jason Mantzoukas as Rex Splode, Rex Sloane
Grey Griffin as Monster Girl, Amanda, Shrinking Ray
Kevin Michael Richardson as Mauler One, Mauler Two, Mauler Twins, Monster Girl
Zachary Quinto as Robot
Andrew Rannells as William Clockwell
Chris Diamantopoulos as Donald Ferguson, Doc Seismic
Mark Hamill as Art Rosebaum, Art
Melise as Dupli-Kate, Kate Cha
Seth Rogen as Allen the Alien
Khary Payton as Black Samson
Max Burckholder as Oliver Grayson, Matt
Michael Dorn as Battle Beast
Nicole Byer as Vanessa & Fiona
Mae Whitman as Connie, Model, Fightmaster, Dropkick
Clancy Brown as Damien Darkblood
Jeffrey Donovan as Machine Head
Fred Tatasciore as Kill Cannon, Robber 1
Jonathon Groff as Rick Sheridan, Rick
Mahershala Ali as Titan
Jon Hamm as Steve
Ross Marquand as Aquarus, Bi-Plane, Kursk
Ezra Miller as D.A. Sinclair
Djimon Hounsou as Martian Emperor
Chad L. Coleman as Martian Man
Michael Cuditz as Red Rush
Lennie James as Darkwing
Zehra Fazal as Astronaut #2, Young Wife
Reginald VelJohnson as Principal, Scientist, Tether Tyrant
Sonequa Martin-Green as Green Ghost
Justin Roiland as Frat-Bro Douche, Punk Kid
Gary Anthony Williams as Newscaster, Umpire, Scientist
Lauren Cohan as War Woman
Yeah, so we've got a massive cast for Invincible and I'm here for every single actress and actor in this series. I've gotta say, Invincible has me hooked from the very first episode and I can't wait to watch the next few episodes to see where the show goes from here after the massive Omni-Man twist, and then binge-read every single issue of Invincible.
Tell us what's wrong with this post? How could we improve it? :)
Let us improve this post!