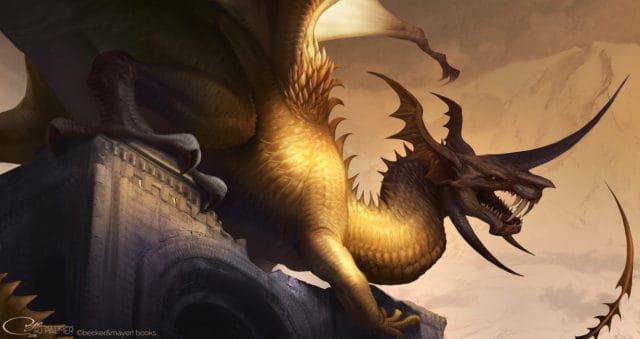 For those of you who aren't familiar with the work of Arvelis he's one of the most talented artists to ever put his work on Deviant Art. His real name is RJ Palmer and he's most well known for drawing realistic pictures of Pokemon. He's rendered hundreds of made up Pokemon with full descriptions and an amount of detail that will astonish you. Recently, Arvalis took his skills into the dragon world.
Last year he was fortunate enough to get the opportunity to work on a dragon book for Scholastic by way of Becker&Mayer Books. Arvalis took a crack at designing 16 different mythical dragons from all over the world for a book called Sink Your Teeth Into Dragons.
I will be providing five images from this collection as well as full descriptions from RJ himself. Don't forget to click on each photo for full size.
Zilant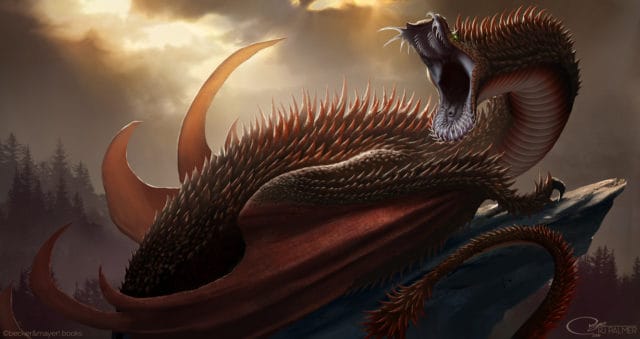 This is the Zilant, a mighty snake dragon. From my understanding a town gathered all their serpents for a mass burning (not how I would solve a snake problem but whatever). This dragon was supposed to have risen from the burn pit, like a vengeful snake mess. I thought it would be cool if it had long, spiny scales that when it moved might look like a horde of snakes. Also before you ask, it definitely cannot close its mouth very well. I was quite pleased with the results on this one, tried some techniques on it that were pretty new to me at the time.
Chinese Dragon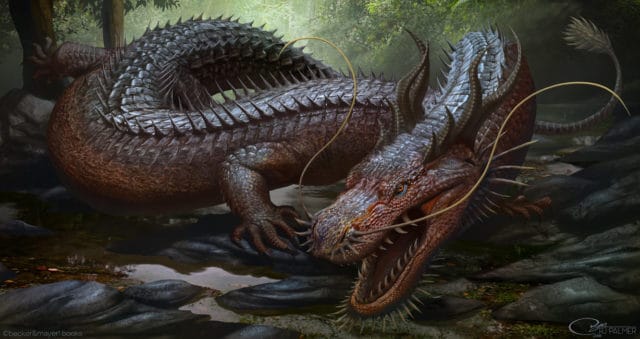 This Chinese dragon, or lung, was one of the designs I was most looking forward to working on for this project. I thought it would be cool to base it on reptiles native to China and other Asian territories. My chief inspirations were Chinese alligators and earless monitors as if it wasn't super obvious. I had never been super into the traditional Chinese dragon look so I wanted to design one that felt more naturalistic and more up my alley. This was another one of my favorite pieces from this series, I learned a whole ton from this process.
Wyvern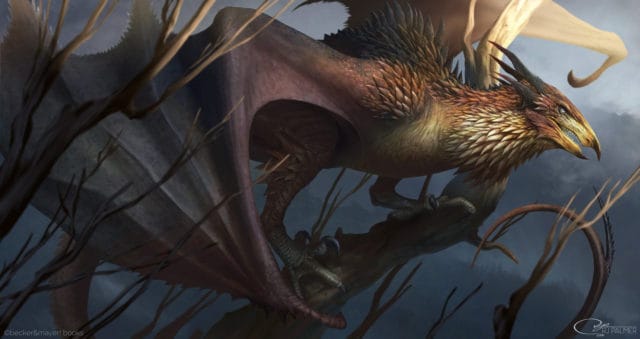 This is one that most of you will surely be more familiar with, the wyvern. Wyverns are another one of those dragons that have been done so many times that its fun to play with some other ideas. For this one my though was basically, "but what if eagle was dragon". This is one of my favorites from the collection, I'm super pleased with how it came out. You'll also notice that the famous venomous tail barb is depicted here, however I went for a more stingray vibe. Sidenote, stingray barbs are super tight. Hope you guys dig it, I sure do.
Svara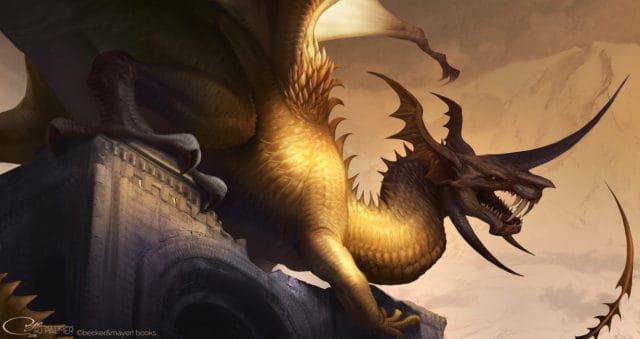 Boy this guy was a tricky one to design. The Svara has been historically described as a great, yellow dragon with giant ears, giant fangs, and a big horn on its head. As you might think, thats a lot to shove into one head. Ultimately I think I landed on a pretty cool design. Also the yellow color let me try a yellow purple complementary color palette. Let me know in the comments if there's any other historical dragon myths you'd want to see and maybe I can post that one next.
European Dragon
This piece was actually the very first one of the bunch, it was done to pitch the project. European dragons have been done so many times I wanted to try sprinkling in a reference that you don't see often; fish. I looked a lot at various species of fish for the wing webbing and body patterns, giving it a bit more of an exotic hint. I spent the longest on this one out of all the dragons pieces, but its not my favorite one. Though I learned a ton from this one though that helped me push through the others at a much quicker pace. Red dragon; more like bread dragon amirite.
Cockatrice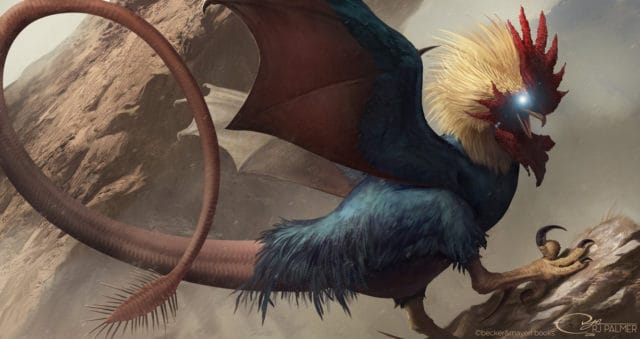 This one was one of the earliest I did on the project, the cockatrice. For some reason I've always had a fondness for cockatrices, probably because of how often they showed up in old jrpg's. I wanted to be true to the old depictions of the creature but bring an air of realism to its design. I know the rules about cockatrice eyes turning things to stone are a bit nebulous, but I thought it might be a neat thing if they had to close their eyes when drinking water so they don't turn it to stone. Would be super neat if thats the only time a dragon slayer has a safe chance of taking them out. You know what they say, its easiest to manipulate a cock when its thirsty.
Tell us what's wrong with this post? How could we improve it? :)
Let us improve this post!