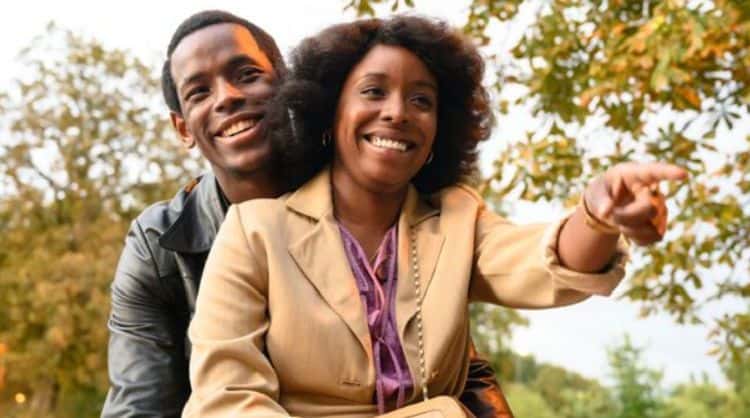 First impressions are said to be the most important, and Amarah-Jae St. Aubyn is making a very impressive one. The newcomer has been getting a lot of attention for her role in the the second installment of the TV mini series, Small Axe. The series focuses on the stories of Black people living in England. Amarah-Jae's ability to keep the audience engaged every time she gets in front of the camera is undeniable. It's clear that she has the ability to play complex characters and tell beautiful stories. She may just be getting started, but I think there's a very good chance that we'll be seeing a lot more of her in the future. Keep reading for 10 things you didn't know about Amarah-Jae St. Aubyn.
1. She Has Jamaican Roots
Amarah-Jae was born and raised in England where she still lives today. Her parents immigrated to the country from Jamaica and her father is also a reggae musician. Amarah-Jae has a very close relationship with both of the cultures that have made her who she is.
2. She Fell In Love With Acting At An Early Age
Like many actors, Amarah-Jae's love for acting initially stemmed from an interest in movies. When she was a kid, her parents would take her to the store each weekend to buy a new DVD and before she knew it she had a huge collection. Through watching movies, she knew that acting was what she wanted to do. She told Backstage, " I felt as if I knew this was my calling, but I was very unaware of the journey I was going to take or the discoveries I would make about myself. One of my toughest discoveries would be learning how to get out of my own way."
3. Small Axe Is Her First Screen Role
If Amarah-Jae's name and face aren't familiar to you, that's because you've never seen her in anything before. Although she has been working hard for the last several years and has done some theater work, Small Axe is her very first on screen role. Ideally, however, it will be the first of many.
4. She's A Proud Aunt
As far as we can tell, Amarah-Jae doesn't have any children and appears to be single, but family is still one of the most important things in her life. She is a very proud aunt and mentioned in an Instagram story that her niece is her biggest fan. While her niece may be too young to realize it at the moment, Amarah-Jae is definitely the cool aunt.
5. She's A Formally Trained Actress
Getting her first on screen opportunity has been a long time in the making for Amarah-Jae. In addition to being naturally talent, she has also received lots of formal training to help hone her skills. She is a graduate of both the Brit School and the National Youth Theatre.
6. She Hopes To Inspire Others
Amarah-Jae has officially reached a place in her career where her biggest dreams are coming true and she couldn't be more excited. On top of her desire to keep audiences entertained, she also hopes that her story will inspire other young Black actresses to know that they can accomplish their goals, too.
7. She Doesn't Have A Big Social Media Following…Yet
Social media has become a very powerful tool, especially for people who are working in the entertainment industry. At the moment, however, it doesn't look like Amarah-Jae's fans have found her on social media. She has just 805 followers on Instagram, but that will probably change as more and more people become familiar with Small Axe.
8. She And Her Co-Star, Michael Ward, Has Instant Chemistry
Good chemistry is always essential when two actors are working closely together. If the vibe is off, viewers will be able to tell. Luckily, that wasn't an issue for Amarah-Jae and her co-star, Michael Ward. During an interview with Screen Rant she said, "I just think we had an instant chemistry from when we done our first read in the table reads. I think it was that; I think Mike was also someone who was just so comfortable on screen, and so unapologetically himself. He taught me so much about trusting myself on screen. It was just incredible working with him."
9. She Already Knows Which Directors She Wants To Work With Next
Amarah-Jae is thankful for the opportunities she's gotten so far, and she's hoping to get even more in the future. She has her sights set on working with award-winning directors Jordan Peele and Quentin Tarantino and she hopes to star in something they write.
10. Working With Steve McQueen Made Her Feel At Home
Amarah-Jae couldn't have asked for a better experience for her on screen role. She told Standard that Steve McQueen created an awesome environment for her and the rest of the cast and she felt that the role gave her a chance to get back to her culture and her roots.