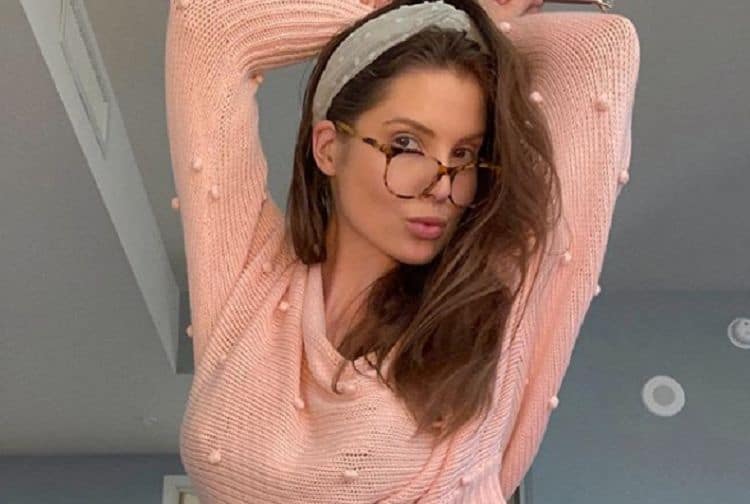 If you've been on social media for a while, there's a good chance you've run into Amanda Cerny's content. The well-known social media influencer got her start on the now defunct platform Vine, and she's continued to build an audience ever since. Even though lots of people struggled to maintain their following after Vine shutdown, Amanda hasn't been one of those people. She currently has over 25 million followers on Instagram, and her fame has skyrocketed IRL as well. Amanda is hoping to use the success she's gained as an influencer to transition into other opportunities and she's well on her way. Keep reading for 10 things you didn't know about Amanda Cerny.
1. She Wanted To Be In The CIA
If you ask kids what they want to be when they grow up, they're usually say something like a doctor or firefighter. However, when Amanda was a kid, the thing she always wanted to be was a member of the CIA. Even though things didn't work out that way, she ended up with a cool job none the less.
2. She Posed For Playboy
Amanda has always loved modeling and started her career when she was just 15-years-old, by the time she was in college she got the opportunity to pose for one of the most well-known publications: Playboy. She told Forbes, "…I got was to test to be a Playboy centerfold. I was like, "This is so cool. Drew Barrymore was in Playboy. Some of the biggest people were in the magazine, so that's really cool." I've never been to California before. I was nervous at first (to be naked on set) but then I realized that everyone there had been doing it for like 50 years. They were the most professional ever."
3. She's A Black Belt
Don't let Amanda's pretty face fool you, she isn't someone you want to mess with. She started practicing taekwondo when she was a kid and eventually became a black belt. Her love for martial arts comes from her mother who owns a taekwondo studio. During high school, she also got involved in other sports including track and field and cross country.
4. She A UN Ambassador
Amanda has always dreamed of becoming more than just a social media influencer, and she's definitely done that. In 2019, she became an environment and wildlife ambassador for the UN. Through this position she has hosted various events including a 'Play it Out' Concert to raise money and awareness towards plastic pollution.
5. She's Heavily Involved In Philanthropy
Amanda has always been passionate about giving back to others. She's made it a point to use her platform to do just that. According to her website, "Amanda represents the endangered dugong, and encourages her network to find their kindred species, learn and share, and use their spheres of influence to help protect endangered species."
6. She's Had Several Acting Roles
Although social media influencers get incredibly popular on the internet, it's not always easy for them to capitalize on that popularity in real life. Being an influencer has become more of a 'thing' in recent years, but it's still not something that everyone takes seriously. However, despite the stigma that can sometimes be attached to being an influencer, Amanda has still managed to find opportunities for herself in the entertainment industry. She has had several acting roles and made appearances in shows like Workaholics.
7. She's Very Adventurous
Amanda loves to live life to the fullest and she's always down for a good adrenaline rush. She refers to herself as a "thrill junkie" and is always looking for an opportunity to do something a little on the wild side. For her 18th birthday, she celebrated by going skydiving.
8. She Has A Degree In Business
Amanda is more than just good looks and viral internet content, she's also got the brains to back all of it up. Education is something that has always been important to her. She was dual enrolled in high school. By the time she got to college she was already ahead of the game. She attended Florida State University where she earned a bachelor's degree in business.
9. She Signed A Deal With Podcast One
The opportunities just keep pouring in for Amanda, and her latest one is definitely something to be proud of. She was recently signed to a deal with Podcast One to host a video podcast alongside actress and fellow influencer, Jacqueline Fernandez. The weekly show will feature a wide variety of topics and guests.
10. She Was In A Sorority
During her time at Florida State University, Amanda became a sorority girl. She pledged to a sorority called Kappa Delta. However, she says that she was never able to fully complete the "affiliation" process because her schedule was so busy at the time. In an old interview she said, " I didn't want to be affiliated if I could not contribute anything to the chapter because of my lack of involvement. It's just not fair to all of the other girls who work so hard and put so much of their time into KD."
Tell us what's wrong with this post? How could we improve it? :)
Let us improve this post!