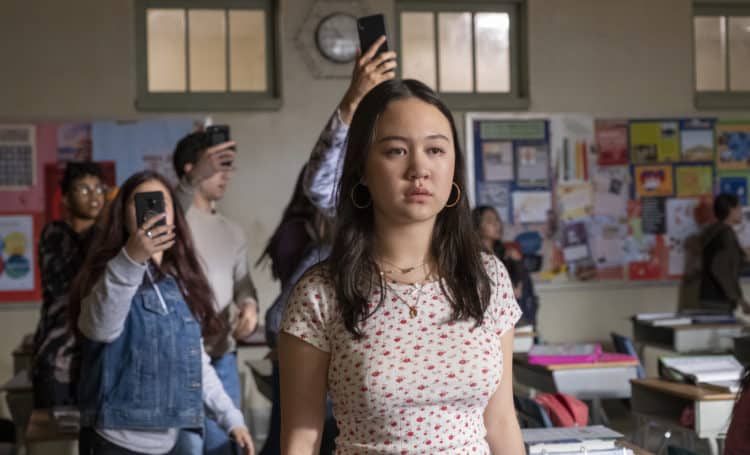 Amalia Yoo's career is off to the kind of start that often seems impossible. Her very first TV role is a main character in an upcoming Netflix series that many are already saying will be a hit. The show, Grand Army, centers around a group of teenagers in New York City who struggle to navigate the challenges that come with growing up. Amalia's character, Leila, is struggling to fit in with her peers and is desperate for acceptance and attention. The role is the perfect opportunity for Amalia to show off her acting skills, and there's no doubt that this series will lead to more opportunities for her. Keep reading for 10 things you didn't know about Amalia Yoo.
1. She Has A Diverse Ethnic Background
Diversity is definitely one of the things that makes the world a better place, and it's something that Amalia has a close connection to due to her background. Her father is her Korean and her mother is Puerto Rican. Amalia feels a close connection to both sides of her heritage. It's unclear whether or not her character on Grand Army will also come from a diverse background.
2. She's A New York Native
Like her character on the show, Amalia was born and raised in New York City where she attended Fiorello H. LaGuardia High School of Music & Art and Performing Arts. Fortunately for Amalia, New York is one of the best places in the world to start an acting career and it's helped Amalia begin her career with a bang.
3. She Has Theater Experience
Grand Army may be Amalia's first TV role, but it's not her first real experience with acting. She's been building up her skills in the theater world. She appeared in Slut: The Play which was written by Katie Cappiello which also gave her the chance to travel across the Unity States to perform. She also had a role in a play called A Day in the Life.
4. She Doesn't Have A Large Social Media Following
Amalia is very active on Instagram but she doesn't have a large following. At the moment, she has just over 1,300 followers. But there's no doubt that once the show is released and gains popularity, her follower count will grow exponentially. Having a strong social media presence will definitely help Amalia as she works to establish herself in the industry.
5. She Supports The Black Lives Matter Movement
Even though she doesn't have the biggest platform, she isn't afraid to use it to stand up for the things that she believes in. Amalia is a strong supporter of the Black Lives Matter movement and has used her Instagram account to share information and resources with her followers.
6. She's A Foodie
Many people in the entertainment industry feel lots of pressure to look a certain way. This typically results in people following very strict diets and being afraid to express their love for food. However, Amalia hasn't let that get in the way of enjoying the different foods she loves to eat. She enjoys trying new things and eating dishes from different parts of the world.
7. She Loves To Read
Amalia is the type of person who loves to learn as much as she can, and reading is one of the best ways to do that. When she isn't auditioning or rehearsing for a role, reading is one of her favorite things to do with her free time. Sometimes she even shares the book she's reading with her followers on Instagram.
8. She's A Singer
Acting is definitely Amalia's primary focus, but she also loves to make music. She plays the guitar and is a talented singer. However, music seems to be more of a hobby for Amalia and it doesn't look like she has any interest in releasing any music or pursuing it on a professional level.
9. She Lives To Take Pictures
Amalia is already showing that she is a natural in front of the camera, but apparently she is a natural behind it as well. Amalia is a creative person through and through and she loves to take pictures when she gets the chance. She has a good eye for beauty and knows how to capture a moment perfectly.
10. She Enjoys Spending Time Outdoors
Even though she's a city girl, Amalia still enjoys spending time in the great outdoors. Whether it be spending time at the beach, going for a hike, or taking her dog for a walk, Amalia loves to get out, get some fresh, and appreciate the beauty of her natural surroundings.