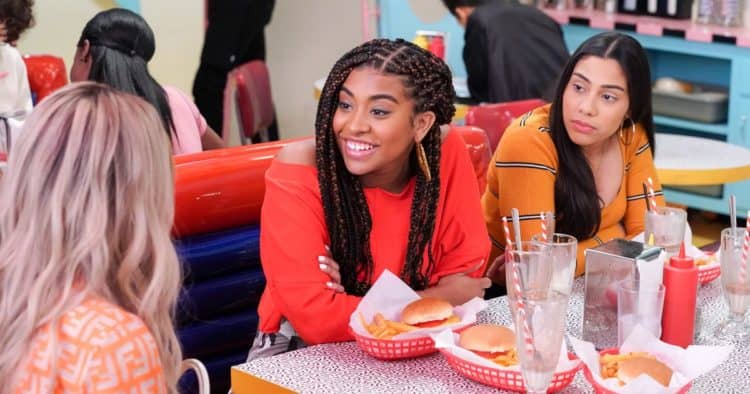 Alycia Pascual-Peña has been working hard for the last several years, and she's finally gotten to see that hard work pay off in a very major way. As one of the stars of the new Saved by the Bell reboot, Alycia has gotten a chance to share her talent with a wide audience, and so far people are loving her work. Her character, Aisha Garcia, is the first Afro-Latina person in the show's history. She is a charismatic and confidence high school student who isn't afraid to shake things up at Bayside High. Even though Alycia is just getting started, we have a good feeling we're going to be seeing a lot more of her in the years to come. Continue reading to learn 10 things you didn't know about Alycia Pascual-Peña.
1. She's Always Wanted To Be An Entertainer
Not everyone can say that they get to live their dreams, but Alycia is one of the people who can. Working as an actress is truly a dream come true for Alycia, and she's always loved performing and entertaining. She has been working in the entertainment industry since she was just 3-years-old.
2. She Got Her Start As A Model
Before Alycia embarked on a career in the TV world, she started off as a model. She modeled for several well-known companies/brands including JC Penny, Neiman Marcus, and Belks. She eventually went on to do TV commercials for Univision and Telemundo.
3. She Is Bilingual
Alycia was born and raised in New York City. She is a proud member of the Latino community and she is fluent in both English and Spanish. She is excited to bring some diversity to the industry and get the opportunity to provide representation for other Afro-Latina people.
4. She's Good Friends With Her Saved By The Bell Cast Mates
Any time you have a job that requires you to work closely with others, it's always nice when you can form a genuine bond with those people. Alycia considers herself very fortunate to have built such strong relationships with the rest of the Saved by the Bell cast. During an interview with KTBV she said, "I truly love them all and we've become a crazy family."
5. She's Passionate About Social Justice And Human Rights
Much like her character on the show, Alycia isn't afraid to speak her mind and stand up for the things she believes in. She has used her platform to raise awareness to the many causes that are important to her including the fight to end racism and LGBTQ+ rights.
6. She Loves Fashion
As someone who has a background in modeling it doesn't come as much of a surprise that Alycia has a great sense of style. She loves fashion and enjoys getting the chance to express herself through her clothing. She isn't afraid to take risks and knows how to put an outfit together for any occasion.
7. She's A Dancer
Alycia isn't just an actress, she's an all around entertainer. When she isn't busy with work, dancing is one of her favorite things to do. She often shares videos on Instagram that show her doing choreographed dance routines. She also enjoys singing and has been a part of different choirs.
8. Saved By The Bell Is Her First Time Being Cast As A Series Regular
Even though she carries herself with the poise and professionalism of someone who has been in the industry for many years, Alycia truly is a newcomer. Aside from Saved by the Bell she only has three other on screen credits. Saved by the Bell marks the first time she has earned a spot as a series regular, but it probably won't be the last.
9. She's A Resident Assistant
On top of the work she's put in to build her career, Alycia is also a college student. According to her LinkedIn profile, she attends Marist College and is scheduled to graduate in 2021. She is majoring in political science and communications. Alycia is also very involved in campus and she has been a resident assistant for nearly two years.
10. Her Faith Is Important To Her
Staying grounded in the entertainment industry isn't an easy thing to do. At this point, we've all heard countless cautionary tales about people who have lost it all because they were caught up in the money and the fame. Alycia's hoping to avoid the pitfalls of the business by leaning heavily on her faith. She is a devout Christian and has been a member of campus ministry at Marist.
Tell us what's wrong with this post? How could we improve it? :)
Let us improve this post!