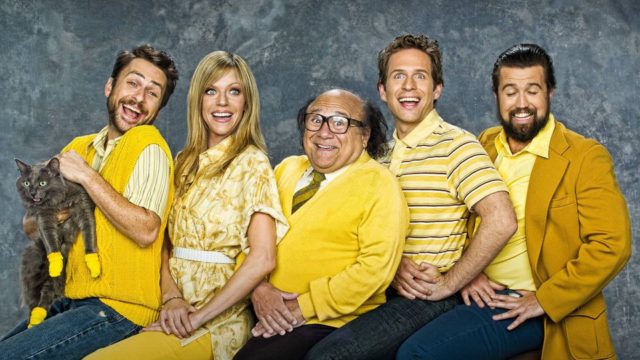 Charlie Day, Rob McElhenney, and Glen Howerton prove that actors have the ability to reach down deep to get into Character, often playing roles of characters that are the complete opposite of who they are in real life. On It's Always Sunny in Philadelphia, these three guys play empty-headed deadbeats that are completely lost to the reality of the real world; however, in real life, they may be some of the hardest working guys in the entertainment world. For instance, Charlie Day is currently starring in what seems to be a never-ending stream of DirecTV ads, plus he also stars in Pacific Rim: Uprising. It is obvious that he is hard at work in his career.
Rob McElhenney also has his hands full working on the film Minecraft, and Glenn Howerton has a co-starring role on one of NBC's top sitcoms alongside Patton Oswalt. It is obvious that these men's real lives don't mirror the roles they played in Always Sunny, and you would think that all they currently have going on would be enough to keep each of these men busy, but there is more.
The three have come together to co-executive produce a new comedy series called Cool Kids. The series, written by Charlie Day and Paul Fruchbom will appear on Fox with Kevin Abbott as the showrunner.
Imagine the immaturity of high school competition in which the entire goal is to be the coolest kids in the school, and then picture the students being in the 70s. Now you are getting an idea of just how funny this will be. The show focuses on three guys who live in a retirement community in which they are the crème-dele-crème until the new girl on the block arrives in the community. Now, there is an all-out war for supremacy.
Fox ordered the pilot off-cycle as a part of recommitting to producing more multi-camera sitcoms. This is interesting because it has been over three seasons since the network last aired a multi-camera sitcom. As of right now, there are a number of deadline commitments by the network; however, there have been no casting announcements as of yet.
Other multi-camera series that are on the horizon for Fox include Suspended by Patrick Schumacker and Justin Halpern and Immediate Family by Brett Baer and Dave Finkel.
As far as the triple threat of Howerton, Day, and McElhenney are concerned, they should not have any problems casting the roles for their new sitcom; Hollywood has a host of actors in the age range, that possess the comedic gifting to deliver what they are attempting to achieve with this comedy. Some critics are already campaigning to have Danny Devito play the role of the disgusting old grandpa. Well, he has delivered in roles like this before with relative ease.
While there no premiere date set for the airing of the series, it is something to look for probably in 2018 or 2019. Only these three men could literally fast forward their characters from Always Sunny and create an entirely different series that may be even funnier that Always Sunny!