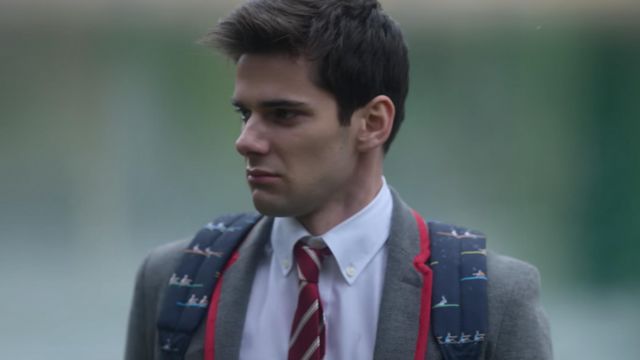 When Alvaro Rico was cast as Polo in the Netflix series, Elite, he probably had no idea how much (and how quickly) things were going to change. In less than two years after the show's release, Alvaro has become an international celebrity with millions of fans all across the world. His character, who is involved in a love triangle involving both a male and a female, has often be considered groundbreaking. Although Alvaro won't be back for the fourth season of Elite, there are plenty of people who are very excited for whatever he decides to do next. Continue reading for 10 things you didn't know about Alvaro Rico.
1. He Began His Career In Theater
Although it's not the route that everyone chooses to take, starting in theater is a common way for actors to break into the industry. When Alvaro was 18, he enrolled at the Royal Higher School of Dramatic Art. His training there helped him prepare to become a working actor. From there, Alvaro Rico began his career in a stage production of La Celestina. He says that moving into television was a natural progression from there.
2. He's Always Wanted To Act
Alvaro Rico has wanted to entertain since he was a child. He told Neo 2, " I couldn't tell you a specific moment when I decided that I wanted to dedicate myself to acting. Ever since I opened my eyes I found myself in the middle of a stage."
3. Flamenco Is Another Passion Of His
In addition to acting, Alvaro's biggest passion is Flamenco which is a style of dance that originated in Spain and has come to represent the country's culture. Flamenco is known for its highly expresses movements and clean footwork.
4. He Has A Close Relationship With His Family
A lot of things have changed for Alvaro Rico since being cast on Elite. However, one thing that hasn't changed is the relationship he has with the people around him. Alvaro considers his family to be the 'pillars' of his life. He has an especially close relationship with his mother and says she will be the first person he thanks if he ever wins an Oscar.
5. He Wants To Be A Director
Alvaro has a strong passion for acting, but he also aspires to direct some day. In his interview with Neo 2, Alvaro shared, "I would love it, I think it is within my big dreams of the future. Sometimes I look more as a director than as an actor and it worries me … It is disturbing to act at the same time that I think about how I would be directing it."
6. He's Released Music
It's always cool to see people in show off their talents, and Alvaro Rico has plenty to share. In addition to acting, Alvaro also enjoys singing and playing the guitar. He released a single called "Todo un poco regular" in collaboration with Elite. He says he enjoyed the process and would be excited to potentially release more music in the future.
7. He Visits Home To Stay Grounded
We've all heard stores about how fame can literally ruin people's lives. Although all of the attention may seem flattering in the beginning, it can often cause people to lose site of what's really important. Alvaro visits his hometown at least every month and a half to visit his friends and hang out at local bars. He says that after spending lots of time working in Madrid, taking trips back home always puts him back in his place.
8. He Dated One Of His Elite Co-Stars
In the fall of 2019, Alvaro Rico and his Elite co-star, Ester Exposito, revealed they were no longer in a relationship with each other. Two met while working on the show and fans quickly dubbed them as relationship goals. Fortunately, it looks like they were able to end on good terms.
9. He Is Learning English
Being able to speak more than one language is definitely helpful in the acting world. Alvaro has plans to eventually take on roles outside of Spain. He is in the process of learning English and hopes to get the chance to study abroad some day.
10. He Wants To Do Movies
Alvaro Rico doesn't have any film credits to his name at the moment, but he eventually hopes to take his skills to the big screen. He says that working in movies is his next step and he is patiently waiting for the perfect opportunity.