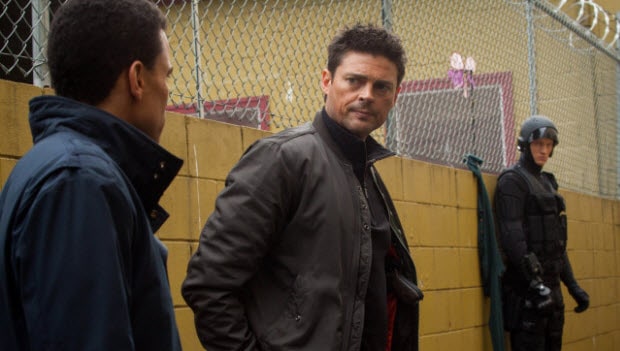 by Andy Behbakht
When you are dealing with a procedural show that features different stories every week, it's difficult to predict what a season finale is going to be like. With Almost Human, that was certainly the case.
The case of the week was at certain points in "Straw Man" a boring case to follow, but it got more interesting towards the end. What was unexpected though was the enormous focus on both Dorian and John, individually. For most part of the episode, it was about Dorian and him getting evaluated.
The scenes where John, Rudy etc were giving their opinions were some of the best moments of the finale, especially with Rudy saying that he trusts Dorian so much that he would trust him with his baby if he ever had any. Out of all supporting characters, the writing for Rudy is the one that stand out the most.
While it may have seemed a bit random to suddenly feature backstory and references to John's father, it was still great to see a softer side to John which is something that we got to see rarely this season. We have seen John open up before, but this time he did it on a whole new level and if the show comes back for another year, we hope to see more of that.
The best part of this finale was how it all ended. We won't deny that there was concern from us that the last shot of the episode would be a huge cliffhanger. It had been the most frustrating thing ever if they had ended on something big and then, if the show would end up getting cancelled, we would never find out what would happen.
Instead, they left it open-ended with John and Dorian getting a call on their radio and running off to save the day once again. By doing this, the writers allow themselves to have season 1 as its own thing and make its potential second season into something completely different. It will also give them the opportunity to reinvent the show and that is why the season finale ended in a strong way.
Let's look at the first season as a whole. The strongest aspect in the series has always been Karl Urban and Michael Ealy and how they portray their characters, as well as how they interact with each other.
Even in some of the season's weakest episodes, these two still made every episode enjoyable no matter what. The supporting cast has also been strong, although there were a lot of times when we feel that they weren't used enough.
Mackenzie Crook's Rudy has without doubt been the best character out of the supporting cast. Sadly, there have been times when he has been underused.
There are definitely fair reasons why FOX would potentially cancel the show, but at the same there are also strong reasons why Almost Human deserves a second season. While the live ratings haven't been as high as FOX had hoped, but as we have said before, the DVR numbers have been quite positive.
We won't deny that the show definitely needs to change from procedural to serialized, if it comes back for a second season. The format worked to a certain degree in its first couple of episodes, but with all the hiatuses and seeing all the later cases, it became more apparent that the format isn't working.
The faith of Almost Human will (most likely) be decided at the FOX upfronts in May and we here at TVOvermind will keep you updated as soon as we know if it's cancelled or renewed.
[Photo via Katie Yu /FOX]
Tell us what's wrong with this post? How could we improve it? :)
Let us improve this post!