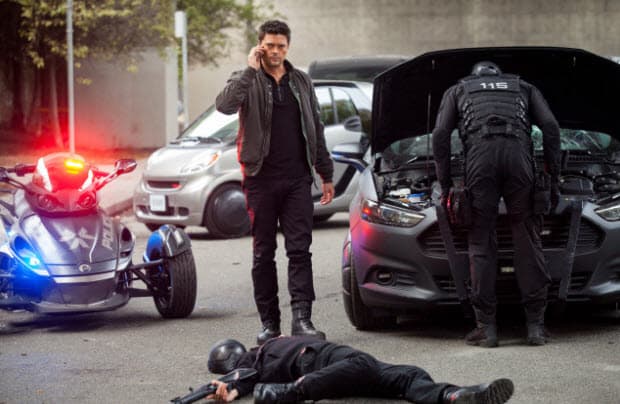 Something that was a problem in the previous weeks of Almost Human was that the supporting cast didn't get to do very much at all. But this issue was resolved with last week's episode "The Bends" which focused on Lom and this week, they focused a lot more on Captain Maldonado.
The setting they gave for her story was incredibly fitting because it allowed the viewers to see more of her as a strong character. There is definitely a vulnerable layer to the Captain, but it's clear that she is a master in hiding that damaged and emotional side of her. It's nothing new with characters like her, but somehow Taylor made it feel refreshing.
The interaction she had with the case of the week (although already captured), Ethan Avery, was a great choice by the writers to pick for her as someone that would try to push her buttons. The whole aspect with the cloning was intriguing and it seems that cloning is something that is a problem in their world.
Maya was a really charming guest character this week and it was interesting to see how Dorian and Kennex connected with her. It was the interaction that she had with Dorian that made one feel that she would be a nice recurring character to have on the show. While it remains to be seen whether Dorian will get a lover interest or not, if he does, the writers should consider having Maya being that.
Just like the previous episodes, the car scenes in "Blood Brothers" were also entertaining and hysterical. But it should be pointed out that the golden moment before their first scene in the car was definitely the first scene when Kennex and viewers had to see what the private parts of the androids looked like. It's always a highlight whenever Dorian starts talking like another character in their voice and if they can do that at least once per episode, it would be great.
This week, the show starts to show more sparks between Kennex and Stahl. There is no denying that Urban and Kelly does have great chemistry, in addition, their interaction is cute and funny. It will be interesting to see how fast this relationship will develop throughout this season. The moment when they were talking about that game and having that android spoiling it for Kennex was outstanding.
Almost Human is so far doing a great job because of its strong cast and their characters, in addition, the storylines. The struggling part though is the ratings and while they aren't awful, they could be better.
One speculation is that with the return of The Following, one of the hit freshmen shows from last year, FOX's Monday nights will and should be a stronger night for the network. Hopefully by then the ratings will be a bit higher for Almost Human, but there is no need to worry at this point for cancellation because the ratings are decently good at this point.
There were a few jaw-dropping moments in this episode and the biggest one was seeing Dorian flipping that car over was a pleasant surprise. Whatever the name of that phone is that Kennex and several characters have, they better exist in the real 2048 or sooner because they look awesome.
Overall, "Blood Brothers" was another great progressing episode as they got deeper into Captain Maldonado who criminals should avoid messing with. While it's a bummer that the show will already go on its winter hiatus after the mid-season finale, it will definitely be interesting to see what they have in store for the viewers.
Almost Human airs Monday nights, 8/7c on FOX.
[Photo via Liane Hentscher/FOX]