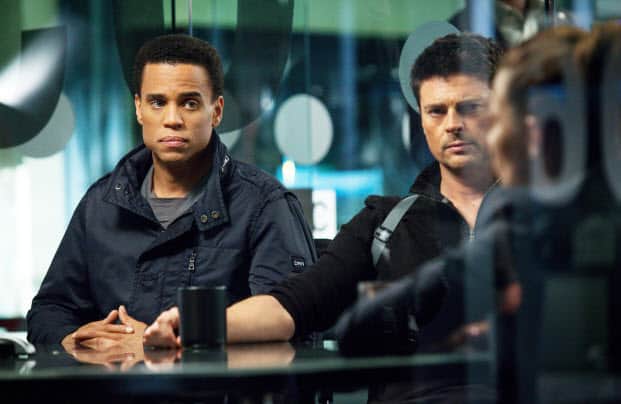 Despite that it feels so early for this show to have a mid-season finale since it debuted in mid-November, "Arrhythmia" was a very entertaining and deep episode.
The expression "Two Dorians are better than one" is one way to describe how great this episode was. It was incredibly intriguing to see Michael Ealy portraying two versions of Dorian. Ealy may have started a trend with the lip-thing because seeing not just one, but two Dorians doing that was priceless. It was also a great way to give a little nod to the pilot.
It can't be stressed enough that the writers should really consider bringing Dorian II (or DRN-494 as they called him, but Dorian II has a better sound to it) back at some point because not only does it bring a lot of comedic scenes, it gives the writers a chance to get deeper into Dorian.
There was a point when one started to feel that they were beginning to lose the balance that the show has established for the past few weeks, but fortunately it didn't. The strongest scene with the two Dorians was when Dorian II was going through his files and talking about the case where he broke protocol. Ealy has been strong since day 1, but this was definitely his best episode in this first run of the season.
Whenever the audience gets to see through Dorian's perspective whether he is scanning or locating something or someone, it's always a great visual. It's obviously not something that they go too deep into, but it's still worth mentioning. It was hilarious to see Dorian taking control of Kennex's car that annoyed the heck out of Kennex. Their final scene in the car where Kennex once again denies Dorian to drive the car was outstanding.
The case of the week with illegal organ transplantation was actually more interesting than expected. Despite that this is a show that is set in the future, the Almost Human writers has so far actually made it feel a little bit realistic for the most part. This episode had a very scary feeling to it, especially seeing the number of victims that died because the timer inside their hearts ran out. The thought of having a timer inside an organ in general was just horrible to see.
Overall, "Arrhythmia" was a satisfying mid-season finale and while it didn't really set anything up the next couple of episodes, it still ended on a good note that made one still interested in following Almost Human when it returns in January.
The only thing that is bothering is that it seems that this show won't get a full season which makes sense since Sleepy Hollow didn't get a full season (although instead it got renewed). Perhaps they are doing the same thing that The Following is doing by only having 13 or 15 episodes per season.
There was a little mention about the ratings in last week's review and it's worth mentioning that while it's a bit of a bummer that the ratings aren't as high as expected, fans shouldn't be concerned just yet. The Following will start its second season in January 2014 and air right after Almost Human which will be a great line-up for FOX's Monday nights.
Hopefully through this line-up, the ratings will go up a bit for the show because this is a show that definitely should get renewed for a second season based on the great stories and characters that it has. Aside from the ratings, Almost Human works and it's definitely one of strongest new shows that have debuted this fall.
Almost Human returns with new episodes on Tuesday, January 6, 2014, 8/7c on FOX.
[Photo via Liane Hentscher/FOX]