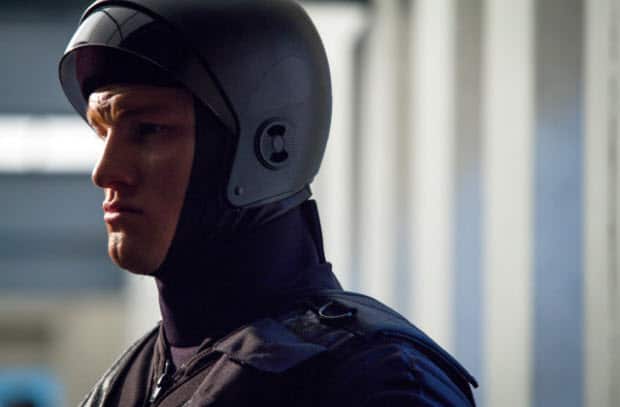 Who knew that one of the most hilarious things that Almost Human could do is giving the audience a mood swinging Dorian? That has to perhaps be one of the most outstanding things that one has ever seen in a sci-fi show like Almost Human.
Despite the really creepy case of the week, Dorian's personality snap really stole the show (in a good way of course) and while it wasn't the only main focus, one couldn't help to feel that his mood swings were distracting (once again, in a positive way). It was by no means a bad A-story element, but it did sometimes take a bit of attention from the seriousness that was the case of the week.
A character that hasn't't been mentioned a lot in previous reviews is Richard Paul (Michael Irby) and without slamming the actor, the character hasn't really stood out much compared to the other characters.
However this week, he was more noticeable than ever. He is definitely a character with a hard personality, yet still has a funny attitude, especially when he is bickering with Dorian. Hopefully he will start to stand out more as the season reaches its conclusion.
There have been so many weird cases so far on the show, but Simon Lynch definitely took it to a new level. If the goal was to show the audience a psychopath, than the writers and the actor did an outstanding job. It was quite uncomfortable to watch him throughout the episode.
The thought of being watched by a thousand people on a live stream when you have a bomb around your neck while being forced to do these illegal things, that was just terrifying. These writers are definitely good at giving the audience intense and scary cases week after week.
The thing that made the episode so much more interesting was the fact that John ended up getting put in the same situation by getting chained to a bench and having a bomb around his neck. It's always good to see the protagonists being in danger as well and see them having to save each other.
The episode had some nice guest stars such as Alessandro Juliani and Crystal Lowe, both who share a Smallville connection. Speaking of that, last night's episode was directed by the amazing Jeannot Szwarc who directed several episodes of Smallville and he did a fine job with "Simon Says". Hopefully they will consider bringing him back in future episodes or in a potential second season if the show gets there.
One favorite moment was to see all those viewers drop the live stream when Simon failed to kill Lowe's character because not only did he get creepier, he became more pathetic. In addition, it's always a pleasure to see the villain fail so hard.
Just for the records, if one would be asked to move in with Lom, one would accept it immediately. It was outstanding to see John dropping off Dorian (who had the best reaction ever) at Lom's place. That will probably give the fans some really great moments whenever they cut to these two roommates.
It was nice to see the ratings up a bit for their return and hopefully as The Following will soon return, they will start to go up more with this great line-up. Overall, "Simon Says" was a great returning episode and with only six episodes left of season 1 it will be interesting to see what else they have in store.
Almost Human airs Monday nights, 8/7c on FOX.
[Photo via Liane Hentscher / FOX]