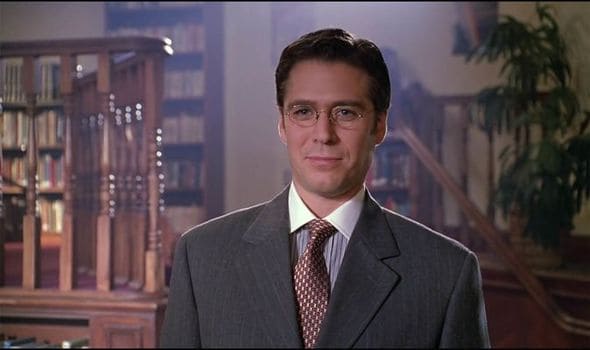 Fans of Legacies, The CW's supernatural spin-off drama of The Originals, will have noticed a new addition to its cast this season. Joining the likes of Danielle Rose Russell, Aria Shahghasemi, and Kaylee Bryant is Alexis Denisof, who takes on the role of the new headmaster of the Salvatore School. Fans of the show are already likely to be familiar with at least some of his work (after all, what lover of the supernatural doesn't remember his turn as Wesley Wyndham Price on the 1990s sensation, Buffy The Vampire Slayer?). On the off chance you're not, bring yourself up to date with these 10 quick facts.
1. He has two children with Alyson Hannigan
After meeting on the set of Buffy the Vampire Slayer, Denisof and co-star Alyson Hannigan (who played Buffy's best friend, the witchy Willow) married on October 11, 2003. Their first child, Satyana Denisof, was born March 24 (which, coincidentally enough, also happens to be Hannigan's birthday). The couple welcomed their second daughter, Keeva Jane Denisof, on May 23, 2012.
2. His home is worth $7.95 million
In December 2016, the Los Angles Times revealed that Denisof and Hannigan had snapped up a property in Encino, LA, for the hefty sum of $7.95 million. The house, which was designed by Peter Tolkin Architecture, occupies more than three acres of mature oaks, sycamores, palms and fruit trees and comes complete with a separate guesthouse, a swimming pool, a spa, a lighted tennis court, and an art studio/gym. The sale ranks as one of the priciest ever for the neighborhood, and the most expensive of 2016.
3. He was sent to boarding school at 13
At 13, Denisof was sent to boarding school, an experience he remembers with mixed emotions. "It's at a formative time in your life. On the one hand, I treasure the time I had there and am grateful for all of the values and educational opportunities it provided. It was also in some ways a shock to the system," he told IGN. 'It was very hard to leave home at that age when you're used to the security of your family and your home."
4. He lived in the UK for several years
Anyone who ever watched Buffy the Vampire Slayer will remember the impressive English accent Denisof used as Wesley Wyndham Price. As it turns out, he had the serious advantage of having lived in the UK for several years in his youth — which no doubt helped influence that impeccable upper-class enunciation. Denisof's time in the UK came directly after he graduated from St. Paul's School in Concord, New Hampshire, at the age of 17. As well as working in the country, he also used his time there to hone his skills at the famous London Academy of Music and Dramatic Art.
5. His first paid work was on a George Harrison video
Denisof's first-ever paid gig was on the music video to George Harrison's "I've Got My Mind Set on You". The job paid well (at least for the time), netting Denisof the grand sum of $500. On the downside, he never got the chance to meet Harrison personally. "That was my main thrill about getting the job but it turned out the band had shot their stuff weeks in advance somewhere else," he complained to IGN. "I never met him. The closest I ever got to him was in the finished cut video."
6. His film debut was on Murder Story
In 1989, Denisof landed his first film role on Murder Story, playing the investigative reporter Tony Zonis opposite legendary actor Christopher Lee. He subsequently enjoyed moderate success in features such as Sharpe (1997), Innocent Lies (1995), First Knight (1995), and Noah's Ark (1999) before landing his big breakthrough as Wesley Wyndham Price on season 3 of the supernatural drama, Buffy the Vampire Slayer. Although his character was originally intended to be killed off at the end of the season, he proved such a hit he was offered the chance to reprise the role on the Buffy spin-off, Angel. He subsequently went on to star in 100 out of the 110 episodes of the series.
7. He starred alongside his wife on How I Met Your Mother
After appearing together on Buffy, Denisof and Hannigan appeared together again on Hannigan's hugely popular comedy show, How I Met Your Mother. Denisof originally appeared as the philander Sandy Rivers in three episodes of the show in 2004, before reprising the character in 2011 for a further 10 episodes. Denisof had initially been reluctant to appear on the show, fearing he was being offered the gig as "charity" on account of his wife being one of the main stars. His fears were eventually put to bed when HIMYM creators Craig Thomas and Carter Bays reassured him they were long-time fans of his work, dating all the way back to his Buffy days.
8. He's worth $2 million
Thanks to his numerous TV roles and successes in the industry, Denisof is now worth a very robust $2 million … which may sound all well and good, but it's a figure rather put to shame when compared to his wife's fortune, which Celebrity Net Worth estimates to be a whopping $30 million.
9. He's been nominated for an Emmy
In 2017, Denisof was cast in the role of Glenn in the comedy-drama, I Love Bekka & Lucy. The show was warmly received by critics and managed to bag Denisof his first award nomination- a Primetime Emmy Award for Outstanding Actor in a Short Form Comedy or Drama Series.
10. He has a close working relationship with Joss Whedon
Denisof and director Joss Whedon clearly struck up quite the friendship on Buffy. In addition to working together on the Buffy spin-off, Angel, the two have collaborated on numerous occasions since, including on Dollhouse, The Avengers, and Shakespeare's Much Ado About Nothing.