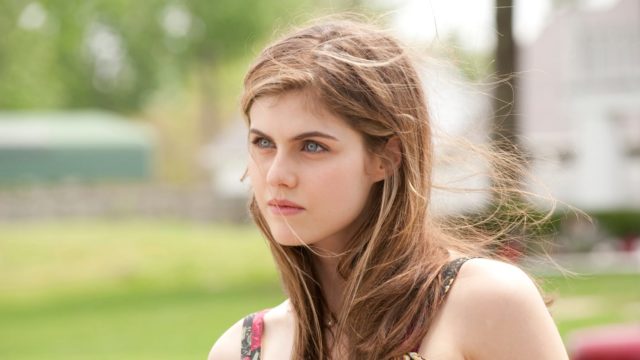 Alexandra Daddario is an actress who was born in New York City on March 16, 1986. She began her career in 1998 and is best-known for her roles in the 'Percy Jackson' series of films and for her roles in movies including 'San Andreas' and 'Baywatch'. While she is now a successful and well-known actress, it took her a lot of years in the entertainment industry to achieve this level of success Did her role in 'True Detective' help her to rise to prominence?
Daddario appeared in four episodes of the anthology crime drama series 'True Detective in 2014. In one particularly memorable sexy scene, Daddario is seen kissing one of her co-stars and then going home with him to make love. Alexandra Daddario is seen partially clothed and looking very sexy. There are some that argue that this scene gave her career a boost as it really showed off her sexy side as well as her acting talents.
Prior to her role in 'True Detective', Daddario had already been in the entertainment industry for 16 years. She began her career predominantly in the theater as a child actress and made her television debut at the age of 16 in 2002 when she became a series regular in 'All My Children'. After leaving that she, her television career petered off with her being cast in just small roles for a few episodes of a television series.
Her career in the film industry was a different matter. She made her film debut with a small role in the 2005 film 'The Squid and the Whale', followed by several other small roles in films. Her big break in films was when she was cast as Annabeth Chase in the 2010 film 'Percy Jackson & the Olympians: The Lightning Thief'. She had several other small film roles before resuming the role of Annabelle Chase in 'Percy Jackson: Sea of Monsters'.
The frequency in which Alexandra Daddario was offered work and the size of the roles all changed after appearing in 'True Detective'. The year after this appearance, she had one of the lead roles in 'San Andreas' as she played Blake Gaines. This film was a commercial success as it grossed $474 million from a budget of $110 million. The following year she played Monica in 'The Chase'; a romantic drama written by Bryan Sipe and directed by Ross Katz.
2017 was a fantastic year for Alexandra Daddario and it was her projects this year that really showed how her career had skyrocketed since appearing in 'True Detective'. In just one year, she had big roles in three movies; 'Baywatch', 'The House', and 'The Layover'.
2018 has also been a good year, so far, and looks set to get even better for the actress'.She has already appeared in the Netflix film 'When We First Met' and has three movies in post-production that are set for release later in the year. These are 'We Have Always Lived in the Castle', 'Nomis', and 'I Am Not a Bird'.
It would seem that performing that sexy scene in 'True Detective' really did do Daddario's career a lot of favors. Ever since she played that role, she has juggled a very busy schedule.
Tell us what's wrong with this post? How could we improve it? :)
Let us improve this post!