Alcatraz continues its first season with tonight's twelfth episode 'Garrett Stillman,'as Detective Rebecca Madsen (Sarah Jones), Dr. Diego Soto (Jorge Garcia) and Emerson Hauser (Sam Neill) race against time to find a former inmate (Greg Ellis) whose heists unfold as intricate games of strategy and planning, while Lucy (Parminder Nagra) awakes from her coma.
If you didn't get a chance to check it out for yourself, read on for our Alcatraz recap of "Garrett Stillman'!
The still recuperating Lucy observes interviews of the captures '˜63s, particularly Ernest Cobb, when Hauser chides her for being too involved. She reasons that its time to tell Soto and Doc about her past as a 63, while Dr. Beauregard feels hesitant about releasing Lucy without knowing any of the side effects of the silver in her blood. Meanwhile, a few robbers manage to outwit and hijack an armored car, chief among them inmate Garrett Stillman.
Back in 1960, Garrett meets with the Warden and explains the reasoning behind his crimes, that he values intelligence and predictability, and playing games, while the Warden thinks he should attend a parole hearing for fellow inmate Harlan Simmons. Back in the present, Doc and Rebecca catch Lucy up on all she's missed since her coma, the computer alerts them to the likelihood of Garrett Stillman's appearance in the latest crime. As Garrett and his crew load up the money into a van, Garrett takes an armored car himself, and watches as the van carrying his accomplices explodes.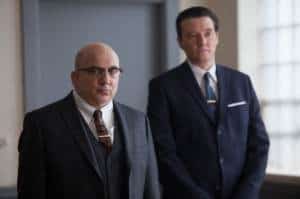 Rebecca and Doc reason out that Garrett actually wanted the armored car, as the company confirms that to be the third one he's stolen. They then learn that one of the men actually survived the explosion, and while Lucy talks to Ernest Cobb about why he singled her out, Doc and Rebecca learn that Garrett stole their key-coded uniforms from actual guards. Back in 1960, Garrett attends the parole hearing for Harlan Simmons, which despite his earnest nature quickly gets quashed by Deputy Warden Tiller. Warden James wanted him to see that hoping Garrett can use his skills to forge an approved parole, and have Simmons out of the prison by 1965. Back in 2012, Garrett meets with his handler, a cool and calculating Tommy Madsen.
Lucy gives Rebecca what answers she can about her grandfather and why he might have killed her partner, and she elaborates on her past romance with Hauser, who seems a very different man today. The night everyone disappeared from Alcatraz, Hauser was much more concerned about finding Lucy than any of the prisoners. Upstairs, Doc finds a connection between Harlan Simmons and the company Broadway Mutual, and cryptically no one has seen Simmons in years. They pay a visit to Broadway Mutual, and though the security officer denies anything suspicious, he clamps up at the mention of Bynum Security. After they leave, the guard texts the need to move a package, a conversation Garrett has hacked into.
Think tank guru Warren leads Hauser down to the secret corridors of Alcatraz they've discovered, only to find them bricked up, to which Hauser orders it sledgehammered. Upstairs, the figure out that Garrett never wanted money or even the armored cars, but rather to tip off Broadway Mutual, so they'd move their mysterious package ahead of schedule. Garrett finds his security uniforms no longer work to access the package, pulling out a gun instead, as back in 1960 he manages to swap the forged parole papers for Harlan Simmons. Before he finishes however, Tiller catches on, and Garrett's partner sells him out.
Back in 1960 Tiller makes sure to swap in the correct papers, and Warden James walks Garrett to the hole, expressing his disappointment. What he didn't realize was that Garrett had played Tiller all along, counting on being discovered, and made it so Garrett was the one to actually submit the early parole papers. In 2012 the team traces Garrett to a parking garage, but rather than fall for the 3 armored cars as Hauser and Rebecca do, Doc figures out Garrett's real getaway car, and drops his cell phone in as a tracker.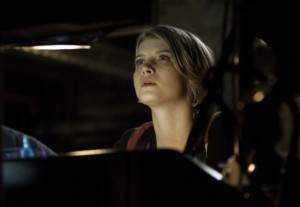 At his hideout, Garrett opens the safe he stole to find a mysterious old key inside, while in 1960 the warden escorts a newly freed Harlan Simmons off the island. However, a man named 'Ghost'shows up to the 2012 trailer, and fatally shoots Garrett, taking the key. The Alcatraz team arrives to find the dead body, and Rebecca notes the apple peels as a sign of her grandfather's presence. Outside, Tommy Madsen shows up, but flees before Doc can get a good look at him.
Later, Hauser finds that behind the hidden wall lay a secret door, but the two keys they have only open a hole for a third key. Lucy talks with Cobb again about how she'll always be a target for the others, while Doc and Rebecca pull traffic cam footage to find that Tommy Madsen was indeed Garrett's handler.
Did you get your fill of time-jumping action? What did you think about the episode? Join us for another an all-new episode recap of Alcatraz on FOX later tonight!
Tell us what's wrong with this post? How could we improve it? :)
Let us improve this post!