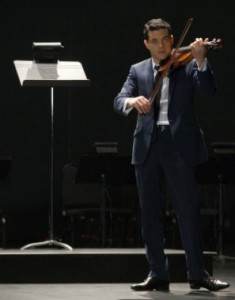 Alcatraz continues its first season with tonight's eleventh episode 'Webb Porter,'as Detective Rebecca Madsen (Sarah Jones), Dr. Diego Soto (Jorge Garcia) and Emerson Hauser (Sam Neill) race against time to find a former inmate (Rami Malek) whose kidnapping crimes have to do with his obsession with playing the violin.
If you didn't get a chance to check it out for yourself, read on for our Alcatraz recap of "Webb Porter'!
Doc follows Hauser as the mysterious agent spends some time at an Eastern medicine practice, downing a handful of pills while noting that he 'wasn't always like this,'as we flash back to 1960 in his recitation of philosophy to Dr. Sangupta (Parminder Nagra). They part ways as Sangupta travels to the island, and Warden James gives her her next assignment to find a way to introduce inmate Webb Porter into the general population. Sangupta almost instantly deduces that Porter has tinnitus from his mother attempting to drown him as a boy, and theorizes that she can use music to socialize him.
In the present day, Webb Porter beautifully plays the violin until the hair on his bow breaks, from which he drags a captive woman in the next room to be drowned in the tub, having already used her hair for his bow.
After being dragged away from a round of billiards, Nicky and Madsen investigate the girl's drowning, noting that the landlord had heard music emanating from the apartment. The case doesn't seem to match any of their '˜63s, and Hauser refuses to answer any questions of where he goes, or what happened to Lucy's body, but the presence of colloidal silver in the samples confirms the murder to be of Alcatraz origin. Sending him the blood work, Hauser instructs Dr. Beauregard to test the sample for a match to Lucy's blood, noting that they're slowly losing her.
In 1960, Lucy manages to turn Webb onto music, as he recalls the memory of his mother attempting to drown him. Meanwhile in the present, Webb shows up to the home of another girl he met at a music function, but the conversation quickly turns deadly when Webb lunges at the girl claiming he likes her hair. Dr. Beauregard confirms that Porter is a match for Lucy, as Porter impresses the Philharmonic at an audition, but fails to sight-read an unanticipated piece of music. Rejected, he takes his aggression out on the now-hairless captive girl at her home.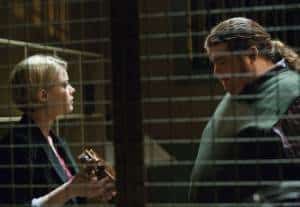 Back in 1960 we see how Lucy first led Webb to pick up the violin, which he almost instantly masters, while back in 2012 Hauser chastises Madsen for wasting time at the site of the next murder. They realize that the music heard coming from the crime scenes wasn't the girl, but rather Webb himself, though seemingly no one played violin at Alcatraz. That is of course, until they happen upon an old violin in the music room, with Webb Porter's name etched in.
Hauser runs some intelligence of his own by visiting a local music haunt to learn about Webb's current location from his old friend, flashing back to one of his first dates and first kiss with Lucy. The past Lucy informs a much more coherent Webb that he's to be re-introduced into the general population, and allowed to keep his violin, and a grateful Webb hopes to one day repay the favor
As the team puts together that Webb must have another girl from raiding his apartment, they narrow down the results and managed to find the young redhead before Webb can do any serious harm. Webb himself has gone to the concert hall for his 'performance'which he imagines to be a crowded performance fully stocked with cheering fans. Back in 1960 however, Webb finds a real captive audience in the fellow inmates of his hall, who quickly cease their insults to listen to the beautiful music, including a number of inmates we've seen before. Dr. Beauregard muses that Warden James seems to have found 'a new toy,'but when Lucy takes offense, Beauregard corrects that he was referring to her.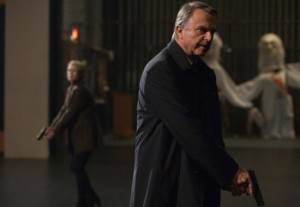 Hauser and Madsen arrive at the auditorium, where they manage to corner Porter in the upper rafters, putting him in custody before he can successfully dive onto the stage below. Hauser takes the man to New Alcatraz, where he seems surprised to see Lucy and Dr. Beauregard there too, gladly contributing his blood to help save Lucy.
Meanwhile, Doc and Madsen observe some of the old Alcatraz tapes, finally spotting Lucy among the 1960 staff, musing how she might be the key to this all. While Hauser and Beauregard patiently wait, Webb plays his violin for the members of New Alcatraz, and Lucy's eyes jerk open from their comatose state.
Did you get your fill of time-jumping action? What did you think about the episode? Join us next week for an all-new episode recap of Alcatraz on FOX!