Alcatraz continues its first season with tonight's eighth episode 'Clarence Montgomery,'as Detective Rebecca Madsen (Sarah Jones), Dr. Diego Soto (Jorge Garcia) and Emerson Hauser (Sam Neill) race against time to find a wrongfully-accused former inmate who resurfaces and begins committing violent crimes.
If you didn't get a chance to check it out for yourself, read on for our Alcatraz recap of "Clarence Montgomery'!
Clarence Montgomery (Mahershala Ali) casually sips a drink at a country club's silent auction, before catching the eye of a lovely brunette woman. They flirt and take a golf cart for a midnight joyride onto the course, where the mood grows romantic, and all of a sudden Clarence flashes on some brutal murders. When he comes to, he's carrying the girl's lifeless body, wondering who did this to her, and arranging her body in an oddly specific pattern on the course. Back in 1960, Warden James offers Clarence a chance to put his cooking talents to use as the head chef of the cafeteria, as a chance for redemption.
As Doc recognizes a possible match for Montgomery, the man himself visits an old acquaintance, Emmitt Little (Glynn Turman), who as expected is shocked to see him so young, and reminds him of his past innocence in spite of the blood on his shirt. Montgomery also remembers being evaluated by Dr. Sangupta (Parminder Nagra), as they debate their mutual race treatment, and Sangupta pushes that he murdered his white girlfriend.
At the scene of the crime, the Alcatraz team realize that the young woman's body was specifically moved and arranged, much as Clarence's girlfriend was years ago. Speaking of the past, the younger Emmitt Little begs Clarence to take the chef's job, though Deputy Warden Tiller arrives to announce he believes the Warden's plan to change prisoners wont work. Back in the present, Nicky examines the murdered woman's body, and deduces that Clarence couldn't have been the original killer, as the cuts were made too differently.
Madsen and Doc interview Emmitt Little, having obtained the name from Montgomery's Alcatraz box, though Little of course denies that Clarence was every guilty of anything. On their way out, Nicky calls to inform them that a hair on the victim's body matches someone with Wilson's disease, who would need precisely the medications they found in Clarence's old box, meaning he in fact did kill this girl.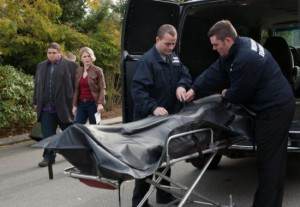 As Clarence prepares to work another job in the present, his past self thanks the warden for the opportunity to cook again, though the white inmates refuse to eat the food or have any parlay with their fellow prisoners, sparking a riot that ends with Clarence beaten and the whole population knocked out with gas. In the present, Clarence finds himself talking to yet another woman, though troubled by flashes of his trial and girlfriend Ellen's murder on a nearby TV screen.
The next morning, the woman has in fact been killed in the same manner, and while Doc and Madsen realize Clarence was involved with the catering, the chief of police asks for a word with Hauser. Back in the past, Clarence is beaten and dragged out of his cell, taken underground where Dr. Beauregard administers electroshock therapy while showing Clarance violent imagery of his trial, musing that the therapy 'could work in reverse.' This proves true, as the next day, Deputy Warden Tiller manages to irritate Clarence by assuring him he's nothing more than a murderous criminal, and Clarence takes the aggression out on a random inmate who initiates conversation, slashing his throat.
Doc and Madsen track Clarence to his present job at the catering company, though in the ensuing chase he manages to get away. They reason that they can catch him by tracking refills of his prescription, which they trace back to Emmitt Little, while Doc scores a date with Nicky. The team heads to Emmitt,s though Emmitt keeps them at bay with shotgun blasts screaming about how they can't take Clarence's second chance away. Hauser sneaks around back and talks Clarence into admitting his guilt for the present murders, which he then takes to Emmitt. Madsen busts into the apartment, but not before Emmitt shoots Clarence for his deeds, killing him. The incident ends with Clarence in a body bag, and Emmitt being taken into the back of a police car from his wheelchair.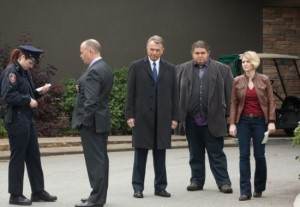 Hauser meets with the chief of police, who reveals that his officers have grown antsy with the Alcatraz team usurping cases, and in return Hauser grants them the chance to very publicly close the 50 year-old Ellen Casey murder by bringing in her real killer, which Doc and Madsen watch with no mention of Clarence's other murders. They wonder what turned Clarence into a killer, and Doc admits that while he didn't previously think Alcatraz among the long list of prisons to conduct bizarre experiments on its prisoners, he does now.
Back in the past, Dr. Sangupta counsels Clarence, noting that even if he didn't kill Ellen Casey, Alcatraz has now made him a murderer. She forces him to look at photos of his crimes, and says if he lets her in she can take away those memories, but he insist that no one can anymore. Their conversation is observed by Dr. Beauregard and Warden James, who note the success of the shock therapy having had the effect of turning an innocent man violent. When Beauregard asks what the warden does with the inmates blood in between it being taken out and returned however, the good warden insists he does nothing with it, and keeps no secrets from the staff.
Did you get your fill of time-traveling action? What did you think about the episode? Join us next week for an all-new episode recap of Alcatraz on FOX!