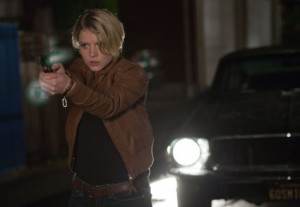 Alcatraz isn't even halfway through its first season, but the mysteries are already piling up. More specifically, how did the prisoners disappear in 1963 and reappear in present day San Francisco? Why is Rebecca's grandfather, Tommy Madsen, so important to what happened back at the prison? And how was Luci alive back in 1963 and then also appearing in present day without aging?
Sarah Jones took some time to talk with us about what's going to happen with Rebecca's family connections to the prison, how the '63s will continue to be the central mystery for the show, and whether Hauser will open up to Rebecca.
Rebecca's Family Drama. The Madsen family has been an important part of Alcatraz since the pilot, when Rebecca learned that her grandfather, Tommy, was a prisoner at Alcatraz and not a guard as she had been told. Since then, Tommy has appeared in 2012 and we recently learned that the man who has been raising Rebecca – Ray – is actually her great-uncle and Tommy's brother. Rebecca hasn't confronted Ray about what she learned in the "Guy Hastings" episode, but something's got to give soon. "I think, right now, the issue is that [Rebecca and Ray] both have their own intentions and agenda. Rebecca wants answers about her grandfather and Ray wants to keep her safe. He doesn't want to give them to her. They're kind of at a crossroads with each other, because one is going to have to give in order to move forward and neither one of them wants to because they're both stubborn." Expect to be learning more about Rebecca's family history as the season progresses, although Jones warned us that the overall mythology of the '63s will be more of a focus.
Magic Blood? We couldn't help but ask Jones if, given the importance of Tommy's blood in the 1960s, Rebecca's blood was just as important and perhaps one of the reasons that she was recruited to work on the task force. Jones couldn't tell us the answer, but laughed that "I have the same theory, I've been wondering the same thing. I don't know the answer to that but I have absolutely have the same theory as well." Whatever the answer is, Rebecca will be coming face-to-face with Tommy in an upcoming episode.
Rebecca vs. Hauser: Since the beginning of Alcatraz, it's been clear to the audience and to Rebecca that Hauser has his secrets. Rebecca and Doc Soto are on an extreme "need to know" basis. "I don't think she trusts him as far as she can throw him. But she really doesn't have a choice in the matter because she has to rely on him to some extent because (a) he's her boss, and (b) he has more answers than she does. She has to tread that fine line of when to stand her ground and when to relent and just do her job. I think that she doesn't expect much from Hauser. I think she has to prove herself and she knows it. And she just hopes, in return, he'll reveal a little more."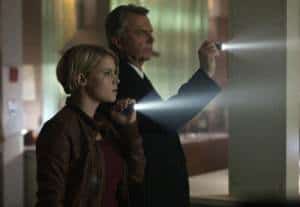 In a recent episode, Rebecca confronted Hauser about him needing her more than she needs him, but don't expect that the balance of power has shifted because of that. "It's out there and they both know it. But at the same time he knows she still wants to be a part of it and he has more information than her. It's more of a 'check' kind of situation, but it's not 'checkmate'. It's not necessarily a stalemate, because they're both going to push forward to get to the bottom of all this. They both have each other in check. He also knows that she needs him because he's got more answers."
The Mystery of the '63s. How the Alcatraz prisoners and (some) guards seemed to jump through time will continue to be the enduring mystery for the rest of the season. "This first season is focused not so much on who Rebecca is, but what she has to deal with. Really introducing the severity of this phenomenon that's occurred in these criminals coming back and how they can affect what's going on in the present time. To me, that's what the first season is focused on: in showing just what the audience is dealing with and what the characters that have to catch [the prisoners] are dealing with."
But rest assured, Jones has hinted that answers won't be withheld forever. "I think that the last couple of episodes [of the season] will really bring it home for the audience as far as explaining some more on the '63s and opening some new doors, if you will. I'm really excited to shoot them."
The Mysterious Luci: We've learned that Luci used to be a doctor at Alcatraz and even met Hauser back in the day when he was a young police officer. She's also been working with him in the present until she got shot a few episodes ago. Now she's been languishing in a coma until Hauser brought her to the Alcatraz doctor and ordered him to fix her. Will Luci's secrets be revealed? "I think that we're definitely going to dive more into Luci and her relationship to Alcatraz and to Hauser. Eventually Rebecca has to find out, of course."
Alcatraz airs on Monday nights at 9:00 p.m. EST on Fox.