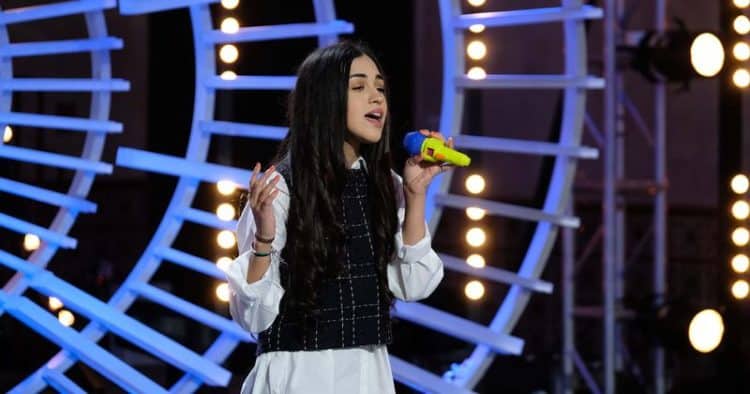 On every season of American Idol, there are always a handful of contestants who seem to stand out above the rest, and this time around it looks like Alanis Sophia is one of them. The talented young singer is already a powerhouse vocalist. Every who's heard her voice has been left in awe and the American Idol judges were no exception. During her audition, she performed a cover of "Anyone" by Demi Lovato that earned her a Golden Ticket to Hollywood and the support of countless viewers across the country. Viewers can't wait to follow a long with her journey on the show and she already looks like she has the potential to make it to the end. Keep reading to learn 10 things you didn't know about Alanis Sophia from American Idol.
1. She Has Acting Experience
Music has been Alanis' main focus, but she has also dabbled into the acting world. She has a page on IMDB which shows that she has one acting credit for a TV series called School Bus Diaries. There's a chance that she may continue to do more acting work in the future.
2. She Is Named After A Famous Singer
If you saw Alanis' name and wondered if she was named after Alanis Morissette, the answer is yes. Alanis' mom is a big fan of the legendary singer and it looks like some of the Morissette's talent has found its way to Alanis Sophia. Despite her connection to the singer, Alanis is ready to create her own lane.
3. She Was Born In Puerto Rico
Alanis currently lives in the Tampa, FL area with her family, but she is originally from Puerto Rico. She is bilingual and performs in both English and Spanish. Alanis takes a lot of pride in her culture and it has played a very big role in who she is personally and professionally.
4. She Is Always Dreamed Of Being On American Idol 
Alanis was only about a year old when American Idol debuted, but she grew up being a fan of the show. Being able to compete for a chance to win has always been one of her goals and she is thankful that she's finally getting the chance to do it. Now the only thing that would make this dream even more exciting would be winning the whole thing.
5. She Has A Large Social Media Following
Alanis Sophia is no stranger to getting attention. Even before auditioning for American Idol she's already been building a significant platform. She has more than 85,000 followers on Instagram and she has a YouTube channel that has gotten more than 800,000 views. Even if she doesn't end up winning the show, it looks like she's already got a great foundation to continue to build on.
6. She Is Already Released An EP
Unlike some of the other contestants on American Idol, Alanis isn't really new to the music industry. Despite her young age she's already been around for a while. She released her debut EP in 2014 which contained songs in both English and Spanish. She released a follow up project in 2020.
7. She Was Signed By A Record Label
Alanis isn't a country singer, but at one point she was was signed to a country music label called BMLG. She is no longer with the label, but it looks like they parted ways on good terms. In August 2020, Alanis made a video on her YouTube channel explaining what exactly happened with her deal.
8. Family Is Important To Her
Alanis comes from a very close knit family and her loved ones have been a vital part of her success as a singer. They have supported her every step of the way and have always wanted the best for her. Alanis has an especially close relationship with her little brother, Juan Diego. The idea of being able to help her family is one of the things that motivates her to be successful.
9. American Idol Isn't Her First Competition Show
Alanis has a little bit of edge against some of the competitors since American Idol isn't the first time she's been a part of one of these TV talent shows. In 2012, Alanis competed on La Voz Kids (The Voice Kids). She finished the show in second place. That said, Alanis definitely knows what it takes to advance on a show like American Idol.
10. She Sells Merch
Whether you've been a fan of Alanis' for years or just discovered her after seeing American Idol, you can proudly show your support by checking out her eCommerce store where she sells merchandise. At the moment, her items include caps, beanies, and t-shirts.