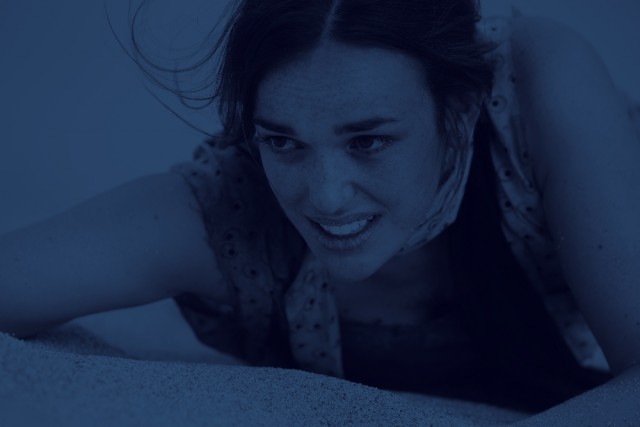 Simmons came back quite different as a character after her adventures on the mystery planet. How do you feel about her path this year so far as well as the new chapter that the FitzSimmons relationship has entered?
Andy Behbakht: Elizabeth Henstridge and Iain de Caestecker have been killing it this season, and seeing what these characters have gone through, since the start of the series, makes this season such a special one, especially as they have been developing a new layer to their relationship. I don't know if I want them as endgame or if I want them to go back to being best friends and have that sibling-y relationship, but one thing I know for sure is that they have been strong players in the first half of the season.
Blaise Hopkins: As I keep saying, the show has gotten to a great point where it's really pushing the characters to new extremes and giving us bigger and more meaningful emotional payoffs. Fitzsimmons has been a great example of this because both characters have grown individually and become more than the lab geeks while at the same time bringing them closer than ever. I think that the show has handled their relationship really well, especially this season. Fitz has had motivation to move past the fear of gong out into the field. while Simmons had to deal with immediate isolation and become a survivor.
Nick Hogan: I'm not a practicing "shipper," but it's hard not to root for FitzSimmons. I think Simmons had to go through something as traumatic as Fitz's brain injury to really get on his level. Now that the playing field has evened out a little (obviously that's debatable), Simmons' evolution can cause the relationship to progress. They're my favorite part of the show, and I hope they continue to be.
Chris King: "4,722 Hours" might be my favorite episode of Agents of SHIELD ever, and I loved how the events of that hour have molded Simmons into an even stronger and more capable SHIELD agent. Furthermore, the emotional turmoil that she suffered while being away from the team was so palpable (how terrific were the scenes in "4,722 Hours" when she would watch the old recordings on her phone, or the moment when she broke down at her dinner date with Fitz in another episode from this season?) that her potential relationship with Fitz feels more earned than ever. He was the person she missed the most, and now that he's finally back in her life it makes complete sense why they would not want to waste any more time and finally give things a shot. Overall, I'd say the development of their relationship over the past ten episodes, and Simmons' arc as a whole, has been one of the best parts of Season 3.
The fall finale featured Coulson killing Ward, whose body is now possessed by "The First Inhuman," who has made his way to Earth. What were your thoughts on Coulson's actions, and how do you feel about Inhuman-possessed Ward taking his big bad status to a whole new level?
Andy Behbakht: To be quite honest here, I still don't know how to feel about it. I love Brett Dalton and loved the version of Ward that he has been playing for the past three years, but at the same time, I am interested to see how he does with this new version of Ward. I have a feeling that somehow (and I wouldn't mind it) if Ward actually comes back to life at the end of the season when the First Inhuman gets out of him and somehow, some energy of power from this creature will bring Ward back, maybe even with powers. In terms of Coulson's path going from here, I am curious if he will actually feel any regret about what he did.
Blaise Hopkins: Coulson's action was great, and I think that, once again, it's just giving us a well-rounded view of who his character really is. He's not the monotone guy from Iron Man, and he's also not the secretive director of SHIELD anymore, which is great because he has a plot and solid writing to work with. As for Ward… I'm okay that the First Inhuman (who I believe is Hive) possessing him, but I would hope that it only continues through this season and Ward will finally be off the show for good. I don't mind Brett Dalton as an actor, but just am getting tired of how everything reverts back to him as the villain. Everything that SHIELD has done this season has advanced the show in fantastic ways, but the last thing I need is for the show to move past his character as a fallback bad guy.
Nick Hogan: First off, great move by the showrunners to kill off a character and keep an actor on the show for the foreseeable future. Just a really sweet move there. Honestly, I was a fan of Ward and didn't want to see the character die, but that move was more about Coulson than him. I'm also very excited for the big-bad status as they handle their most ambitious plot yet.
Chris King: Coulson killing Ward was so satisfying, not just because it was vengeance for what he did to Rosalind but because it was the death that Ward deserved for everything he has done to the entire SHIELD team since he first revealed himself to be Hydra back in Season 1. So the fact that Ward, even though he's possessed by "The First Inhuman," was brought immediately back to wreak more havoc took away some of that satisfaction for me and left me rolling my eyes. I really hope that once SHIELD defeats the possessed version of Ward at the end of this season that it's truly the last we see of him. That's nothing against Brett Dalton as an actor (the dude has been an entertaining bad guy for more than two seasons), but there's just really no more use left for any version of this character in Agents of SHIELD.
[Photo via ABC]