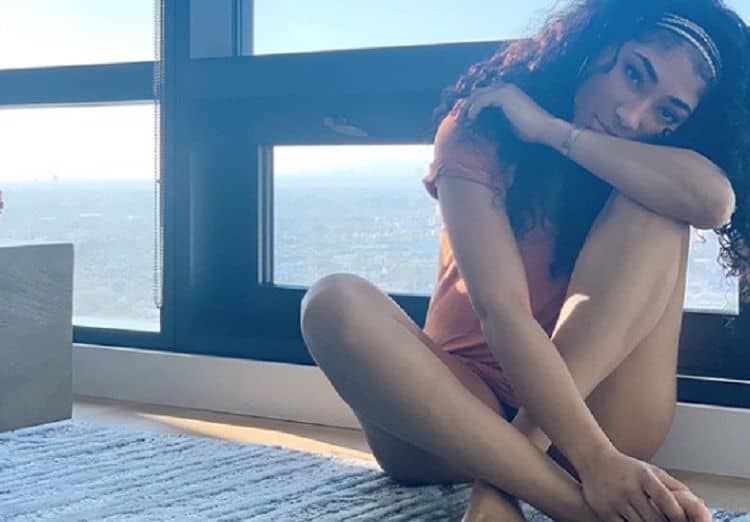 There are times you think of actresses who are doing their jobs well as talented, and you're not wrong. But, the problem is that we often stop and think of them as nothing more than just a great actress who is good at what she does, but we don't think of them as anything more. That's common, but it's not true of someone like Adriyan Rae. She's anything but 'just' a good actress. She's 'just' a lot of things, and they are some of the most impressive things. She's a woman who had a whole life before she became an actress, and it was a pretty cool life we want to share with you. Are you ready to become even more impressed by the "Vagrant Queen," star?
1. She's Medical Laboratory Scientist
That's right. She's a medical laboratory scientist who was certified in the field following her college graduation. She worked hard to earn her degree and graduate so that she could accomplish her certification requirements and live out her dream.
2. She's Got a Killer Education
Not only did she get a degree that allows her to work as a medical laboratory scientist, she also has a degree that allows her to work as a physician assistant, or a P.A., if you will. She got her degree from the University of Sciences in Philadelphia.
3. She's from Delaware
She was born and raised in Delaware, and her mother is the one to thank for that. Her mother was a single mom who did her best job raising her daughter to become strong, smart, and independent, and we'd like to say we think she accomplished so much more than that. She raised her to realize her dreams in a world filled with many dreamers but very few doers.
4. She's A Talented Athlete
In case you weren't impressed enough by her intelligence, allow us to impress you with her athletic prowess. Not only is she smart when it comes to her studies, she's good on the field, too. She's so good, in fact, that she was able to make it as part of the AAU Junior Olympic Games as an athlete. She was on both the track and field team as well as the field hockey team.
5. She Began Acting in Atlanta
Most people assume you move to either New York City or Los Angeles to work as an actor, but she did not. She took her chances and moved to Atlanta, which is another great place for actors to go. We don't know if she went there with the idea she wanted to become an actress or if she went there for her job in the medical field, but she's been taking parts since 2016. She landed her first major leading role in her current show on SyFy in 2019.
6. She's Got a Strong Message
She once did an interview with Huffington Post in which she was very kind to share what she wants the world to know about her. Her message is a strong one. Her message encompasses the belief that you can do anything you want no matter what society says to you. She was raised in a small town in the middle of Delaware by a single mother, and she's a woman of many ethnic backgrounds; she's African American, German, Venezuelan, and Native American — and she's beautiful. However, society might often tell a woman like Adriyan Rae that she has a specific path to follow, but she's got no reason to follow that path. She wants the world to know, "You can rise above ones environment or the strongholds society may place on you and promote that to others," and we think she's done just that. She's such an inspiration and a role model to her fans.
7. Acting Was her Plan B
One thing that she's adamant about is that she had to make a decision. Her plan A was to work as a scientist in the medical industry. She worked hard to earn her career and her education and to follow her dreams, and we can only imagine it was a difficult decision to give that up completely. But, she also knew that her Plan B would never come true if she was still holding onto Plan A. Being a scientist by day did not allow her the time she needed to devote to acting. She had to give up one to pursue the other, and she knew she needed to be able to give 100 percent.
8. Her Faith is Deep
When she decided to give up her day job and work as an actress, she knew she needed God on her side. She felt Him there, and that allowed her to persevere in her role as an actress. Her faith is deep, and she knew that she could count on that to help get her through what was coming her way in life.
9. She's Got A Lot of Positivity to Share
Can we just mention that we love Adriyan Rae's Instagram feed? She's managed to cultivate a lovely mixture of promotion for her work and her own photos while simultaneously adding in enough quotes, deep thoughts, and positive vibes to have us clicking 'Follow' on her account? She's got so many things to share, and she's doing it well. She's sharing how much we all need to make others feel good, how we should appreciate all we have, how we should look to the little things, spread love and light, and how we should focus on a positive live. We might just love her.
10. She's a Model
Before she began her career as an actress, she was busy modeling and being a scientist. It's easy to see why the modeling industry welcomed her into their world, and we love it when she posts her shots on social media and allows us to catch a glimpse into this side of her life — where she's as equally talented as she is everywhere else.