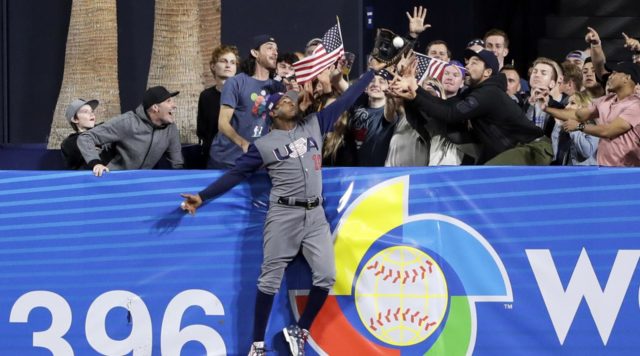 Clearly the biggest event in sports right now is the NCAA Tournament. It's getting the most headlines and deservedly so. March Madness is but once a year and it's a fantastic time to be with friends, yell about your brackets, and see some incredibly competitive basketball chalk full of highlights and unlikely upsets. But there's another sporting event going on right now that should at least grab a small part of your attention. That event is the World Baseball Classic. Teams from all countries of the world have been grinding it out in one of baseball's best tournaments that involves a massive slew of Major Leaguers. If you had a chance to catch any of last night's action you may have seen what could go down as the greatest catch of 2017. According to Barstool Sports
If there was any doubt who the new leader in the USA clubhouse is, it's Adam Jones. Going UP AND OVER the wall to the deepest part of the park to rob Orioles teammate, Manny Machado, Adam Jones just made the catch of the tournament. WOW. Robinson Cano went yard a batter later, making Jones catch that much more important. Just a crazy catch by Adam. The Orioles are having by far the best WBC of all teams, all signs pointing to the World Series trophy coming back to Baltimore, show your love for him, Manny.
Adam Jones robs Manny Machado pic.twitter.com/5qP2am8nSJ

— CJ Fogler (@cjzer0) March 19, 2017
You can't deny that this catch was nothing less than obscenely good. Even Manny Machado was completely stunned and had to tip his hat to his teammate.
Check out his reaction below: Wow.
When you get robbed by your own teammate. #WBC2017 pic.twitter.com/y4ubYIQxPZ

— WBC Baseball (@WBCBaseball) March 19, 2017