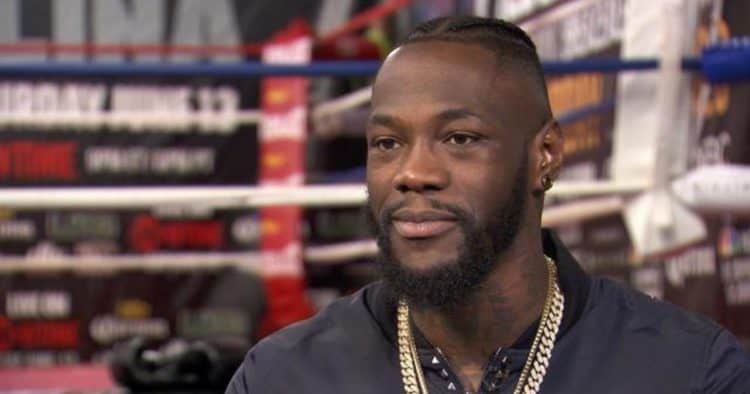 Deontay Wilder is an American boxer who at the time of writing is the holder of the WBC Heavyweight title and has never been beaten in his professional career. He was born in Tuscaloona in Alabama in 1985 and did not start boxing until he was twenty years old. He is quite a controversial figure that is often in the headlines but here are twenty things about him that you may not know.
1. He Wanted To Play Football Or Basketball During High School
During high school his ambition was to be a wide receiver in the NFL and at one point it looked as if this was something he would be able to achieve. However, there were issues with his grades that would have made getting into college difficult. It was also around this time that his first child was born who suffers from Spina Bifida. He made the decision to forego any potential football career in order to get a job and support his family.
2. He Worked Four Jobs While He Was An Amateur Boxer
After he left school he had four jobs that he worked to earn money to better care for his daughter. He began to gain an interest in boxing and began competing in amateur fights. He carried on working at all his jobs and found ways to incorporate his training into his routine. He was a delivery driver for Budweiser and he used to carry the packs of beer around as part of his weight training.
3. He Is An Olympic Medal Winner
He was selected to take part in the Olympics in 2008. At this point he had only been boxing seriously for three years. He won a bronze medal at the tournament in the heavyweight division after losing to Clemente Russo in the semi-final. His rise to gaining a place at the Olympics was seen as something quite meteoric and he earned his place in the finals after just 21 bouts. Beijing was the only Games he competed in, preferring to concentrate on gaining and then maintaining the title of Heavyweight Champion.
4. He Turned Professional After The Olympics
His medal at the Olympics was something of a turning point in his career and he turned professional not long after. His professional debut was made in November 2008 at the Vanderbilt University Memorial Gymnasium in Nashville. His opponent in this fight was Ethan Cox and he was knocked down three times in the second round before the fight was stopped and Wilder was declared the winner with a knockout. By the end of 2012 he had competed in 25 fights and won all of them. All of these fights had been won by knockout and none of them had made it past the fourth round.
5. He Beat Bermane Stiverne To Become Heavyweight Champion
During this fight he hit Bermane Stiverne so hard that he broke the metal rods in his hand. The fight was held at the MGM Grand in Las Vegas in 2015 and was billed as 'Return To Glory'. Up until this point, Wilder's reputation for being able to knock opponents out in early rounds meant that were people who had doubts about whether he was a good enough fighter to be able to go the distance if needed. These doubts were erased after this fight as he looked comfortable in all twelve rounds and was declared the winner by unanimous decision.
6. He Was The First American Heavyweight Champion For Nine Years
When he became Heavyweight Champion he was the first American to hold the title for nine years. This is the longest period in history that there has been without an American champion. The last American to hold the title before him was Hasim Rahman. At this time Wilder was only just starting out in his career.
7. His First Defense Of The Heavyweight Title Was Held In Alabama
The fight that would see him stage the first defense of his title was held in his home state of Alabama. His fight against Eric Molina was held at the Bartow Arena in Birmingham in May 2015. He did receive some criticism for choosing Molina as his opponent as it was felt that there were stronger contenders that he could have gone up against. Wilder claimed that everyone else was asking for a price that was too high. The fight went to nine rounds before Wilder won with a knockout and Molina received a lot of praise for the way that he kept coming back from everything that Wilder threw at him and he performed a lot better than people expected.
8. He Has Won Premier Boxing Champions Knockout Of The Year Twice
He was awarded Knockout Of The Year for two consecutive years by PBC in 2016 and 2017. These were awarded for his fights with Artur Szpilka and Bermane Stiverne respectively. Although he missed out on this award in 2018 he did pick up two other prizes. This included Fight Of The Year for his match against Luis Ortiz and Round Of The Year for round twelve of his fight against Tyson Fury.
9. The Majority Of His Wins Come From Knockouts
It is no real surprise that he has won awards for his knockouts, as this is the method by which he wins most of his fights. To date he has won 41 fights and 40 of these have been won by knockout. He is also known for making these knockouts in the early stages of the fight, usually in the first few rounds.
10. His Time In The Ring Is When He Can Enjoy Himself
He told Doghouse Boxing in 2012 that he feels as if all his hard work takes place in training and that his fights are when he gets chance to relax and enjoy himself. He has said that he does not really feel and pressure before a fight and that he sees it as a way he can express himself. He sees the chance to fight in front of people as a treat and claims that he never has the intention of going in to try and knock his opponent out as soon as possible but that is just where the fights always seem to take him.
11. His Fight Against Tyson Fury Was The Only One He Hasn't Won
His fight against Tyson Fury ended in a draw. This does allow him to keep his undefeated title but it was a much more evenly matched fight compared to many of the others. At the time it was considered to be the biggest fight of his career. The fight took place at the Staples Center in Los Angeles in December 2018. The result was controversial with both men believing they had done enough to win the fight. The press and supporters were also divided over who they thought should have won. Boxing Scene have reported that Wilder would be open to a rematch to be held in the UK, but he would only do it for the right price. Fury believes that a fight between the two will be possible in 2020.
12. His Average Fight Lasts Three Rounds
The fact that many of his knockouts occur so early on in his fights means that his average rounds per fight is actually very low. In the 41 fights that he has taken part in suring his professional career, he has only fought in 124 rounds. This is an average of a little over three rounds per fight. His latest fight against Dominic Breazeale ended after just one round with the total fight time being just over a minute.
13. He Turned His Local High School Into A Gym After It Closed
According to Boxing News Wilder turned Coffeyville High School into a gym for young people after it was closed by the local authority. He is the sole supporter of this gym financially. He has also taught boxing there on occasions but there are a lot of other activities available as well. He reasons for opening the gym was to give local children something to do so they can stay away from causing trouble on the streets.
14. He Estimates That He Has Spent Over 1000 Hours Getting Tattooed
One of his biggest hobbies is getting tattoos and he believes that he must have spent at least 1000 hours getting these tattoos. His tattoos tell his life story and so he will continue to add more art to his body as he reaches new milestones in his life. One of the most impressive tattoos that he has in terms of size and the attention to detail is the heavyweight title belt that is tattooed around his left thigh.
15. His Grandmother Always Said He Would Be Something Special
Ever since he was a young boy his grandmother always believed that he would achieve greatness when he was older. She even used to prevent anyone in the family spanking him if he had done something naughty. She always believed that he was anointed by God and that it was his destiny to do great things in the world. She sadly passed away before getting the chance to see him become champion which would have undoubtedly made her very proud.
16. His Brother Is Also A Boxer
His younger brother is also a boxer and he has fought on the undercard of Wilder's fights on a number of occasions, including the fight against Tyson Fury. Marsellos fights in the cruiserweight division and he is just getting started out in his career, having only fought in 5 bouts, winning four and losing one. Like Deontay, he was aiming for a career in football before becoming involved in boxing. He had just seven fights as an amateur before turning professional.
17. His Nickname Is The Bronze Bomber
British Boxing News explains how he got the nickname of the Bronze Bomber. It refers to the fact that he won a bronze medal at the Olympics but is also a tribute to one of his heroes Joe Louis who was known as the 'Brown Bomber'. This nickname was used more in the early days of his career than it is now.
18. There Is Speculation Whether He Will Ever Fight Anthony Joshua
Rumors of a fight between him and Anthony Joshua have been circulating for some time now but nothing has been put in place as of yet. They are both undefeated and hold heavyweight titles but a deal just can't seem to be done to get them into the ring. Sports Illustrated are under the impression that the reasons negotiations have failed is down to Wilder. They also suggest there are a number of ways the fight could eventually go ahead but it remains to be seen whether anything will ever come of it. Joshua is the IBF Heavyweight Champion and so the winner of this fight would hold both titles.
19. He Has Written A Children's Book
He has written a book for children telling the story of how he became Heavyweight Champion. While there are some details about boxing in the book, the main message of the book is to stand up to adversity and not to let anything stand in the way of achieving your dreams. He wants children to believe that there is nothing that they can't do and this book goes some way towards reinforcing this message. He has also been quoted as saying that he would like the chance to write more books for children in the future.
20. His Manager Is Al Haymon
Al Haymon is one of the best known figures in boxing and has represented many of the greatest fighters during his career. He is also the father of Floyd Mayweather Jr. Deontay Wilder has been known to get involved with trying to attract new boxers to Al Haymon's PBC. Talk Sport reported that he told Dillian Whyte that he would have more chance of fighting him if he signed up with Haymon.