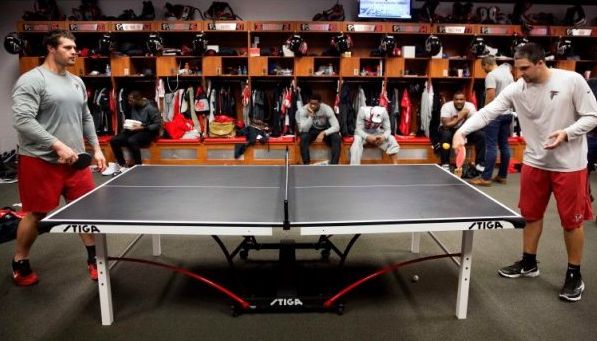 In what's the biggest game in the lives of every single Atlanta Falcons player, their young coach Dan Quinn is pulling out all the stops to keep the pressure down. In a recent NPR broadcast we learned that Quinn has installed three ping pong tables in the locker room. The quick transcript read as follows:
"The Atlanta Falcons are ready for the Super bowl….of ping pong. Coach Dan Quinn says the team put three ping pong tables in the locker room which helps players to bond. They're heading for the championship so apparently it worked. One player said it improves hand eye coordination."
Let's just hope none of the players miss the big game because of a ping pong related injury. That would be pretty embarrassing. As for what Bill Belichick does to relax his team? At this point I'm pretty sure he and Tom Brady are at the movies eating popcorn. Not too much pressure can get to these guys right now.
Amazingly enough, a lot of people are picking the Falcons to win the game saying that "it's their year." If their play against the Packers was any indication, this game is not going to be a blowout. Still though, it's awfully hard to bet against Tom Brady in a Super Bowl. If the legendary Patriots QB wins this one he will remove all doubts that he's the best quarterback of all-time.
For Falcons QB Matt Ryan, he's just trying to get that first and elusive title. Should be a great game.
Save