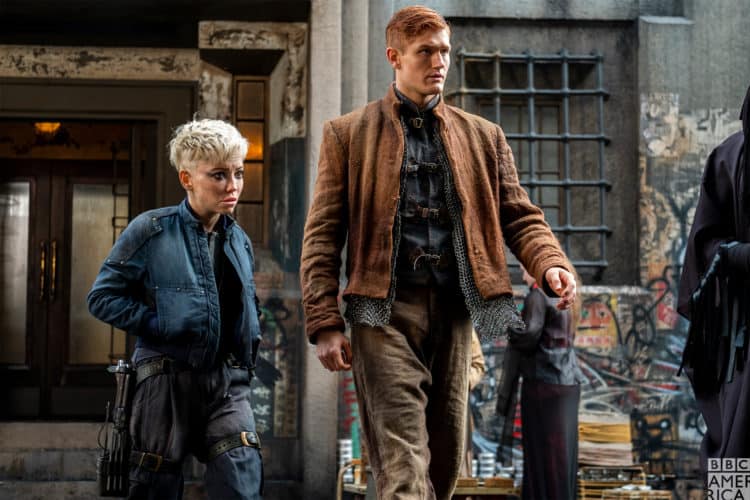 You know that good feeling you get when you've been working really hard at something and it all finally comes together? That's exactly what Adam Hugill has been experiencing for the last couple of years since his acting career began to take off. Although he doesn't have a done of on screen experience, he's already being labeled as one of acting's hottest rising stars. Adam got his first big break when he was cast as Jack in Pennywise. Although he only appeared in one episode, he got another major opportunity in 2020 when he was cast as Carrot in the TV series The Watch. As he continues to become more well-known all over the world, there's no doubt the opportunities will continue to come in for him. Keep reading to learn 10 things you didn't know about Adam Hugill.
1. He's A Formally Trained Actor
Adam's natural acting skills are undeniable, but he's also put in lots of work to make the most of his abilities. He attended the London Academy of Music and Dramatic Arts (LAMDA) where he graduated in 2018. LAMDA boats a long list of notable alumni including Chiwetel Ejiofor and John Lithgow.
2. He Draws Inspiration From A French Film, Rust And Bone
Inspiration is one of the most important aspects of the creative process. As an actor, Adam is inspired by the work of other actors, and there's one film in particular that he always comes back to when he is looking for a boost to get his creative juices flowing. He told Backstage, "… a film that constantly inspires me to keep searching for the truth in human emotion is a French-Belgian film called "Rust and Bone." Marion Cotillard and Matthias Schoenaerts go toe-to-toe in this beautifully made film about loss and love."
3. He Just Made His First On Screen Appearance In 2019
Adam has been getting a lot of attention recently and some may find it hard to believe that he just made his on screen debut in 2019. In that time, however, he's managed to land six roles. With his career off to such a great start, many are excited to see what the future has in store.
4. He Has Theater Experience
Even though his on screen experience may be limited, Adam has also done theater work. In fact, in 2019, he won Best Actor in a Musical at The Stage Debut Awards. Like many other actors who have experience on stage, theater will always have a special place in Adam's heart.
5. He's A Private Person
There are plenty of actors who take advantage of any chance they get to be in the spotlight, but Adam doesn't appear to be that kind of person. For the most part, he seems to be more on the private side and he doesn't have any interest in putting his personal life on display.
6. He Loves Spending Time Outdoors
Adam is thankful to have found as much work as he has so far, but like everyone else he also appreciates some time off. When he isn't working, you can usually find Adam enjoying the outdoors. He loves spending time in nature and doing things like hiking and exploring.
7. He Doesn't Have A Big Social Media Following
Lots of people in the entertainment industry devote lots of time and effort into building a strong social media presence. While Adam is active on Instagram, it doesn't appear that gaining a large following is at the top of his priority list. At the moment, he has just over 1,300 followers on the platform. As his career continues to grow, that number will too.
8. He's An Avid Traveler
Adam was born and raised in England and he is very proud of his home country. At the same time though, he also likes seeing what other places have to offer. He enjoys traveling and has visited lots of cool destinations. Some of the places he's been include South Africa and Italy.
9. Family Is Important To Him
Adam may not share much about his personal life, but one thing we can tell from his social media activity is that family is important to him. He has posted a few photos of his parents and his sister and it's clear that he loves spending as much with them as he can.
10. He Isn't Afraid Of A Little Hard Work
Lots of people think that acting is one of the easiest jobs in the world. In reality, finding work as an actor can be extremely difficult and the majority of actors never make it. Adam is grateful for the opportunities he's had so far and he isn't afraid of putting in as much work as he needs to in order to keep working.