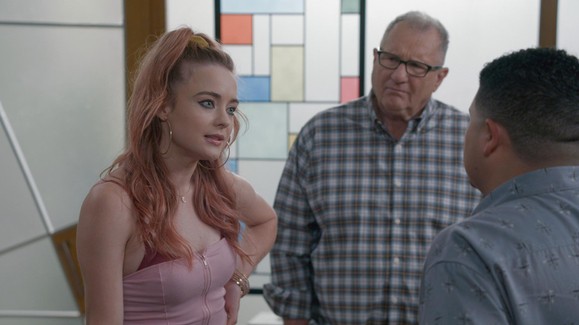 Hannah Kasulka is known best for her role in the 2016 series "The Exorcist." You may also remember her from "Filthy Preppy Teen$" (2015) or "True Blood" in 2008. From all appearances, she's found her niche in her latest role and her fan base is on the rise. Anyone who has watched her performances can see at a glance that she is a talent that is well suited to her profession. She's good at acting, but there is much more that fans would like to learn about her.
To satisfy the longing, here are five things that you didn't know about Hannah Kasulka.
1. She is a native of Georgia
Hannah grew up in Macon, Georgia. She was raised by a family of strong women. Her grandmother is a pastor and her mom, a hairdresser. Neither of them was afraid of work and this is where Hannah gets her strong work ethic. She attended the University in Atlanta, then relocated to Los Angeles to pursue her acting career.
2. Hannah had never seen "The Exorcist"
The popular 1973 film was the ultimate in scary for its time. The majority of the population has seen it at least once, but not Hannah. She was not a fan of scary movies. While some actors would think that getting a major role in the new series would make viewing the original compulsory, she didn't watch it until after completion of the pilot. She claimed that she didn't want to be influenced by the old movie, but shared after watching the original that it did in fact scare her.
3. Kasulka was a dancer
Hannah began dance classes when she was in middle school. She was inspired by a trip to New York to watch the Rockettes. She learned pointe, jazz, hip-hop, tap and ballet. From the time that she was a very young girl, she was looking for avenues of expression. She ended up pursuing acting over dancing because she felt that dance limited her expression and that her career would end faster than if she were an actress.
4. Hannah Kasulka was shy
Part of the reason that Hannah didn't take dance very far was because of her extreme shyness. She was an only child so she didn't have as much experience with others as siblings do. Her self confidence as a high-schooler was not high enough to allow her to perform dance in front of strangers. She played alone and tried to find ways to keep herself entertained so she did a lot of pretending. This may have been her initial yet unintended introduction to the field of acting.
5. Smart Hannah has a back up plan if acting falls through
We don't really think that Hannah Kasulka is going to need to resort to a plan B, but she's prepared just in case. She followed through with business training as a second option for a career. If she keeps moving ahead with her acting like she's doing now, we believe that she's going to have a long and prosperous career ahead of her.
Tell us what's wrong with this post? How could we improve it? :)
Let us improve this post!