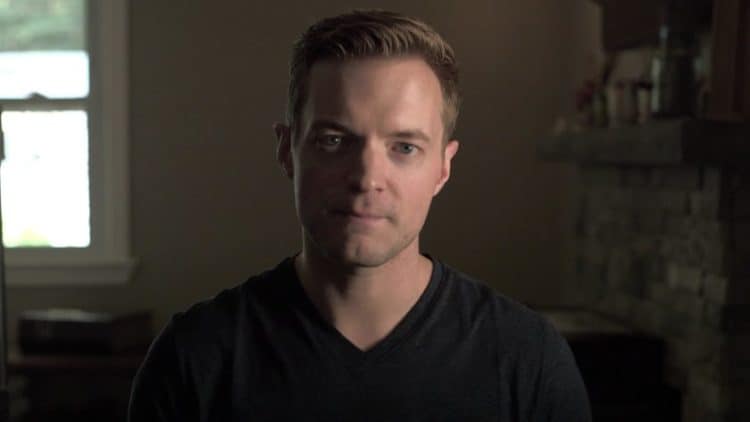 Ghost stories have been interesting to watch even as children when "Courage the Cowardly Dog" tried saving his owners from spirits that had made the farm their home. One person who is known for helping families find peace in their haunted houses is Adam Berry. He prides himself as not just a cabaret singer, theater performer, and actor, but also as a paranormal investigator. He came into the limelight when he was featured in "Ghost Hunters Academy" and now has his own series, "Kindred Spirits," where he investigates paranormal activity with Amy Bruni. Here is everything you need to know about Adam and how a hobby turned into a career.
1. He was the winner of "Ghost Hunters Academy."
First impressions always count, and in the fall of 2008, Adam auditioned to be in the season premiere of "Ghost Hunters Academy." Unfortunately, he was not picked immediately. As it turns out, the producers had liked his audition tape but decided to cast him in another season. He got the acceptance call, and when the finale came in July 2010, he was announced the winner. He was excited and revealed that indeed, it was an academy, although what we see on television is a diluted version of what he and the other cadets learned.
2. He is passionate about theater
Adam grew up performing on stage in Muscle Shoals and Florence. He enrolled at the community theater in Shoals Theater, where he performed with the Gingerbread Players. His passion saw him participate in drama competitions, and when Adam joined the thespian society in the state of Alabama, he became president. Moreover, Adam attended Boston Conservatory to learn more about musical theater. Whenever he goes back to the Shoals, he engages in workshops with the children at Linda Young Music Studio.
3. What piqued his interest in supernatural exploration?
Adam believes his career chose him because, at first, he was not interested, then it became a hobby, and before he knew it, it had blossomed into a brilliant career. His interest in investigating paranormal activity began in 2006 while in Gettysburg, Pennsylvania, according to Distractify. He saw enormous white figures accompanied by loud yelling and gunshots. When he went to see what was going on, he could not explain it, and that became the start of a hobby that now pays his bills.
4. The advice he could give his younger self
With age comes experience, and there are some things people do in their youth that make them live in regrets in adulthood. Adam has been on a long journey as a ghost hunter, and most of it has been aired on national television. He says the journey has been long and difficult, both literally and metaphorically, so the only advice he could give his younger self is to "wear comfortable shoes."
5. He kept the fact that he had won season 1.5 of "Ghost Hunters Academy" a secret
Filming of the series ended on May 18, 2010, but the finale aired on July 8, 2010. Adam did not ruin the surprise for anyone. Therefore he kept it hidden that he had won; not even his parents knew. When the finale was over, Adam called his parents, who had their friends over at their house. His mother, Susan, felt her son deserved the win since he had worked so hard. Although Susan was fascinated by ghost stories, the series made her question if the occurrences were real or not, according to Adam Berry.
6. His first paranormal encounter
At only 9, Adam woke up one night to the sound of a dog scratching the bathroom door. As if that was not strange enough considering that his family did not own a dog, Adam heard the dog walking on the hardwood floor and the jingling of a tag. He then saw the dog in his room, standing in front of the tube television, which then glowed and dimmed repeatedly. Confused, Adam only asked the dog to leave him alone, and the haunting stopped.
7. Why he mentioned he was gay on national television
Coming out has never been easy, but Adam did not hide the fact that he was gay since he said by 2002, he was out of the closet. Still, announcing it on national television seemed like a big deal, yet Adam did not mind. He said he did it to connect with the spirits of gay men who had passed away during a fire set by an arsonist in 1973. The gay community frequented the building; therefore, when it went up in flames, most of them were trapped. Their families were afraid to reclaim their bodies, and Adam told them they had nothing to be ashamed of since he was also gay.
8. He thinks his theater background helped him win "Ghost Hunters Academy."
When Adam got a call asking if he was still interested in going on the show, he confirmed he was and left everything inclusive of two theater shows. Since he had been watching the show since 2004, it was a chance he felt fortunate to be granted hence treated it like a hard-working vacation. His secret to becoming a winner was his training in Boston Conservatory as well as experience accrued from his theater background. He admits his high energy levels and social skills obtained from school gave him lots of confidence, as is evidenced by his audition tape, where he said he looks good in night-vision camera.
9. Why he came up with "Kindred Spirits."
Adam was on "Ghost Hunters" immediately after becoming the winner in "Ghost Hunters Academy." However great the experience was, he felt they left so many unanswered questions and did not help anyone. Therefore Adam and Ben, his husband, came up with "Kindred Spirits," a title that Ben chose. They aim to help families only and make them understand what was happening in the homes to give them peace.
10. The love he has for his Chihuahuas
On his Instagram, Adam keeps posting adorable pictures of his two dogs, Cheeto and Maria, whom he refers to as his babies. He has not disclosed whether he and Ben have any plans for children, but if they do, they will make great parents considering how they never let their Chihuahuas out of their sight.
Tell us what's wrong with this post? How could we improve it? :)
Let us improve this post!