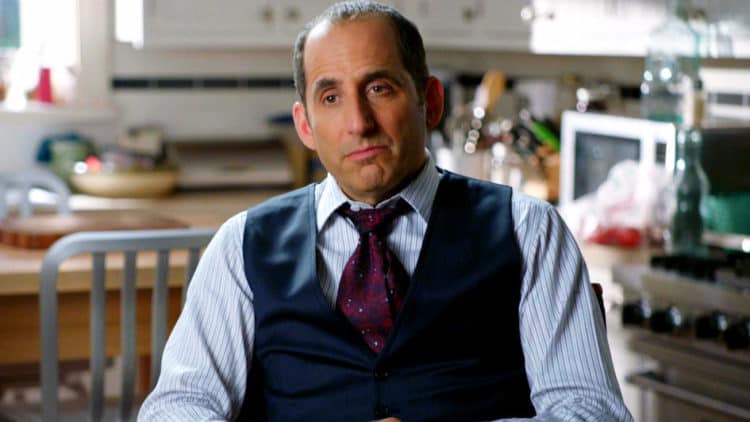 Sharing a name with other people or looking like someone else can have you misconstrued a lot. One time they say you are gay other times they keep calling you by a name that is not yours. Such experiences are what Peter Jacobson has had to go through, but with these ten facts, we will clear up anything you might have heard concerning the actor.
1. He is often mistaken for Steve Carell
One look at Peter Jacobson and the first person that pops in your mind is Steve Carell. The two are so alike you would think they were separated at birth only that Steve is three years older than Peter. So much are they alike that Peter Jacobson has been complimented for his role in "The Office" in which Steve Carell starred. Also, as Peter did a photoshoot for "House," the photographer could not help but spot the resemblance. Therefore he kept referring to Peter as Steve in the entire photoshoot.
2. He idolizes Robert Duvall
Peter thinks the world of Robert Duvall, saying he would nominate him for the Character Actor Hall of Fame. In Peter's eyes, Robert is the greatest film actor of all time, and he is effortlessly brilliant. Peter has the first-hand experience of working with Robert in "A Civil Action" and enjoyed watching Robert work. Peter even thinks that of all the actors he has met, nobody has a more easy soul than Robert.
3. He studied political science
After attending Francis W. Parker School, Peter Jacobson was determined to carve a career in politics by becoming a political scientist. Therefore he enrolled in Brown University for his degree in Political science and graduated in 1987. The university has fellow actors and actresses, including Emma Watson, Julie Bowen, and John Krasinksi as its notable alumni.
4. He has worked alongside other actors that made him want to drool
We all have that person whom if given a chance, we would want to walk beside them for the rest of our lives. Peter Jacobson is an accomplished actor, but he still has other people whom he thinks highly of and has had the chance to work with them. One such actor is Robert De Niro, whom Peter describes as shy in his interview with AV club. Peter learned in graduate school not to drool over actors but working with Robert De Niro almost made him forget the lesson since Robert is a great actor.
5. He went to Juilliard
After getting a big part in a play while in college, Peter realized that he had a shot at becoming an actor. Therefore after a few of his friends were accepted in Juilliard, he thought it to be the best option for him since Peter had no idea of what to do after school. So the opportunity to be in school and not make the tough life decisions was a welcome choice. He auditioned and was accepted, immediately going from spending four years in Brown University to four more years in Juilliard. All Jacobson wanted was for him to avoid responsibilities that come with adulthood, but it was destiny's way of setting him on the right career path.
6. He is married
People have mistakenly thought of Peter Jacobson as gay probably because of his namesake, Peter Marc Jacobson. When Peter Marc Jacobson came out as gay after having been married to his wife, Fran Drescher for 20 years, the similarity in the names had fans thinking that it was Peter Jacobson. However, Peter Jacobson is a straight man married to Whitney Scott whom he met while in college. They also have a son together.
7. Highest-paid actor in the world from August 2018 to August 2019
Jacobson's first film, "It Could Happen to You," portrayed him as a reporter, like his father. Although in a few movies all he had to memorize was a line, Peter went ahead to become a regular cast in several series such as " House." Since 1994 to date, Peter has had an active acting career leading to him being named the highest-paid actor in the world according to Media mass. It reported that Peter raked in $75 million in the one year, with the person coming in second having almost $40 million less.
8. His net worth
Peter has had a lucrative acting career for someone who had first thought of becoming a political scientist. With his numerous roles in different shows and series, Peter has proven himself as a talented actor. It is, therefore, no wonder that he has been cast lately in "Fear the Walking Dead." Peter's net worth stands at $215 million, and since he is not slowing down, the figure will increase in the future.
9. He is Jewish
When we cannot understand whatever happened or is happening in our lives, the best answer we have is that everything happens for a reason. Peter may be Jewish, but it took quite a while for him to be a practicing Jew. Despite being brought up in a Jewish household, his parents were not practicing Jews; hence, Jacobson did not even have a bar mitzvah. Instead, he was confirmed, and despite attending schools with people who shared his faith, Peter still did not grasp the meaning of being Jewish. However, when he met Whitney in Juilliard, Peter began understanding what it means to be a Jew since the New York lifestyle had tainted his family's religious beliefs. Whitney and her mother brought him back into the fold of the Jewish people. They taught him the Jewish practices since Jacob also wanted his child to be a Bar Mitzvah according to the Jewish News on Northern California.
10. He was forced to choose between two of his big career loves
As a young child, you have your career prospects. However, as you grow up, you realize that there is more out there waiting for you to reach out and take charge of your destiny, Peter Jacobson wanted to be an actor and became involved in various productions starting from grade school to college. However, he still had an interest in soccer and therefore joined the soccer team. Unfortunately, it got to a point where the timetables were crashing such that both the drama and soccer coaches warned him not to miss rehearsals and practice. At a crossroads, Peter decided to drop soccer despite having played it all his life, and pursue acting.
Tell us what's wrong with this post? How could we improve it? :)
Let us improve this post!