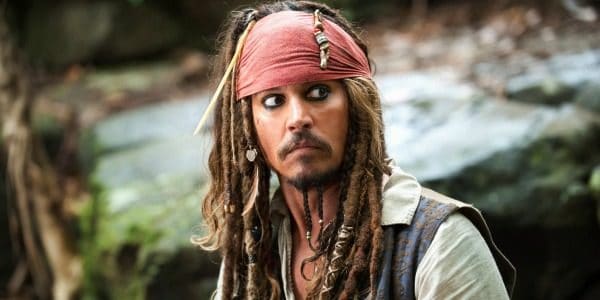 People who work in the entertainment industry are often perceived as extremely confident – sometimes even a little self absorbed. In reality, however, they go through feelings of self doubt and embarrassment just like the rest of us. As a result, there are quite a few actors who don't enjoy watching themselves in movies or shows. You know that cringe feeling you get when you hear a recording of your voice? Imagine that feeling times 10. Apparently, that's how these stars feel as soon as they see themselves pop up on the screen. So, who are some of the celebrities who refuse to watch their own movies and TV shows? Keep reading to find out.
1. Johnny Depp
Johnny Depp is one of the most successful actors of his generation. With all of the great movies he's been in, most people would probably assume that he's enjoyed watching them. However, that isn't the case at all. Depp believes that once his acting job is over, the rest is none of his business. According to the Huffington Post, Depp also said, "I stay as far away as I possibly can… I don't like watching myself".
2. Jesse Eisenberg
Even though Jesse Eisenberg has been acting since he was a teenager, he never got caught up in the hype of seeing himself on screen. According to Business Insider, Jesse decided never to watch his movies since he does not want to feel how fans analyze his performances. He additionally said he doesn't even read reviews for any of his projects.
3. Meryl Streep
Unlike some of the other people on this list, Meryl Streep isn't totally against watching all of her movies. However, she does refuse to watch the older ones because they remind her of a difficult time in her life. An article from People mentioned that Streep said, "I'll come upon a movie I'm in, and I'm very young and very beautiful. But I was so unhappy. thought my nose was too big, I thought I was fat. Because these are things that people tell you".
4. Javier Bardem
In many people's eyes Javier Bardem is a very handsome man. However, he doesn't always see himself that way. Javier is so insecure about his appearance that he can't stand to see himself on screen. Specifically, it's his eyes, noise, and voice that make him uncomfortable.
5. Angelina Jolie
In order to be a movie star, most people would guess that a person also needs to really enjoy watching movies. Apparently, though, that's not always true. Angelina Jolie isn't really into movies and usually falls asleep while watching them. As a result, she hasn't even seen all of her own movies.
6. Julianne Moore
Like Angelina Jolie, Julianne Moore stated in Daily Express that she enjoys making movies much more than watching them. More than likely, Julianne hasn't even seen her award-winning performances. Luckily for her, there are millions of people who do love seeing her on-screen performances.
7. Joaquin Phoenix
There are some actors who watch their own work because they feel it can help them improve for future projects. Ironically, Joaquin Phoenix feels like watching himself could actually have the opposite effect. He was once quoted saying, "I don't ever really want to see myself as the camera sees me…I don't want to watch myself. Of course, there's part of you that's curious for a second, and I have to constantly tell myself, 'No.' Because I know it's not going to be of any value to me, and in fact it stands a greater chance of having a negative effect on future work."
8. Reese Witherspoon
People all over the world love seeing Reese Witherspoon on screen, but she isn't one of them. Like lots of other actors have expressed, Reese feels uncomfortable seeing herself on screen. She even went as far as saying that seeing herself act was like "torture".
9. Nicole Kidman
With her impressive career as an actress, you might think Nicole is excited to watch the movies that have turned her into a star. However, during a 2009 interview, she stated she has only ever watched Australia and Moulin Rouge. Nicole also says watching herself in action disconnects her emotionally and makes her feel extremely uncomfortable.
10. Matthew Fox
Matthew Fox has found success on the big and small screens, but he doesn't bother watching himself on either of them. During a roundtable discussion, the famous cast for the Lost TV series said he had never seen the show that helped make him so famous. He further expressed he is never comfortable watching himself acting.