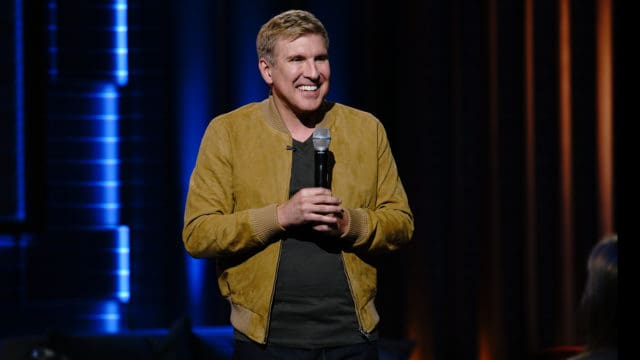 The premiere of "According to Chrisley" came right on the heels of "Chrisley Knows Best" on Tuesday, September 19, 2017. His very first talk show went smoothly. He opened the first episode by announcing his guests, Chris Jericho and his daughter Savannah. As a talk show host, Todd is brilliant with the humor. He accepted about some questions from the live audience and his he played off them well.
Off to a good start
After a brief Q and A session, the show cut to Savannah, who was getting a psychic reading. The medium informed her that she would marry a pastor and have nine children. She joins her father on stage to discuss the reading and it was at this point that her father admits that he had pranked her by feeding the psychic useful information to carry off the prank. The show moved to break after a successful first segment. So far, he hit the sweet spot of viewers dead on with a bit of ribald humor. The content was on the line, but not over the top. Chrisley is the Master of bringing his audience to the edge of something that borders dirty, but doesn't quite take the leap.
A dissection of slang
After break, the conversation picked up on the topic of slang. Todd and Savannah played a game of "slanguage" which called for Savannah to ask her father the meaning of common slang words. We learned the meaning of words such as "sus," "noob," "chop," "bibby" and a host of others. It was an interesting and informative commentary on the status of American slang.
Special guest star
Chris Jericho joined Todd on stage and the "WWE" star joined in the conversation about his twin daughters and son, including some of the challenges and humorous things they've done. His son has no interest in following in his father's footsteps. Jericho shared that he wants to become an "ichthyologist." We found out that this is a scientist that studies fish. In the first episode, Chris Jericho transformed the Chrisley family all into WWE wrestlers for our entertainment. He came up with some authentic sounding titles including "Triple D," "High Rollin Honey that's going to take your money," " Regal Renegade: The Queen of Mean" and last but not least," Todd the Bod". He had them come out in their new attire and this is how the premiere of the new series closed.
Chrisley as talk show host
Todd Chrisley had a good first show. If any critique must be made about the design, it would be that there isn't quite enough time in the half hour variety show to cover enough. It's a short show, but the time spent watching it seemed to fly. This is a strong indication that viewers would like to see more. So far, we think that Chrisley is onto something with his new talk show. He packed as much as could possibly be put into the first episode. It set a decent tone, but it would be nice if the content could flow just a little faster and perhaps include a bit more variety. Aside from that, Todd Chrisley kicks it!