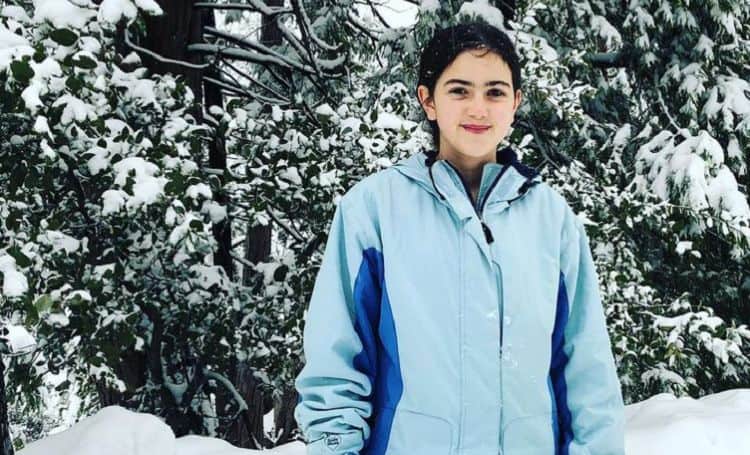 While most 12-year-olds are mentally preparing themselves for middle school, Abby Ryder Fortson is getting ready for her next gig in Hollywood. The young actress has quite the name for herself over the last several years. She was only about 5 when she made her first TV appearance, and even then it was clear that she was special. Now, her resume consists of over a dozen roles and the list keeps growing every year. Recently, it was announced that she would be starring in the film adaptation of the book Are You There God? It's Me, Margaret. This opportunity could end up being her big break, and it will give her the chance to work alongside well-known actress Rachel McAdams. Here are 10 things you didn't know about Abby Ryder Fortson.
1. Her Mother Is An Actress
The apple certainly didn't fall far from the tree when it came to Abby. Her mother, Christie Lynn Smith, is also an actress. Christie has been in the industry since the early 90s and she has nearly 80 acting credits. Some of the show's she's been in include General Hospital, Grey's Anatomy, and Bones.
2. She Loves To Read
Most kids would agree that reading isn't really one of their favorite things to do. In fact, the average 12-year-old probably has to be forced ti sit down and read. Abby, however, enjoys reading and it's something she likes to do during her free time. This natural level desire to soak up new information is certainly helpful for her acting career.
3. She Loves Animals
While it can take some people decades to find just one thing they're passionate about, Abby has already found several. On top of acting, she is also an animal lover. Not only does she have a dog of her own, but she is also very serious about animal rights in general.
4. She Enjoys Cooking
If you haven't caught on by now, Abby isn't your 'average' 12-year-old. She already has a great sense of who she is and she loves expressing it. Outside of working, cooking is one of her favorite things to do. She always looks forward to spending time in the kitchen and she really likes to bake.
5. She Has A Great Imagination
A good imagination is a quality that often gets overlooked when people talk about the necessary skills for acting. With a good imagination, however, an actor can easily visualize themselves in every scene. Fortunately for Abby, she has this area covered. According to Sarah Scoop Abby said, "I have a really good visual with a lot of things…If you tell me to imagine ant-man then ill imagine Ant-Man."
6. She's Interested In Politics
Abby isn't old enough to vote yet, but if you thought that was going to stop her from learning about politics you were wrong. She is really into politics and she has expressed her support for President Joe Biden and Vice President Kamala Harris. During election season she also encouraged people to make sure they were registered to vote.
7. She Did Her Audition For Ant-Man In A Hallway At Her House
The audition process may seem glamorous and exciting, but that isn't always the case. When Abby did her initial audition for Ant-Man, she was sitting in a hallway at home. She told Inside the Magic, "I auditioned in my hallway and then I went in for the callback. My first audition is actually on YouTube. It was really fun to audition for it, and I really wanted to get the role, but I have no idea why casting chose me, or how they chose me, or anything inside of that."
8. She Likes To Stay Active
Even though her life isn't exactly like most other kids her age, Abby still likes to get out and have fun when she isn't busy with work. She is a very active person and she likes to spend time outdoors. She is a soccer fan and enjoys playing the sport as well as watching it.
9. She's Done Some Voice Acting
You may not recognize Abby's face just yet, but there is a chance you've heard her voice before. She's done quite a bit of voice acting over the years. Most notably, she was the voice of Priscilla in the TV series Trolls: The Beat Goes On! Recently, she also voiced several characters in DuckTales.
10. She's An Amateur Photographer
Taking pictures is another thing that Abby likes to do in her free time. She especially loves snapping outdoors shots. Since she's already getting used to seeing things from the other side of the camera, it wouldn't be too surprising if Abby decided to give directing a try one day.