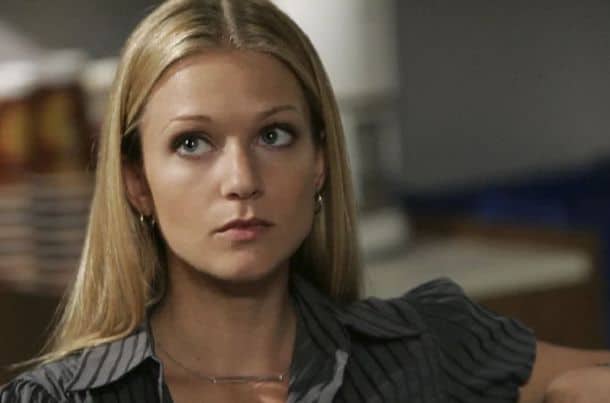 For countless television seasons 'Criminal Minds' has been one of the most intensely popular shows on the air, and yes, we use the word 'intense' with purpose. Overall, the cast has largely remained the same, with only minor changes over the last few seasons of the life of the show. Hotchner ended up leaving, much to the surprise of many, as did Gideon, who was the original head of the Behavioral Analysis Unit before Rossi. Then there have been the new cast members, but only a smattering here and there. Some have been constant from the beginning, and AJ Cook's character, Jennifer 'JJ' Jareau, is one of them.
Along with her endurance on the program is the popularity of the character she plays. Many fans sympathize easily with JJ, who is a former cheerleader from the Midwest who made it all the way to the FBI. But in real life, Cook's circumstances have been a far cry from those of the character she plays, and her career has taken a much different route as well.
Since life doesn't imitate art half as much as we think it does, and since AJ Cook has so many fans who follow her career, we thought it would be fun to take a closer look at the actress rather than the part she is most famous for. The truth is, she has had a pretty full career, and her resume will surprise you as much as her personal history will. So, settle in and read up on one of the most well-known television actresses successfully working today: AJ Cook.
Here are 10 Things You Didn't Know About AJ Cook:
1. Early Life, Upbringing, and Education
Born in Oshawa, Canada on July 22, 1978, Andrea Joy Cook is better known to friends, family, and fans as 'AJ'. She is a Cancer, and was born in the Year of the Horse. She and her three siblings, Nathan, Angela, and Paul were raised in Canada by their parents. Mother Sandra worked as a psychiatrist, while father Michael was an educator. AJ attended primary and secondary school locally in Whitby, and after graduation attended Utah Valley University, followed by Anderson Collegiate Vocation Institute. She also studied dance from the age of four years, focusing on ballet, tap, and jazz dance forms, and danced on a competitive basis until she was sixteen, at which time she decided she was interested in pursuing a career as an actress. She also taught dance in her younger years, and even claimed that she still tap dances. According to Cook, had she not succeeded as an actress, her second choice of profession would have involved opening her own dance school.
2. Second Sight
When AJ was in the second grade she was diagnosed as being legally blind due to severe astigmatism. She corrected the issue with the use of both thick-lensed eyeglasses and contact lenses, which got her by until 2007, at which time she underwent surgical lens implants, which rectified the issue. Since the surgery, the actress has had no need for the use of any type of corrective outer lens to assist in correcting her vision.
3. Professional Facts and Acting Credits
AJ's first professional role was in a McDonald's commercial, after which she landed parts in series television programs such as 'Goosebumps'; she also had a regular role in the series 'Higher Ground'. Also to her credit are two television movies, 'Elvis Meets Nixon' and 'In His Father's Shoes', but later she also starred in 'The Spiral Staircase'. Her film work includes 'The Virgin Suicides', 'I'm Reed Fish', 'Final Destination 2′, 'Out Cold', and 'Ripper', among others. She also starred as Lindsey Walker in the series 'Tru Calling". Since 2007 she has starred in the series 'Criminal Minds' as JJ Jareau, though it was announced in June of 2010 that her contract with the show would not continue due to cuts in the program's budget. She did return for two more episodes to tie things up, and those appearances were a direct result of countless letters, which included fan petitions, written to the producers of the show. She also did an additional episode when co-star Paget Brewster was leaving the show. She subsequently signed a two-season contract with the show in 2011, marking a return at that point.
4. Additional Projects
Cook has also worked as a spokeswoman for Proactiv, and appeared in Maxim magazine's January/February 2014 edition as well, where she was ranked #88 on Maxim's 'Hot 100 of 2014′ list. Another appearance she made in her professional standing was as the Grand Marshall at the Martinsville Speedway's STP 500 on April 3, 2016 in Martinsville, Virginia.
5. Personal Life
While studying film at Utah Valley University, AJ met fellow student Nathan Andersen. The two dated for an extensive period of time before finally marrying in 2001. She moved with her husband to Salt Lake City, and then the couple relocated to Los Angeles, California. They reside there currently with their two sons, Mekhai Allan, born in 2008, and Phoenix Sky, born in 2015. Her eldest son appeared alongside her in 'Criminal Minds', starring as her son Henry, and her youngest appeared in the show as JJ Jareau's youngest son, Michael.
6. Spirituality and Religious Beliefs
Being a resident of Salt Lake City in the past, it comes as no surprise to learn that Cook is Mormon, and actively practices her faith. Her spiritual beliefs do not influence the roles she accepts, but she does prefer to take on roles which allow her to not only demonstrate the faith she lives by, but also permits her to teach others about the Mormon walk. Fans may have seen this in some of her work, but as stated, she doesn't only accept parts in which she plays a Mormon role.
7. Net Worth
Since the beginning of her career Cook has starred in many television programs, television films, and big screen movies, and has also actively worked as a model. In addition, she has taken on a variety of representative positions, such as work in commercials. According to Wealthy Persons, Cook supposedly charges around $100,000 per episode for her role as JJ Jareau on 'Criminal Minds'. With all of this information in mind, the same source has estimated her net worth to sit at approximately $5 million as of 2020.
8. Social Media
While Cook does have social media accounts that are currently active, she has been known to take breaks from using them. She even made a tongue-in-cheek post on Instagram with a photo of her behind bars, stating, 'Why I haven't been on social media lately…' Regardless of the lighthearted jokes, fans can easily find her on Instagram under @ajcook, where she has nearly 900k followers. On Twitter you can check out her updates at @ajcookofficial, and there is also a Weebly web page for fans at ajcookfans.com. For those who prefer Facebook, check out her page, 'AJ Cook'.
9. Preferred Fiction
Cook has been known for her love for reading among friends and family. Like any avid reader, there are many books she has enjoyed in her lifetime, but she has one that stands out as her favorite. She is quoted on her fan website as stating, "'To Kill A Mockingbird' by Harper Lee is a beautiful classic I will always cherish. I am currently going down the rabbit hole of anything and everything written by Brene Brown". Obviously, her love for fiction stands out when it comes to what genres she favors during times of relaxation and reading.
10. Self-Care and Looking Great at 41
Cook maintains her gorgeous looks and slim figure by actively implementing beauty and workout regiments. She keeps fit with high-intensity Pilates, which she says has changed the shape of her body entirely. She goes to RockIt Body Pilates, where she has worked out for a number of years. She also likes to combine Pilates and yoga with Crossfit, which she says makes her feel like a 'beast', but in a 'good way'. She also is a diehard user of the product she endorses, 'Proactiv+'. She says she uses the cleanser on a daily basis, and also uses CeraVe Sking Renewing Day Cream with SPF 30. Finally, she drinks plenty of water every day, which does nothing but good for both her figure and her skin.
AJ Cook is one of the most recognized and beloved television actresses today, thanks to her role as JJ Jareau on 'Criminal Minds'. Fans have become so familiar with her that many feel like they know her personally. It doesn't hurt that she is genuinely a warm, kind human being by all accounts, which only helps when it comes to any star's fan base. That same warmth, combined with her talent and beauty, have taken her far, and regardless of how long the show runs, we're pretty sure AJ will be entertaining fans for years to come in one role or another. We wish her the best, and look forward to seeing what the future has in store for her.