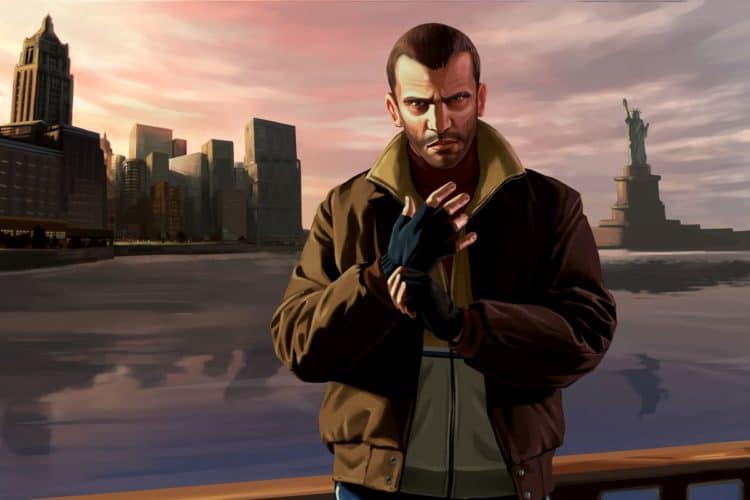 Ask a gamer to name one of their favorite franchises and the infamous Grand Theft Auto is sure to come up. Now this has been a well-loved and also polarizing video game series for pretty much everyone. The majority of gamers tend to love it, but everyone else really doesn't. And by everyone else, I mean the parents who don't want their kids playing it. Now I should know, because I was one of those kids who never got away with actually owning any of the Grand Theft Auto games. I always had to go to a friend's house in order to play them. I remember playing Vice City at a buddy's house back in elementary school, San Andreas at my cousin's house, and playing the fifth one at another buddy's house in high school.
If I'm being completely honest, I do find the Grand Theft Auto games to be overrated. I wouldn't put any of them in my top ten favorite games of all time, but I do enjoy playing them. As a fan of Rockstar, I'm much more fond of the Red Dead Redemption games. They have a certain heart to them that really overshadows the gruesome violence we gamers can indulge in. Can we say the same for the Grand Theft Auto games? I would say that depends on which one you're playing, but for the most part, we play these games to mess around and watch the protagonists go crazy. It really wouldn't be fun if they acted like heroes while being rough criminals, would it? Of course not.
Now if you've played the fifth installment of Grand Theft Auto, you're probably wondering when we'll be getting the sixth game. In fact, you're probably wondering if a sixth game will ever really happen. It will probably happen when the next Elder Scrolls game comes out, so don't hold your breath. For the meantime, what are we to do? I guess we can keep playing Red Dead Redemption 2, but we're still very much curious about how Rockstar will continue their prized gem.
Well, we now have our answer. Rockstar has confirmed that they are working on a Grand Theft Auto trilogy, and this will be the definitive edition. So, if you're like me, and were too young to buy the the early Grand Theft Auto games at a Best Buy, now's your chance. And hey, what can be better than being able to play those games on the newest consoles? I know I'm not the biggest Grand Theft Auto fan in town, but I'm more than willing to check out this upcoming definitive edition trilogy. I'm pretty sure it will trigger some elementary school flashbacks. Yes, that's technically a bad thing, but come on, who didn't try playing a rated-M game you weren't supposed to play as a kid? No one, that's who.
And let me just say, there is no set release date for this definitive edition trilogy. However, Rockstar did confirm it will be released later this year. That's actually good news, considering we're in October. That release date shouldn't be too far away, but let's just sink in what we know so far. I spoke about nostalgia because this trilogy will be taking us way back. Like, back to 2001. Heck, that's when I was in second grade. Far too young to be playing such games, but those were still the early days of Grand Theft Auto. This trilogy will cover some of the OG games of the series, most notably Grand Theft Auto 3, Vice City, and San Andreas. That sadly means we won't be experiencing Niko Bellic, who is arguably the best GTA protagonist, on the newer platforms. That's okay, because I'm sure that remastered edition will be coming in the near future.
Now it's not hard to understand why Rockstar chose to remaster these particular games for the definitive trilogy. As I said, these are the OG Grand Theft Auto games with the first and greatest of the protagonists. It'll be very fun to see Claude, Tommy Vercetti, and Carl "CJ" Johnson remastered on modern platforms, but I'm sure everyone will get to blowing things up as these guys right away. That sounds like it will be loads of fun, but I'm still wondering if that's the right move for Rockstar.
On the surface, I'm just wondering how much longer we'll have to wait for Grand Theft Auto 6. I think the fans want to know if Rockstar will continue the stories of Michael, Trevor, and Franklin. Those were some great characters, but it would also be cool if Rockstar added in more original characters. They can do that or continue the stories of Niko Bellic or CJ and show us where they went after their games ended. Did Tommy Vercetti establish his criminal empire in Vice City? Did CJ continue running his gang with his brother Sweet? Those are questions we would like to see answered, but for now, I'll honestly take a remastered trilogy.
I do think this definitive edition trilogy is the right move for Rockstar. Assuming that they are currently working on Grand Theft Auto 6, why not keep us satisfied with the classics? A remastered edition is a good way to get the new generation, as well as the old, back into the series. Hey, not everyone was old enough to buy them when they were first released. With the gamers who are around my age, it would be a fun way to get back into the Grand Theft Auto series. Let's also think about it preparing us for the next one, which is sure to be even bigger than the last one. We'll have our fun with this definitive trilogy and we can wait for number six.
What are your thoughts, fellow gamers? The definitive edition trilogy will be released later in 2021 and on all modern platforms. If you want to steal cars and blow stuff up again, then you'll get your chance soon. Can't wait to see those five stars flashing again.
Tell us what's wrong with this post? How could we improve it? :)
Let us improve this post!