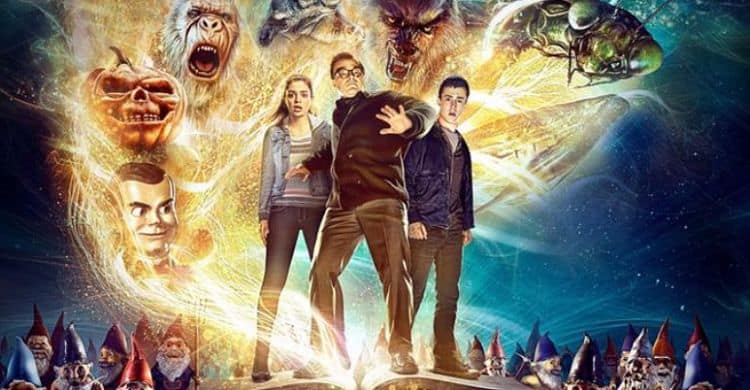 Back in the day, meaning the 90s, a lot of kids fully enjoyed the Goosebumps books and even the TV show that came of it later on, and even the movies starring Jack Black were seen to be highly popular. Fans of the original show might be excited to learn that Goosebumps is returning to the small screen and will be rebooting in a sense as the stories that people enjoyed so much are coming back and the horror and entertainment will begin anew. Whether it's going to cover a lot of the same material in different ways or if we're going to see all new stories is hard to say, but so far the crew that's working on the show is already excited to bring it back to the fans and give them something that they might have been craving since it went off the air so long ago. While some folks grew out of Goosebumps pretty quickly once they hit a certain age there are still plenty of people that are into the stories enough to rekindle their love for them and possibly watch the new shows when they air.  After all when something like this has been a part of your life at some point it's not all that easy to just forget it, unless you're actively trying. The great part about Goosebumps is that while it is designed to be somewhat scary it was also designed with kids in mind, so it's not exactly John Carpenter level. The people working on the upcoming show had this to say, as per Jeremy Dick of MovieWeb:
"Goosebumps has been keeping kids and families on the edge of their seats for nearly 30 years and we're very excited to partner with Sony Pictures Television and Neal H. Moritz to bring the enduring brand to life in a fresh new way for today's generation," said Scholastic's Iole Lucchese, who's also exec producing the show, in a statement provided to Deadline. "From the world-famous book series to a full-scale licensing program and even live-action movies starring Jack Black, Goosebumps remains wildly popular and we look forward to presenting new adventures to give fans even more Goosebumps."
So likely we'll be seeing a whole new list of episodes with new stories that will hopefully be on the same level as what people have grown used to, but it's very likely that we'll see a lot of faces we recognize as well since leaving out the classics that have made the stories what they are would be kind of hard to imagine. As to when this will happen that's not really for sure yet for obvious reasons that a lot of people can cite since being able to get back into the studios is going to be a relief for many people in the business. An interesting idea however is whether or not this series will give way to another movie eventually as the first two were embraced quite easily by fans of the series and it could be that once business fires up again that fans will be wanting something they recognize in order to get back into the swing of things. Brad Miska of Bloody Disgusting has more to say about the topic. Goosebumps after all has been one of the series that has had one of the most successful runs in pop culture, coming in second only to Harry Potter, which is saying something since J.K. Rowling's iconic story created an entire world that people continue to be captivated by. Goosebumps is another literary addition to pop culture that has captivated millions and become something that the author might never have really expected.
At this point a lot of things from the 80s and 90s are making a definite comeback and while there are a lot of times when it would appear that those doing the bringing should let said ideas alone and just let them be, there are those ideas that have been brought into the present that have done quite well thanks to an incredible effort and the foresight of a cast and crew that have made something great. The stories that entertained kids and even adults back in the day have endured for a while now and to see new adventures come out would be absolutely great since fans would likely be tuning in without hesitation to see how one of their favorite series is going to raise the bar. Even those that have never been fans of Goosebumps are encouraged to take a look and see if they don't find it at least a little amusing since the stories do manage to pull from a great number of legends and ideas that we've seen over and over in many ways, but are still fun and dynamic enough to enjoy as they're retold in a manner that's meant to be scary but also meant to be highly entertaining.